I am pretty sure that the heading might have pulled you to this review but yes, it's true while the newer MacBook Air with an increased price of $1199 isn't providing the same value to you, on the other hand, the new ASUS ZenBook S13 OLED is the premium notebook that has unsurprisingly exceeded my expectations and is my favourite over the newer MacBook Air M2.
There is a huge demand for thin & light notebooks with good performance and battery life, so, a chunk of people who want the best of both worlds have flocked towards MacBooks in recent years, on the other hand, ASUS's ZenBook laptops have kept getting better with time. However, I feel the best ZenBook laptop they have ever built is this ZenBook S13 OLED, which already caught my eye when it was launched back at the start of this year globally.
While it took some time to launch in India and eventually come to us for review but yes, it's worth the wait for me. Now, having used the new AMD Ryzen 6000U powered ZenBook S13 OLED with a fantastic 16:10 2.8K OLED display for a few weeks now I can easily say this is the most premium notebook I have ever tried and the best thin & light ZenBook from ASUS yet.

Let's talk more about each of the perspectives of this ZenBook S13 OLED and why it's a MacBook Air killer:
ASUS ZenBook S13 OLED Specifications
Processor: AMD Ryzen 7 6800U Mobile Processor (8-core/16-thread, 16MB cache, up to 4.7 GHz max boost)
Memory: 16GB LPDDR5 onboard with | Storage: 1TB M.2 NVMe PCIe 4.0 Performance SSD
Display: 13.3-inch (33.78 cm) 2.8K (2880 x 1800) OLED 16:10 aspect ratio 550nits peak brightness, 0.2ms response time, 100% DCI-P3 color gamut, PANTONE Validated, Glossy display, VESA CERTIFIED Display HDR True Black 500, SGS Eye Care Display, 89 % Screen-to-body ratio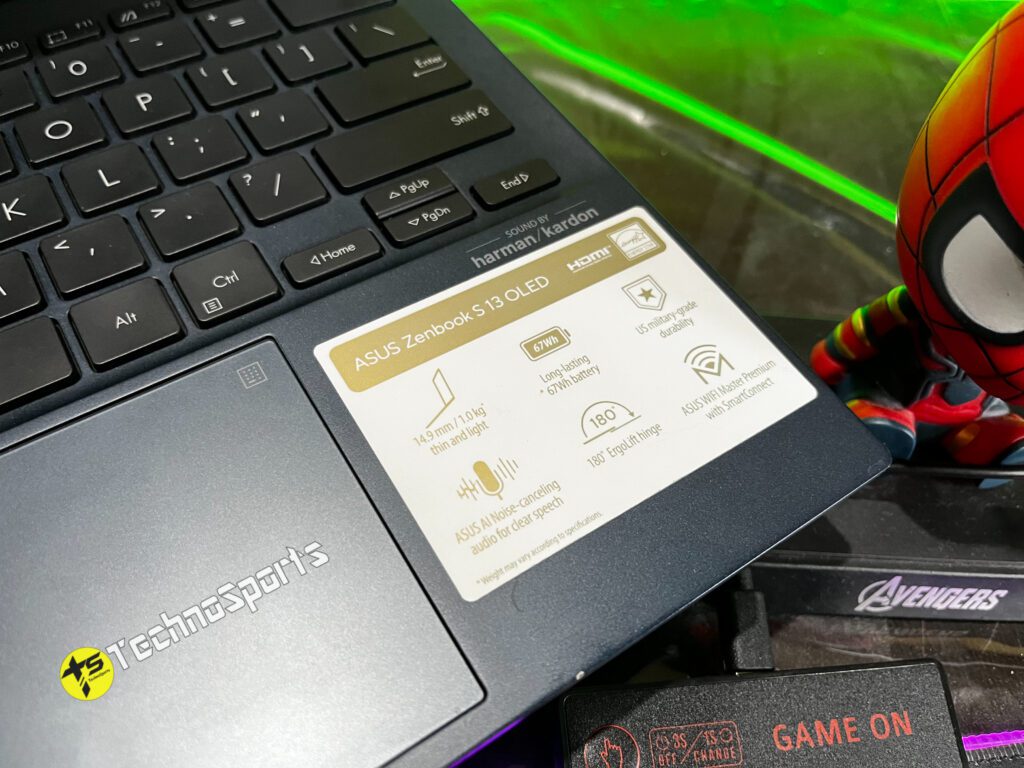 Graphics: Integrated AMD Radeon Graphics
Operating System: Windows 11 Home | Software: Office Home and Student 2021 included
Design: 1.49 ~ 1.49 cm Thin | Metallic Chassis | Thin & Light | 1.10 kg weight | 67WHrs Battery Capacity | Up to 8 hours Battery life, Note: Battery life depends on conditions of usage
Keyboard: Backlit Chiclet Keyboard | 1.4mm key travel | Support numberpad
I/O Port: 1x 3.5mm Combo Audio Jack, 3x USB 3.2 Gen 2 Type-C support display/power delivery
Other: 720p HD camera | Wi-Fi 6E(802.11ax) (Dual band) 2*2 + Bluetooth 5.2 | FingerPrint Reader | Built-in speaker | Built-in array microphone
Design & Build Quality
Maintaining the premiumness of the ZenBook laptops, ASUS has made this ZenBook S13 OLED very sleek and lightweight, only weighing 1.1kg. So being 1.1kg light, this laptop is even lighter than the new MacBook Air M2 as well and this makes carrying around this laptop easier. Also, its form factor is much sleeker and the 16:10 aspect ratio makes the screen look even bigger.
The laptop's chassis is built out of magnesium alloy not only helps make the laptop light but also gives it rigidity, making it premium. In terms of design, the subtle change in the design, the new ASUS logo is very neat and the ZenBook carving continues to give a unique appeal even for this ZenBook S13 OLED.
The Blue variant though looks classy but the new Celadon color variant also looks unique and fresh, so its up to you which variant you want to opt for.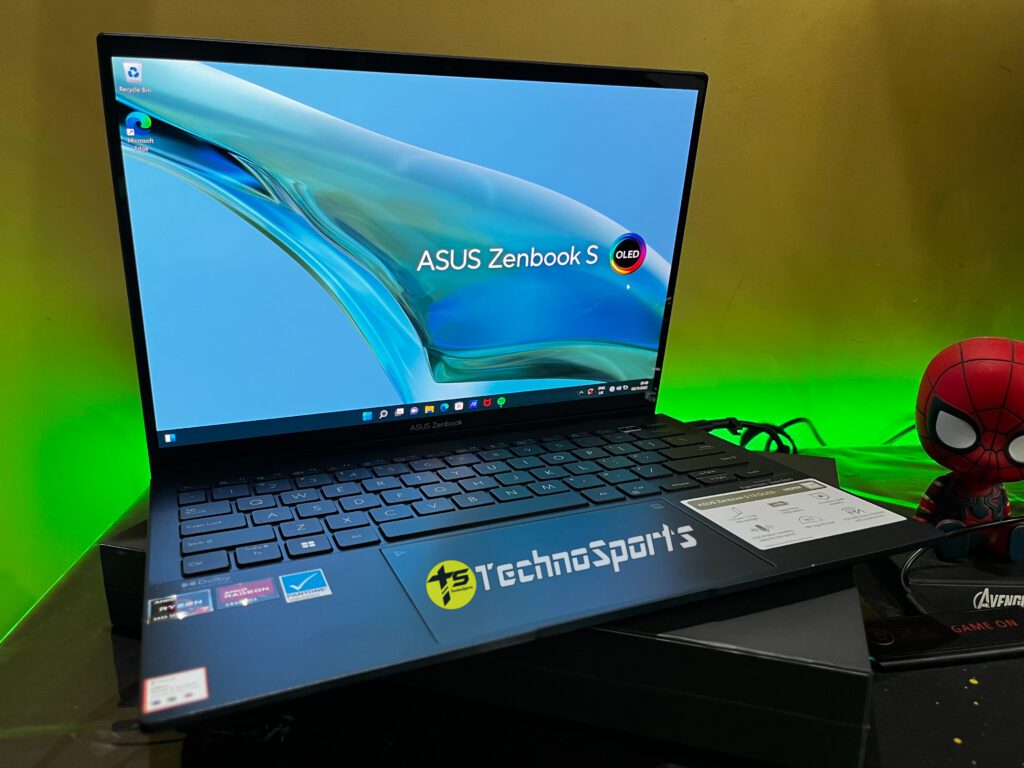 Display
ASUS has been OLEDfying its entire portfolio for quite some time and for the last couple of years its ZenBook lineup has completely transitioned to high-quality OLED displays. Now, ZenBook S13 OLED features a 13.3-inch 2.8K 16:10 touchscreen OLED display, which is indeed the best iteration of a display by ASUS.
If you are a creator or a professional who loves highly color-accurate displays will surely love using the laptop. However, some people might not be convinced with a smaller 13-inch display, which for me was never a concern after getting used to it in a few days, but people who genuinely love bigger displays must look for a 14-inch or 16-inch from ASUS only.
Being Patone validated, and supporting Dolby Vision as well as DisplayHDR500 certification, this ZenBook S13 OLED is bliss for both creators and those who love binge-watching for hours. Another good thing, these ASUS OLED laptops have is the TÜV Rheinland Low Blue light certification which does reduce Blue light emission by up to 70% and reduces strain on your eyes.
Now, here are some display tests we ran tests on our ever-reliable Datacolor SyperX Pro to verify ASUS's claims: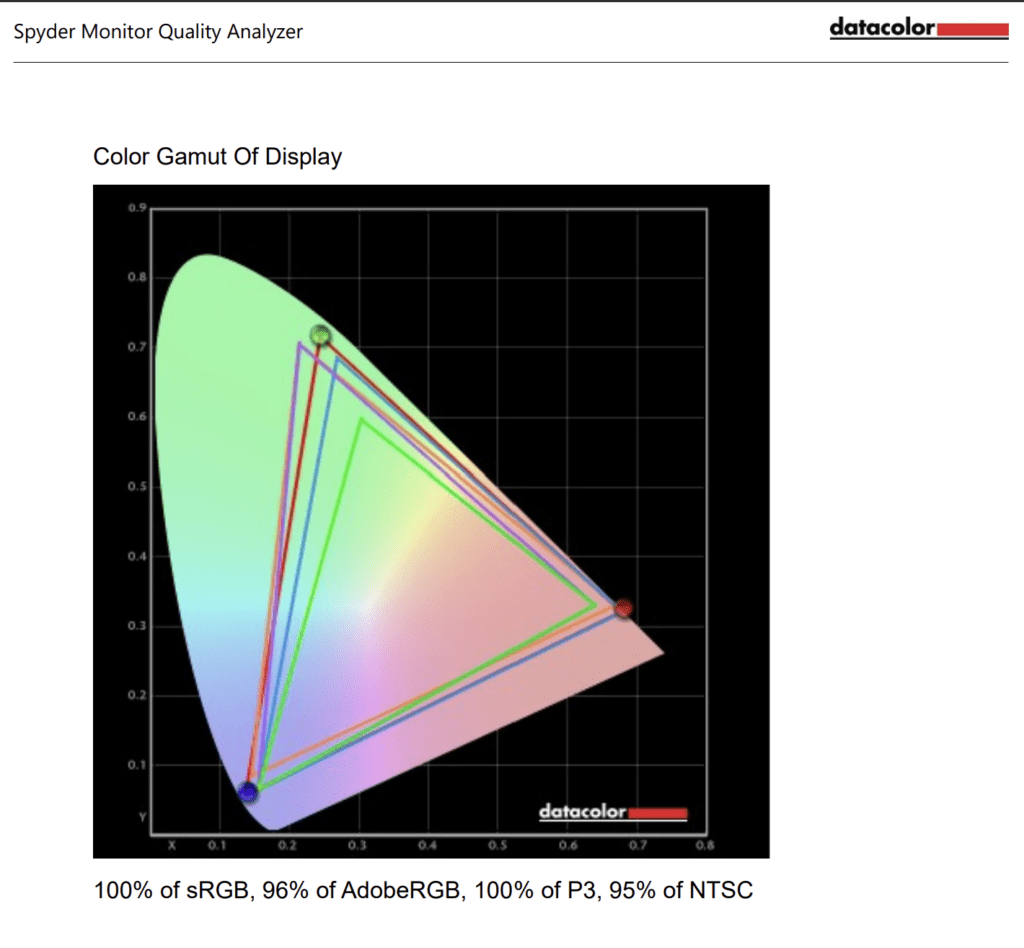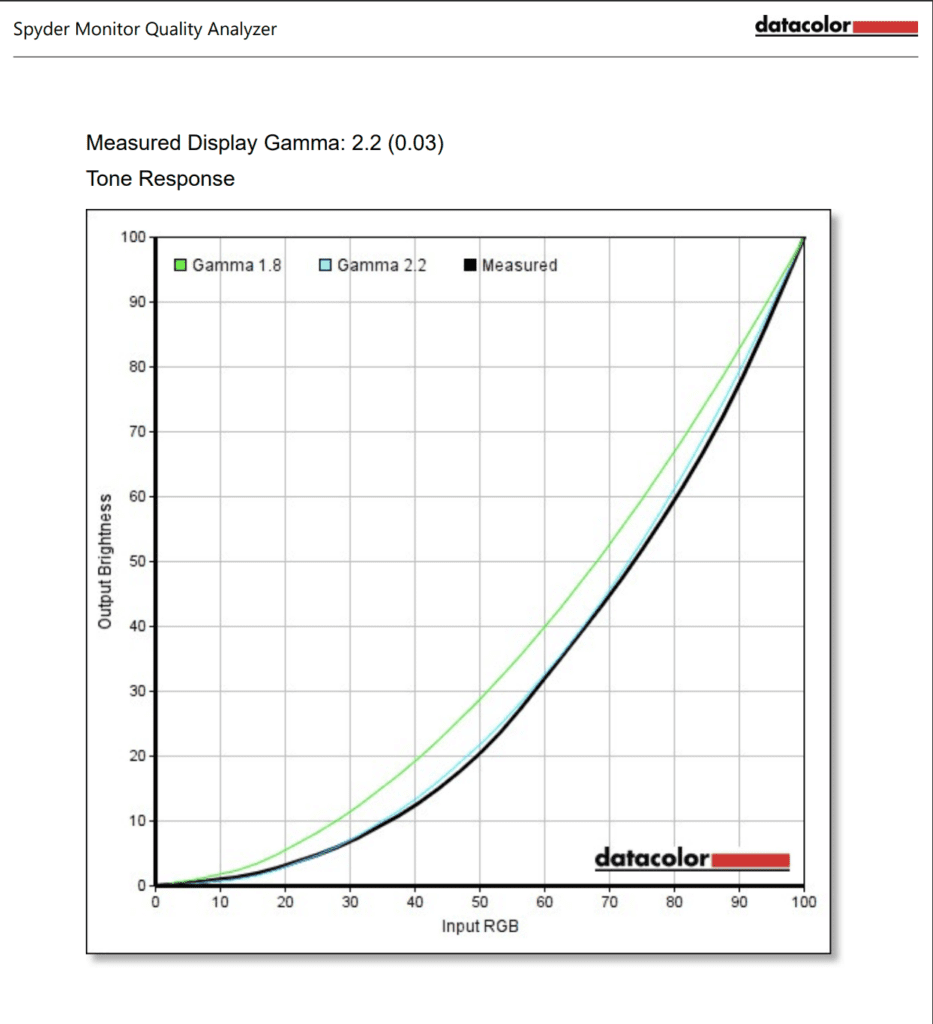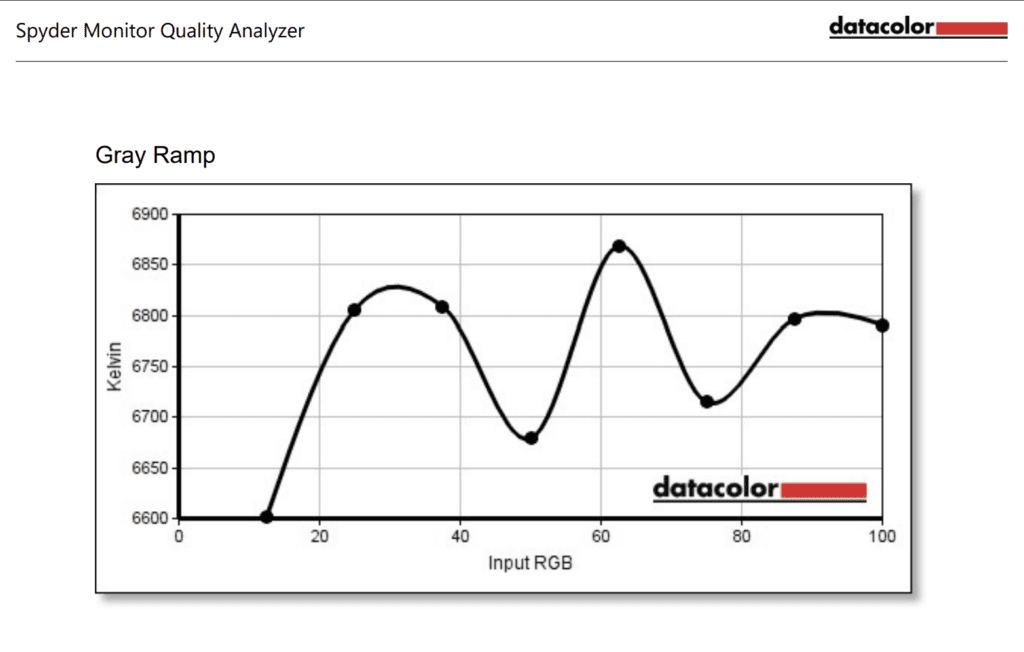 As you see in the tests, the 13-inch OLED display is a really premium one and does live up to the claims by ASUS, it is really one of the best OLED panels I've seen and its also supports touch, which is again better than a MacBook's offering. With up to 100% DCI-P3 color gamut and as confirmed by this test, I can tell you this is the best display on a laptop till date.
Though the display is compact but being a high-quality one saves your day and you can quickly get your professional work done easily. Overall, the USP of this ASUS ZenBook S13 OLED is obviously its display and if you need a laptop with such high color accuracy, good brightness, this is the one you can rely on.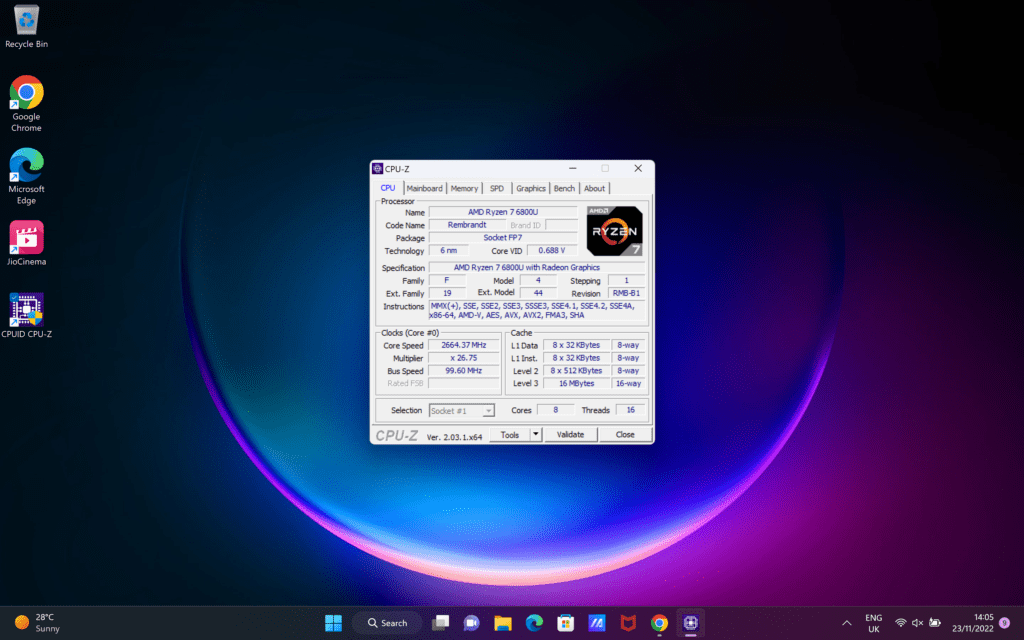 Performance
The key advantage of using the newer 6nm process is better efficiency and that is what AMD's Ryzen 6000U series is all about. The 8-core Ryzen 7 6800U is the most powerful APU from AMD in the lineup and even in 2022 end, this seems to perform quite well for the power it sucks.
This APU is indeed the one you can compare against the new Apple M2 chip, in terms of raw performance it's quite close as well in synthetic benchmarks. Here are some of them for your reference:
As you see, from Geekbench to Cinebench, the CPU paired with 16GB DDR5 RAM and 1TB PCIe Gen 4 SSD gives a well-rounded experience. If AMD had a badge like Intel EVO has, this laptop would be on the top of the list and from instant wake to providing the best performance when needed, this is a very reliable thin & light laptop to have.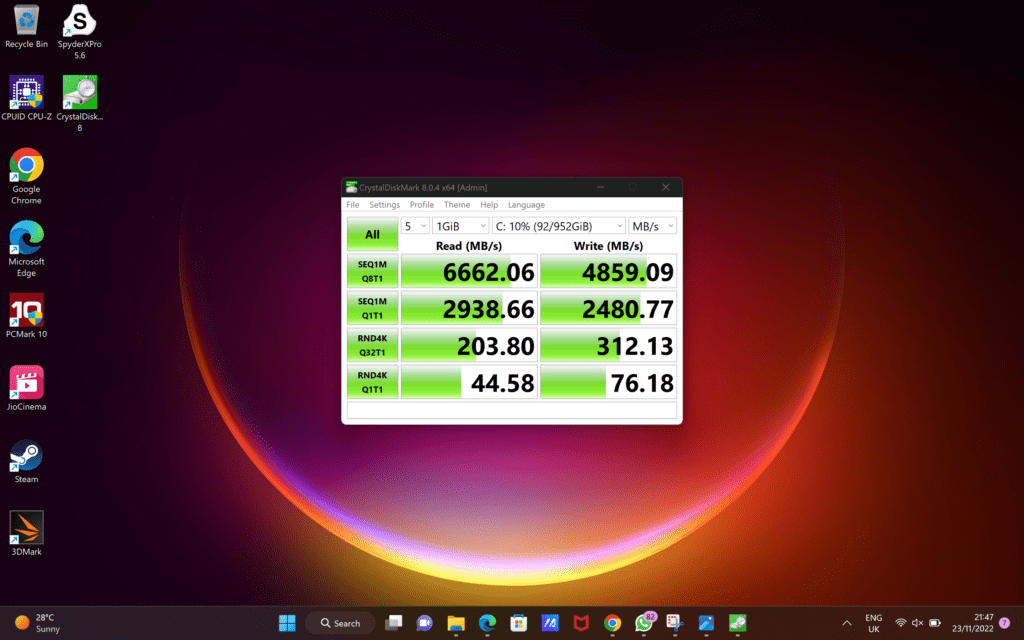 In terms of SSD speeds, the PCIe Gen 4 SSD used here is a good quality one and its 1TB, so it should easily last you in the long run, a much better choice when you compare to the baseline MacBook Air M2 with just 256GB SSD. This ZenBook S13 OLED's SSD gives up to 6662MB/s read and up to 4859MB/s write speeds which is again flagship level undoutedly.
Overall, I completely enjoyed using this ZenBook S13 OLED as my daily driver and as a writer, who loves to take his laptop on the go and work anywhere without having to worry about performance, this is a premium laptop to easily rely upon.
Ports & Connectivity
To make this laptop 14.9mm thin, ASUS had to give up on the USB Type-A port which again is quite painful because you have to rely on the three USB Type-C ports which can be used for both charging and display. So, if you further have to connect any other device you will need a dongle.
While in terms of connectivity you have both Wi-Fi 6E(802.11ax) (Dual band) 2*2 and Bluetooth 5.2, which works well without any issues. I got good download speeds with Wi-Fi 6 and the range is also quite good, now, as I love connecting and working with multiple Bluetooth devices, this ZenBook S13 OLED didn't fail me at all.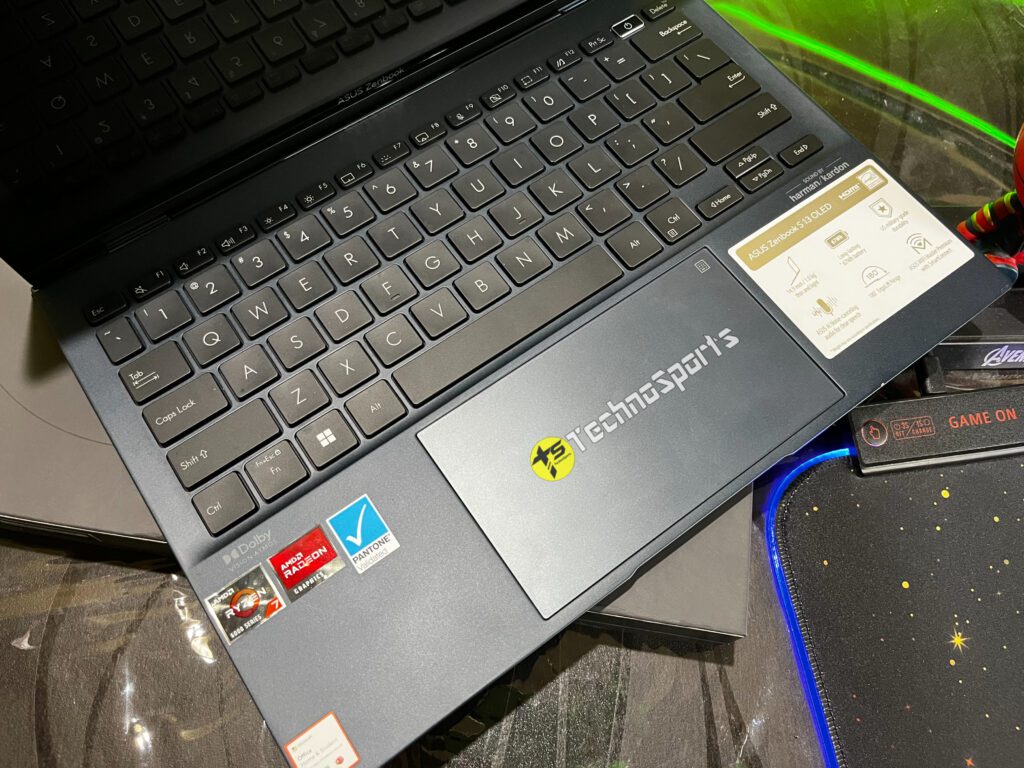 Keyboard & Trackpad
If you have been using or have got the chance to use a ZenBook laptop before you will know that these keyboards are top-notch. Retaining that momentum, this ZenBook S13 OLED also features a 1.4mm clicky backlit keyboard that is a bliss for both bloggers like me or for even casual work.
Since last year's iteration, ASUS has used up every space on the chassis to cram in as much space to the keys, which again are very comfortable for endless typing. In terms of the touchpad, well, the size is not as huge as you see on the MacBooks which I again miss but still, it's bigger now, and quite usable but you will definitely prefer a dedicated mouse anyways.
The Numpad is also there on this bigger trackpad and can be used for quick calculator for work, this feature has been present from the start on every ASUS laptop and the ZenBook S13 OLED is no expection.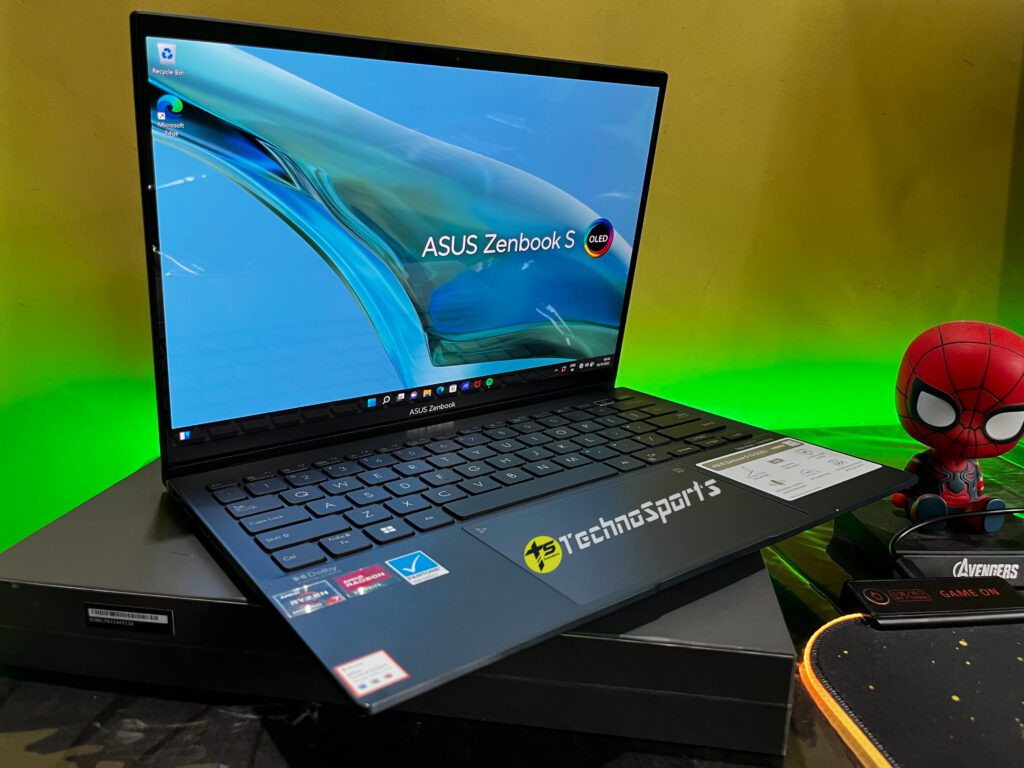 Thermals & Upgradibility
The advantage that this ZenBoom S13 OLED enjoys over the Apple competition is that it still has a fan inside while Apple's fanless design has backfired this time as per many reports of heating issues. However, as you know, via the MyASUS app you can set your performance profile as per your needs, use Performance mode for best performance, and then again the fans start spinning as per the load you put in.
On the other hand, when you use the Silent mode, the laptop remains very quiet and there is no issue in terms of work unless you are doing heavy usage. In this mode, you won't even hear the fans spinning which again extends battery life to an insane level. Talking about upgradeability, this laptop is already slaughtered and cannot be upgraded.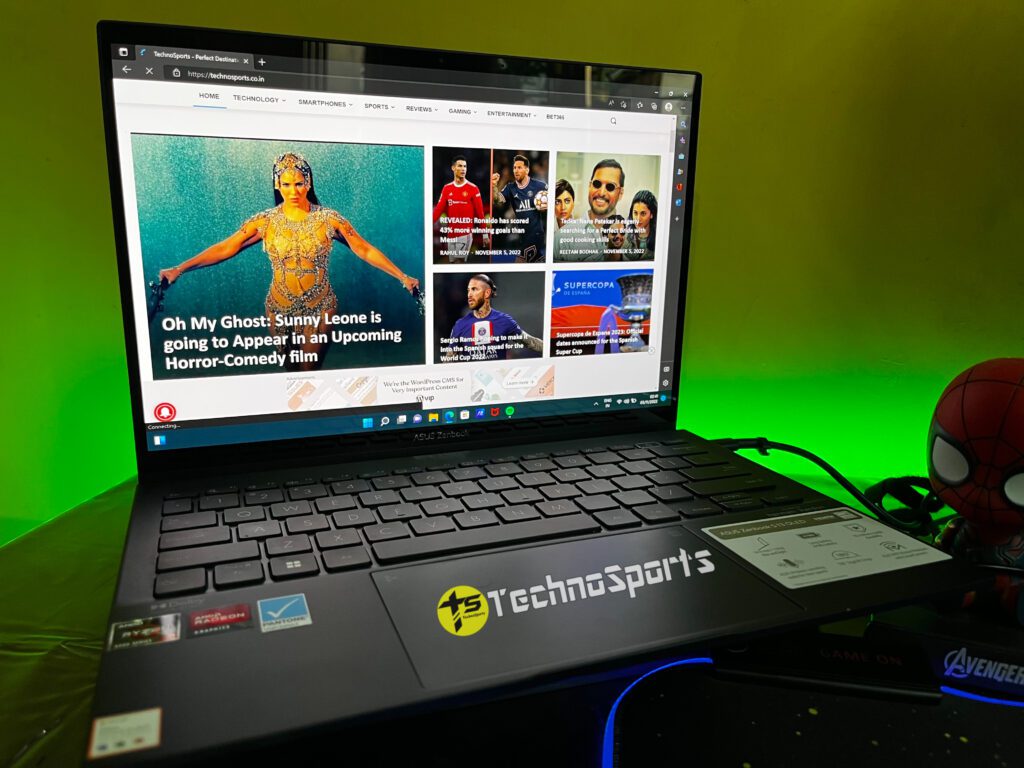 Audio & Webcam
ASUS has always provided class-leading speakers on its ZenBook laptops with Dolby Atmos support and the dual speakers on this ZenBook S13 OLED are again very loud & crisp. I really enjoyed using the laptop for my daily music streaming or casual YouTube sessions alongside binge-watching as well.
However, I will though complain about the webcam which is the same 720p HD camera and I strongly feel ASUS should upgrade it to 1080p by the next iteration. The 720p webcam does look shabby especially in 2022 and this is a biggest disadvantage against the MacBook Air M2 which has better quality front camera and these days, you need a quality webcam on your laptop.
Battery Life
If you want to own a thin & light laptop for professional work you expect good battery life out of it and so most users prefer MacBooks which sip in less power and have a phenomenal standby time. Now, this ASUS ZenBook S13 OLED has to offer better specs than Apple for the same price as promised and insane battery life, I remember talking with one of ASUS employees as this laptop was launched, and he told me to expect the best battery life yet.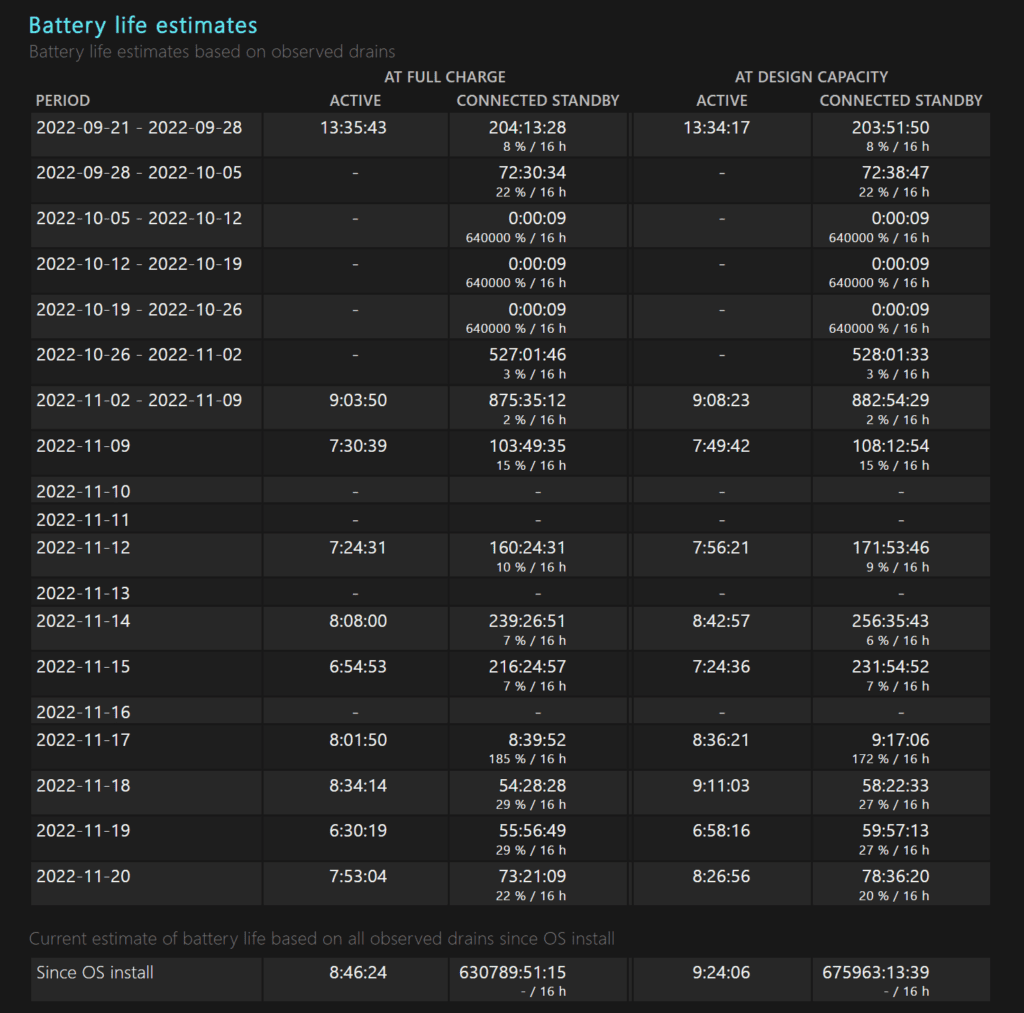 Well, the 67WHrs battery which is the maximum they could provide without affecting the weight does give a good battery life, not insane as hyped. However, I like that you get actual 7-8 hours of battery life in real-life usage, now with some cutdowns, you can further extend this to 9 hours as well.
Considering, this is a touch display with high brightness, the estimates are excellent. However, the results are using Silent mode and you will notice a dip in battery life as you push it during other workloads, overall, as a premium Windows notebook, will surely recommend it to people for its good battery life.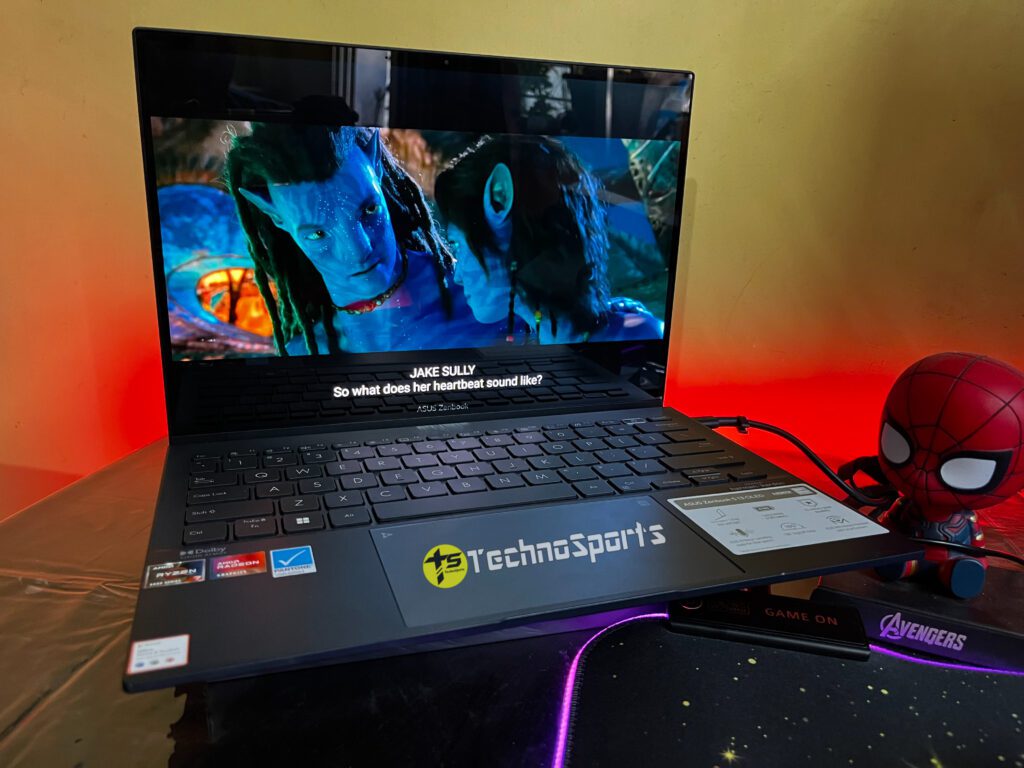 Verdict
Considering how polished this ASUS ZenBook S13 OLED is, it's undoubtedly one of the most premium thin & light Windows laptops out there. Coming at the same price as the MacBook Air M2, I would strongly recommend this one if you do love Windows laptops and clearly, it offers better overall value.
With the performance and efficiency of the AMD Ryzen 7 6800U here along with a breathtaking 13-inch OLED display, this is could be your go-to laptop for anybody. This ZenBook S13 OLED easily justifies its title as a MacBook killer and continues to offer better value for price in 2022. From battery life to an amazing lightweight profile, this Windows laptop certainly speaks for itself but its webcam is still one big con I noticed.
Buy this ASUS ZenBook S13 OLED from Amazon India: https://amzn.to/3OybxEs