The Qatar World Cup of 2022 has already begun. Let's take a look at some of the tournament's most horrifying moments in the past.
Here is the list of the 10 worst errors in World Cup history:
Graham Poll: Three Yellow Cards (2006)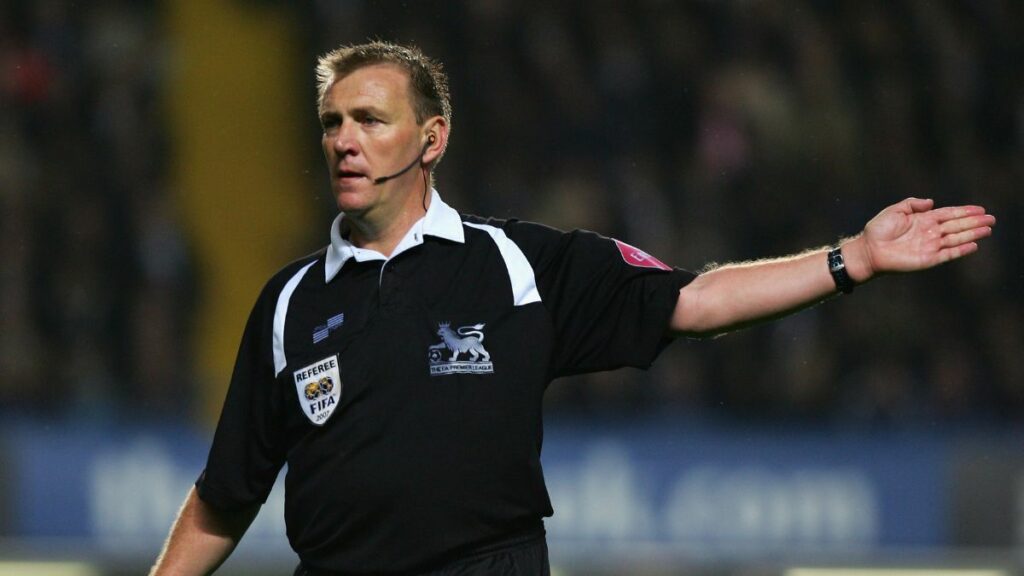 In 2006, English referee Graham Poll presided over Croatia vs. Australia, a competitive match that featured two goals for each team and two red cards. Strong refereeing was anticipated because qualification was on the line. But then a strange thing happened.

Josip Simunic received a yellow card from Poll for a foul on Harry Kewell in the 61st minute, then a second yellow for another foul in the 90th. But he didn't realize Simunic would be dismissed until he saw the second yellow in the incorrect column. He received a third yellow and his marching orders in the 93rd minute for dissent. Although it didn't prevent Australia from qualifying, it very well could have on a different day.
Robert Green: His Error Against USA (2010)
A keeper's mistakes above his saves are what people remember him for, and Robert Green is a great illustration of that. Clint Dempsey attempted a long-range shot in the opening 2010 game, but Green handled the ball improperly, allowing it to slide through his hands and gently bounce into the goal.
The score remained tied at 1 after that, which was the equalizer. However, if England had won the group and gone on to face Germany rather than Ghana, many things might have gone differently.
Frank Lampard: His Ghost Goal Against Germany (2010)
In a World Cup knockout game, it's one of the most famous sliding door moments. Even though the rivalry between Germany and England already has a long history, adding the quarterfinal stage increases the stakes.
Frank Lampard's attempt from outside the box hit the crossbar, crossed the line, and rebounded back into the goal as Germany held a 2-1 lead, preventing an equalizer. Manuel Neuer, the goalkeeper, caught it and continued as usual.
But at the time, there was no VAR or goal-line technology, so many people mistakenly thought it was a goal. No mechanism existed to verify. Germany would eventually win 4-1, but an equalizer at that point would have altered the game's dynamics.
Harald Schmuacher: His Collision with Patrick Battiston (1982)
In the 1982 World Cup semifinal, Harald Schumacher was involved in one of the most violent collisions you will ever witness, but Dutch referee Charles Corver did not dismiss him. Patrick Battiston collided with goalkeeper Schumacher while battling for a loose ball, breaking three ribs and losing two teeth.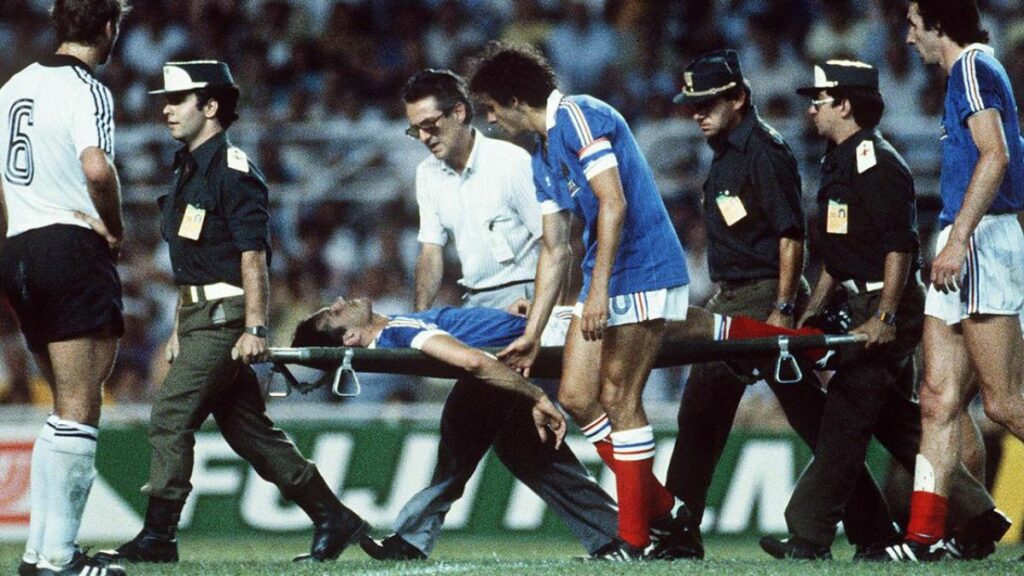 On the field, he needed to receive oxygen. However, Corver did not give a penalty for it or dismiss Schumacher; as a result, France had to make an additional replacement to replace Battiston, who had only been on the field for ten minutes. In the penalty shootout, Germany prevailed 5-4.
Diego Maradona: Impressive Hand Goal (1986)
Among the most famous incidents in football history. Diego Maradona out-jumped Peter Shilton to score the game's opening goal, but because of a height difference, he was only able to touch the ball with his hand. But the goal was upheld by referee Ali Ben Nasser. Maradona will soon add to the misery by scoring one of the great goals. Shilton has never been able to forgive or forget.
Andres Escobar: He's Own Goal (1994)
An own goal can be scored by anyone. However, Andres Escobar paid the ultimate price for his crime by passing away after arriving in Colombia. A drug cartel who allegedly lost a lot of money betting on the outcome of that game shot him outside the club.
Escobar's own goal had given the Americans a 1-0 lead going into the final score of 2-1. The next game saw them defeat Switzerland 2-0, although they lost by one point. It was a heartbreaking tale that demonstrated the difficulty in blaming specific people for sporting errors that may occur to anyone.
Roberto Baggio: His Missed Penalty (1994)
Because of his stellar club and national team careers, Roberto Baggio's missed penalty in the 1994 World Cup final is not as significant a mark against him as it would be for a lesser player. Still, it must hurt.
The first and fourth penalties were missed by teammates Franco Baresi and Daniele Messaro, but talisman Baggio was predicted to score the fifth and keep Italy in the game. However, in one of the most notorious plays in World Cup history, he rocketed it over the bar. Italy will have to wait 12 years for their time after Brazil won their fourth championship.
Luis Suarez: Biting Giorgio Chiellini (2014)
Didn't Luis Suarez enjoy becoming involved in a World Cup controversy? While 2010 had some justification, 2014 was pure lunacy. Uruguay needed to defeat Italy after losing to Costa Rica in the first game and then defeating England (via a Suarez brace).
Giorgio Chiellini was struck by Suarez's lunge in the 79th minute, and Suarez oddly fell to the ground clutching his teeth. There was no card issued, but the retrospective punishment was a nine-match suspension, a four-month suspension from participating in football, and a fine. Barcelona's debut was delayed due to the ban, but Uruguay lost to Colombia 2-0 in the Round of 16 amid the uproar about an appeal and the scandal.
Asamoah Gyan: His Missed Penalty Against Uruguay (2010)
Ghana came so close to being the best. They took Uruguay to extra time with the score tied at one in an attempt to become the first African team to reach the World Cup semifinals. They had a free kick, which they used to put even more pressure on the defense by placing the ball in the box.
In the ensuing melee, Uruguayan Luis Suarez stopped Dominic Adiyiah's header with his hands before blocking Stephen Appiah's shot on the goal line. He was dismissed for committing a professional foul.
Asamoah Gyan held the ball and had an opportunity to convert the go-ahead penalty. His blow to the crossbar. Suarez on the sidelines is a clear memory, and despite Gyan making up for it in the shootout, they lost. For Ghana and Gyan, it's a moment of sliding doors and a significant what-if.
Zinedine Zidane: He's Headbutt (2006)
Zinedine Zidane, a French great, has previously stated that he will retire following the 2006 World Cup. After advancing to the final, there was anticipation for a flawless farewell game, the kind that is rare. But these stories belong in the movies and are one of the most dramatic moments that ever happened in sports.
As they were leaving during extra time, Zidane abruptly turned around and headbutted earlier-scoring Italian defender Marco Materazzi to the ground. After being given the boot, France lost on penalties.
It might have been the most dramatic moment of a player's career, even though Zidane's presence may not have made a difference. The fact that Materazzi insulted his sister irritated him, so he might not even view this as a mistake, but he let his emotions get the better of him.
Read: FIFA and NFT: Football Meets Web 3.0