LG has announced the LG UltraGear 27″ 1440p 240Hz OLED Gaming Monitor, which might be a significant step forward in a PC gaming digital display market that is struggling to transition to OLED screens. OLED televisions are now widely available, but pricing is a different story. However, the larger displays utilised in OLED TVs haven't worked for typical PC gaming monitors, slowing the transition. LG's 27-inch UltraGear may be the first in a series of OLED monitors aimed at extending the display technology to a wider range of PC gamers.
The new LG monitor is far from the first OLED display. LG itself sells 27″ and 32″ UltraFine OLED screens with 4K resolution and a refresh rate of 60Hz for roughly $3,000 and $4,000, respectively. TV-sized screens marketed as PC gaming monitors, such as Dell's Alienware 55″ 4K 120Hz OLED, LG's popular 42″ and 4K C2 TV, or the larger Sony A95, are more readily accessible. Curved OLED monitors, as well as smaller portable OLED monitors, have found a niche given their already high costs.
The LG 27″ UltraGear OLED Gaming Monitor combines the quality of an OLED screen with the high performance anticipated of a gaming monitor, all in a standard PC monitor size.
Furthermore, the pricing is quite low at $999. The LG UltraGear has a 1440p resolution, a strong refresh rate of 240Hz, and a solid.03ms GtG response time. LG's OLED screens also feature a colour depth of 1.07B, but it's unclear whether this is full 10-bit or 8-bit, as well as FRC, HDR10, and a contrast ratio of 1,500,000:1.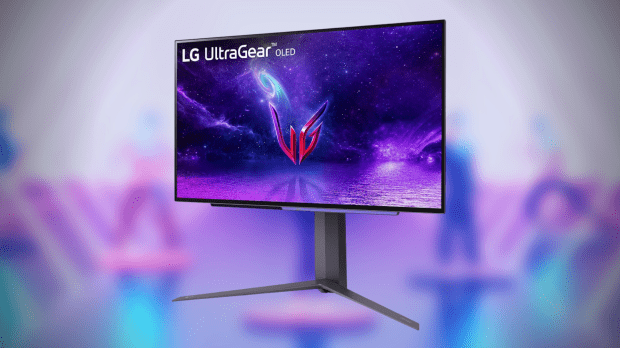 It is a fairly simple monitor for the price. The LG 27″ UltraGear is G-Sync and FreeSync compatible, but it does not enable hardware-accelerated adaptive sync. There are two HDMI ports and a DisplayPort port. The stand only has 20 degrees of vertical and horizontal swivel despite having RGB lighting. The monitor's value is not necessarily derived from its features but rather from its screen.
For the record, the LG 27″ UltraGear OLED monitor is not yet in stock, but it won't be long. The fact that LG is selling the monitor on its website with a price and complete technical specifications suggests that the product may be almost ready. In 2023, the full launch is anticipated. Expect to hear a definite date shortly, possibly at CES 2023.
High-performance OLED is not likely to be widely available for PC gaming on a $999 display. That's still years away, and only if another cheaper and equally spectacular technology doesn't supersede OLED technology. The first monitor that offers a step up in visual quality and is at least fairly priced for high-end PC gamers, though, is this one. Even though the LG 27: UltraGear OLED Gaming Monitor doesn't have 4K resolution, it nevertheless represents progress. It could not be long before a 32″ 4K OLED with a 240Hz refresh rate is available.
Also Read: