It's confirmed that Hardik Pandya will replace Rohit Sharma as the T20I captain. The BCCI selectors want to make sure that the team has some young blood and completely a fresh outlook. Hardik Pandya is supposed to be the next skipper. Meanwhile, Rohit Sharma will be the skipper of the ODI and TEST team as per sources.
After India got crushed by England in the semifinal by 10 wickets, the BCCI has sacked the entire selection committee. The board was disappointed with the selectors and they have now fresh applications for the post of five selectors.
BCCI: National selectors sacked; Hardik Pandya to replace Rohit Sharma as the new T20I captain,
"There had to be a change and have to admit there were a few wrong decisions in selection. We needed a fresh start. Some of their tenures were ending and we had to start fresh with a new approach and new mindset. We did not get the results we wanted and after Jay and Ashish came back from Melbourne, we decided, it would be best to have a completely new panel,"– a BCCI official said

India's all-rounder Hardik Pandya will be announced as India's new skipper of the T20I prior to the Sri Lanka series. Rohit Sharma to lead the ODI and Test teams.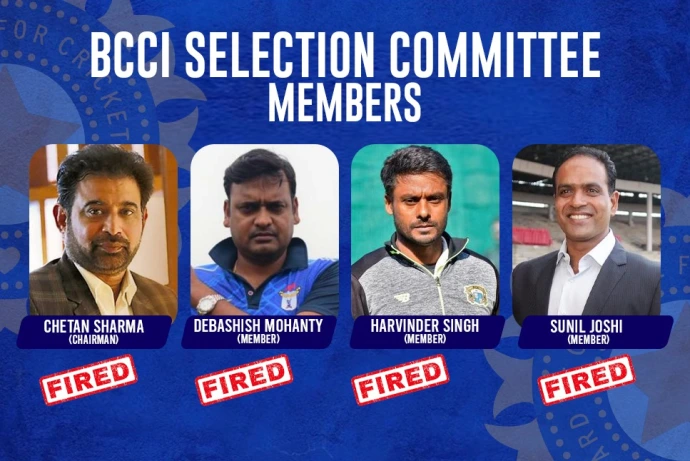 The BCCI sacked selectors like Chetan Sharma, Debashish Mohanty, Harvinder Singh and Sunil Joshi. Questions have been asked of them regarding their poor choices. The Board also announced their sacking on social media and posted about the applications for e position of National Selections. Candidates who wish to apply for the position need to fulfil certain criteria.
Chetan (North zone), Harvinder Singh (Central Zone), Sunil Joshi (South Zone) and Debasish Mohanty (East Zone) have had the shortest time as senior national selectors in recent times being appointed in 2020 and 2021.
The deadline for submitting an application is November 28.
KL Rahul's poor form has been a matter of concern for BCCI as well, it will be no surprise if his vice-captaincy is snatched away.
Read more: India vs New Zealand 1st T20I abandoned due to rain; Hardik Pandya believes that this tour will be filled with opportunities