IPL's new chairman Arun Dhumal said something that created a huge buzz in the world of Sports. He is sure that BCCI will be making IPL the biggest sporting league in the world within the next five years. IPL at this moment is in the second position to the National Football League (NFL) in terms of National Football League (NFL).
"The IPL will be much bigger than what it is and will be the number one sports league in the world," – he said
IPL Chairman Arun Dhumal thinks that IPL will become the world's biggest sporting league
IPL at this moment is the second most valuable sporting league globally regarding per match value post media rights for 2023-2027 cycle that bagged a whopping amount of Rs 48,390 crore. IPL has left the English Premier League (EPL) and Major League Baseball (MLB) behind in the last rights sale.

However, IPL has a shorter window compared to football leagues like EPL or NFL in the United States. The IPL will also have two two-and-a-half-month exclusive windows comprising a maximum of 94 games with 10 teams.
Dhumal believes that innovation is the need at this point to make the tournament bigger and better. Fans have also contributed a lot to IPL and Dhumal said that he has plans to give the audience a better viewing experience.

"We are definitely looking at various innovations that can be brought to make it more fan-friendly. For those who are watching it on Tv and those who are experiencing at the stadium, we want them to have a better experience. If we can make the IPL schedule well in advance, people from all around the world can plan their travel accordingly. It should be a value-for-money experience for the fans," he said.
In IPL 2022, 74 games were held in the season and the matches in 2023 will be going up to 93 games.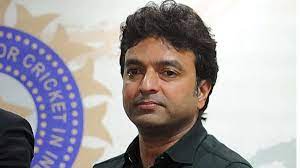 The emerging T20 leagues has put pressure on BCCI to let the IPL players play for overseas tournaments. Recently, the IPL owners have bought all the six tournaments in the South African league and want some presence of India players in the competition.

"This in principle is the decision of BCCI that our contracted players can't go and play for other leagues. As it is there is so much of cricket happening. Keeping in mind their overall well-being that decision has been taken. As of now, we stick to that decision. Even the noncontracted ones are aspiring to play for India." he said.
He further desires to take the Indian diaspora across the globe and want to increase the reach of this tournament. He further added that they'll be taking the players internationally when the right time arrives.
Read more: T20 World Cup 2022 Semifinal: Pakistan defeat New Zealand to seal their place in the finale