The Taiwanese giant has been innovating since over a decade now and has launched multiple products in recent years which have taken the market by storm. With multiple form factor laptops and a wide portfolio to offer a wide range of audiences, not only in India, ASUS is ruling the world with its multiple products.
They had already become the first to introduce a modern 2-in-1 gaming laptop last year with the efficient and powerful Ryzen 5000HS series processors, now they have extended to the new 2022 variants with the newer Ryzen 6000 series. Thankfully, we have this time got this ROG Flow X13 with us to review and yes it's a piece of engineering marvel.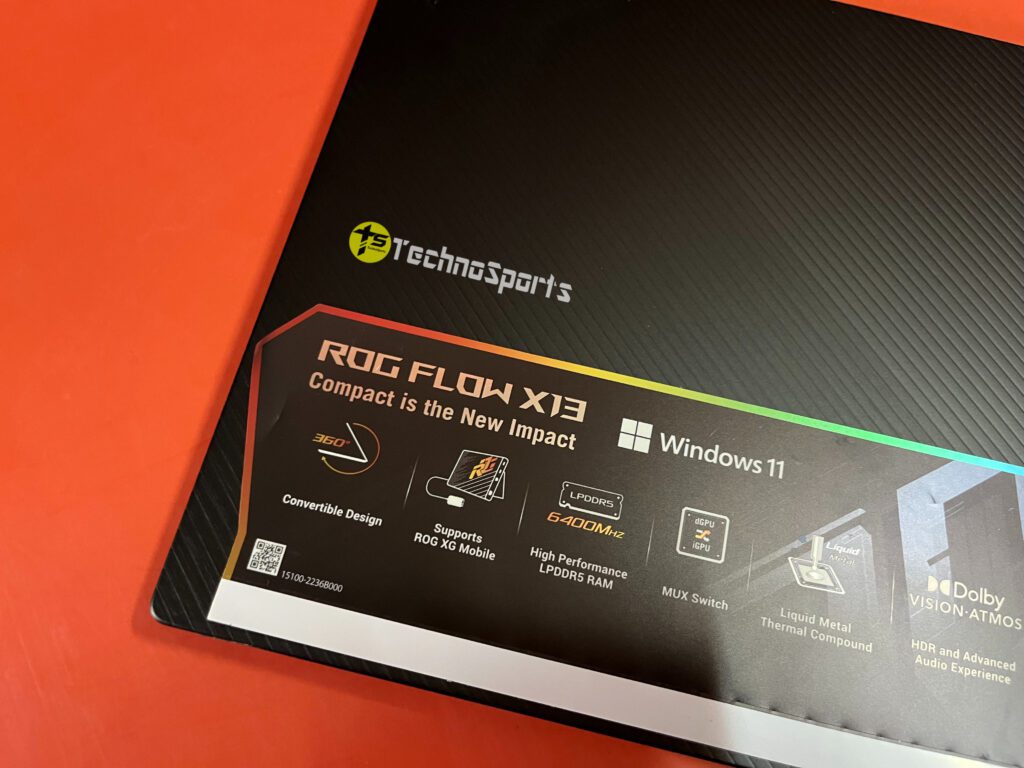 I have personally loved 2-in-1 laptops for years now and their flexibility is immense if compared to other laptops, however, I have missed playing intense games because of the lack of good discrete GPUs. Generally when you have such a slim and 2-in-1 form factor, cooling the chassis becomes a challenge for OEMs and that is why we haven't seen anything like this before.

Also, as these 6 nm-based Ryzen 6000HS processors are far more efficient and draw less heat or more as per user need, now, making laptops like this ASUS ROG Flow X13 is easier. So, have been using this gaming laptop for weeks now, here's a detailed review of the same which will make it easier for you if you have been planning to get one for yourself.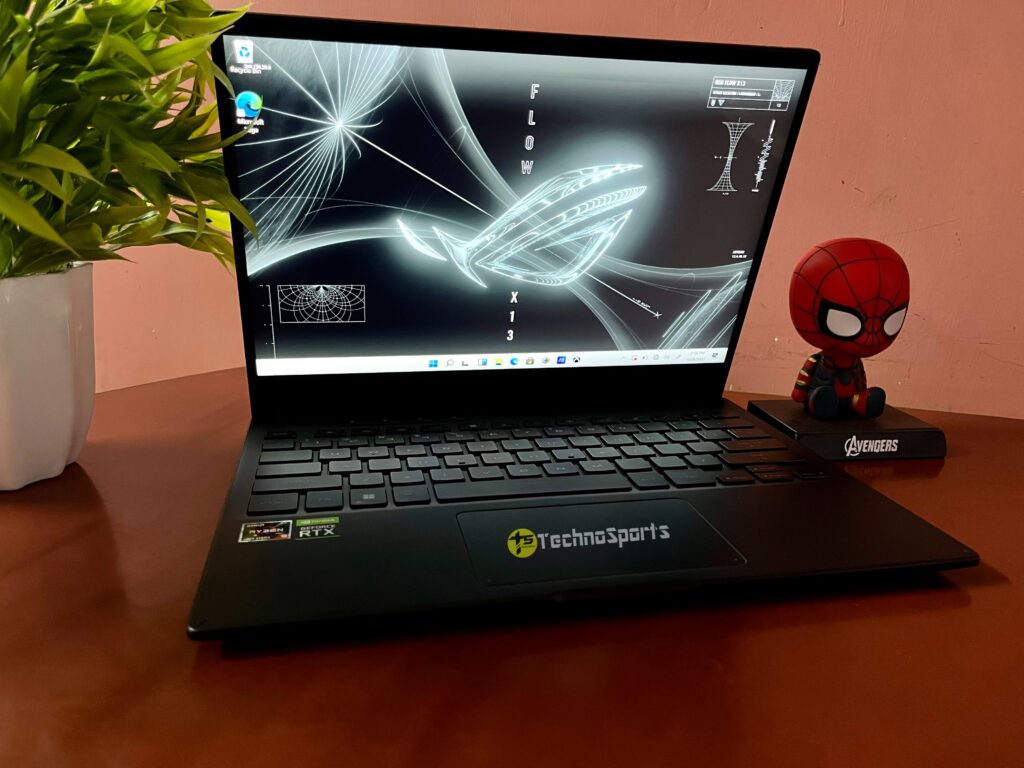 Specifications of ASUS ROG Flow X13
ROG Flow X13 (2022)
Processor
Up to AMD Ryzen™ 6900HS Processor
Graphics
Up to NVIDIA® GeForce RTX™ 3050 Ti GDDR6 4GBTGP 35W (40W with Dynamic Boost)
Operating System
Windows 11
Display
13-inch 16:10 FHD (1920×1200) 120Hz, 100% sRGB, touchscreen display with Adaptive Sync, Pantone® Validated, Dolby Vision support
Memory
Up to 32GB LPDDR5 6400MHz
Storage
Up to 1TB PCIe Gen 4 SSD
Keyboard
White light backlit chiclet keyboard, N-key support 1.7mm travel distance
Audio
2 x speakers with Smart Amp Technology
Dolby Atmos Hi-res certified, AI Noise-Cancelation technology
3D Mic Array
Wi-Fi / Bluetooth
WIFI 6E (802.11ax)
Bluetooth 5.2
I/O Ports
1 x XG Mobile interface (including 1 x USB 3.2 Gen 2 Type-C with DisplayPort™ 1.4, G-SYNC, and Power Delivery)
1 x USB3.2 Gen 2 Type-C support DisplayPort 1.4 and Power Delivery
1 x USB 3.2 Gen 2 Type-A
1 x 3.5mm combo Audio jack
1 x HDMI (HDMI 2.0b support)
Battery
62Wh
Dimensions
299(W) x 222(L) x 15.8(H) mm
Weight
1.3kg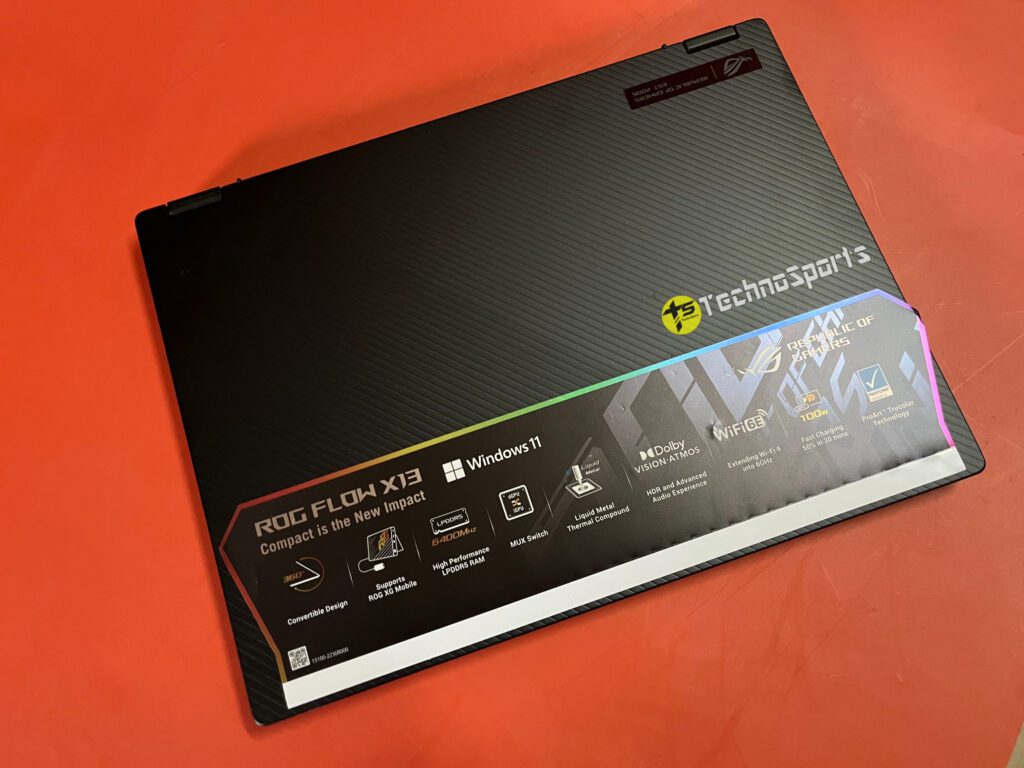 Design & Build Quality
ASUS has gone for a solid plastic build instead of metal to reduce the weight of this ROG Flow X13 and this is the same design & build to that as last year. Even though it's made of plastic, it's not fragile but easy to carry as it's light, only weighing 1.3 kg even though having a 360-degree hinge.
The textured lines across the chassis make it easier to grip and the low-profile design helps you to carry it anywhere, and do anything because of its form factor. Its portability and ease to use make it a unique product that is again capable of providing you with a good 1080p gaming experience.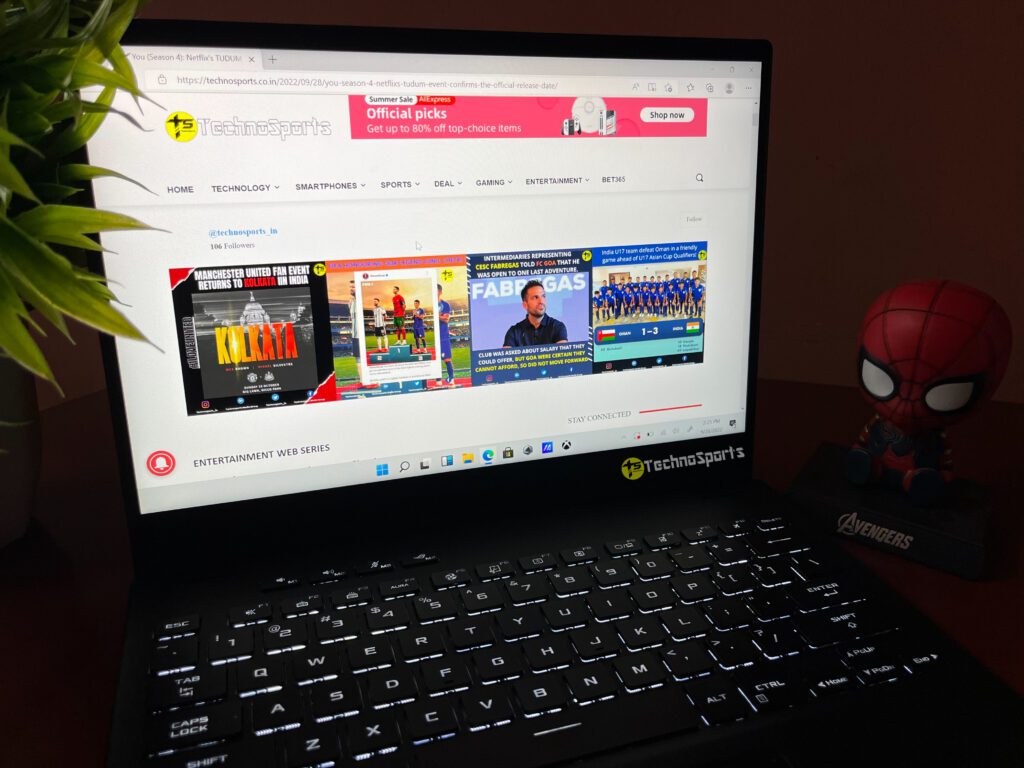 Display
This ASUS ROG Flow X13 (2022) gaming laptop sports a 16:10 13-inch display, here we have the FHD resolution with a 120Hz refresh rate. With a 100% sRGB color gamut, the display looks crisp and accurate, not as accurate as OLED displays but does the job for most people who need an everyday 2-in-1 laptop with which you can also play heavy games.
Also, ASUS has its ROG Flow X16 for those who need a bigger and better display, however, if 13-inch does the job for you, or you plan to hook up to an external display, this ROG Flow X13 should easily do the job for you. For me, at first, 13-inch was hard to digest, however, within a day or two it didn't have any issue for me, I could use it as a tablet or a laptop, and use tent mode to play games anywhere.
This ROG Flow X13 is for those who are more into versatile working while still don't want to give up on gaming while having the flexibility to hook your monitor or TV and play on a bigger screen. For daily usage, the 120Hz feels very smooth to use and for casual browsing or typing articles I never really had any problems. However, someone who is obsessed with bigger displays shouldn't go for this in the first place.
Now, here are some display tests we ran tests on our ever-reliable Datacolor SyperX Pro to verify ASUS's claims:


As per ASUS's claims, this 13.4-inch 16:10 display is quite good and is up to 97% sRGB color accurate, almost close to 100% claim. Not the most color-accurate one I would say but for a gaming laptop, it's okay, for more color accuracy goes for the OLED displays or the ROG Zephyrus G14 which we reviewed recently as well.
The Grey ramp and tone response are decent while the peak brightness claims of about 500 nits are justified and in real life go about 440 nits which is really good. Even for outdoor usage, this ROG Flow X13 is great, and overall in terms of display, this is a good 2-in-1 gaming laptop for most users out there.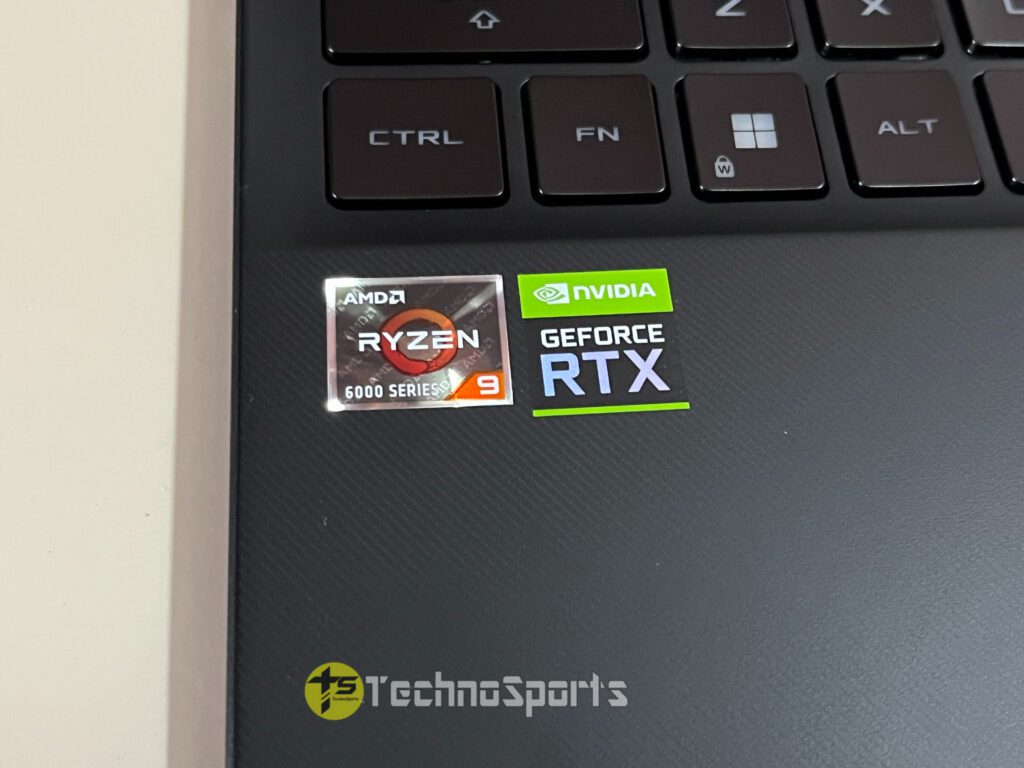 Performance
A lot of people might not take the performance of this 2-in-1 laptop seriously as it is a thin & light machine, however, AMD's Ryzen 9 6900HS is an 8-core chip that remains silent when not needed and pumps up all cylinders when it's called upon. Now, as per your need, you can keep the modes at Silent, Windows, Performance, or Turbo which will automatically adjust your thermals and CPU performance as per your needs.
If all you are doing is basic work keep the profile Silent and turn on Eco Mode, you will get the best battery life from this laptop. The Ryzen 9 6900HS is a very efficient chip and is more than enough for a lot of users, it kind of provides a similar M1/M2 level efficiency on a Windows laptop.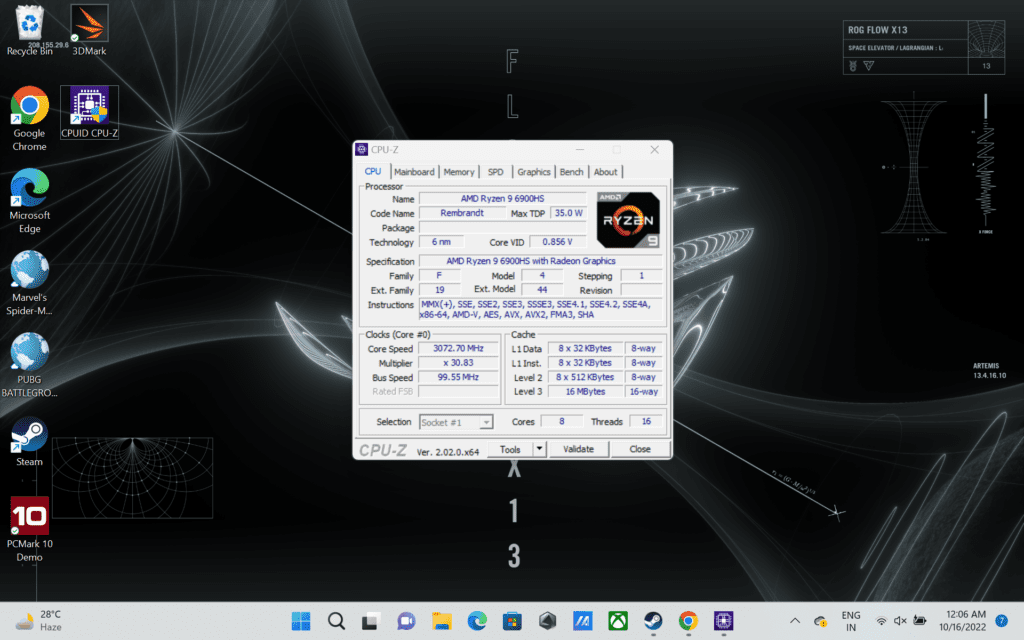 Being such a light and easy-to-use laptop, the top-end variant also comes with an RTX 3050 Ti or you can get a variant with only an iGPU or an RTX 3050. Now, it completely depends upon your use case and which one you want to go for because the pricing of this device is on the higher side because of its uniqueness.
In terms of synthetic benchmarks here are some numbers for your reference:
As you see the 8-core Ryzen 9 6900HS is a decent chip with good potential to perform when you need it and especially is a good choice in a form factor like this. In single-core, the chip doesn't perform too well but overall at lower TDP, this is a nice SoC that also comes with its own iGPU to help you conserve battery life when you don't need the discrete graphics.
Here are some of the 3DMark benchmarks with this ROG Flow X13 for your reference:
In all of these benchmarks, you see CPU-bound tests do actually have a favour for this gaming laptop and give good scores. While on the GPU side, the RT 3050 Ti does perform well, not the most powerful one out there but does the job for gamers or those who want to light to moderate productivity work.
In terms of SSD speeds, this 1TB SSD is advertised as PCIe Gen 4 SSD but it doesn't seem to be a fast one I don't know why. It's limited to 3075MB/s and while most users will be able to live with it, however, a true Gen 4 speed should have made this ROG Flow X13 even faster.
Gaming
When I actually received this ROG Flow X13 for review I didn't have high expectations regarding the gaming performance considering its specs or even its form factor. However, I am really surprised with ASUS's engineering that the thermal management has been done so well that helps to maximize gaming FPS.
Be it any game, even in a game like Assassin's Creed Valhalla, you get 60FPS+ and in most other modern games, the RTX 3050 Ti shines easily. Here are some of the gaming benchmarks in modern games:
As you see in a wide range of games, from Stray to Watch Dogs Legion, the 60FPS target is achieved easily even with such a thin & light form factor. Also, you can hook in an XG Mobile eGPU to maximize performance but will be a costly option, so, for those who need a decent FHD gaming performance, the ASUS ROG Flow X13 (2022) will be a good option.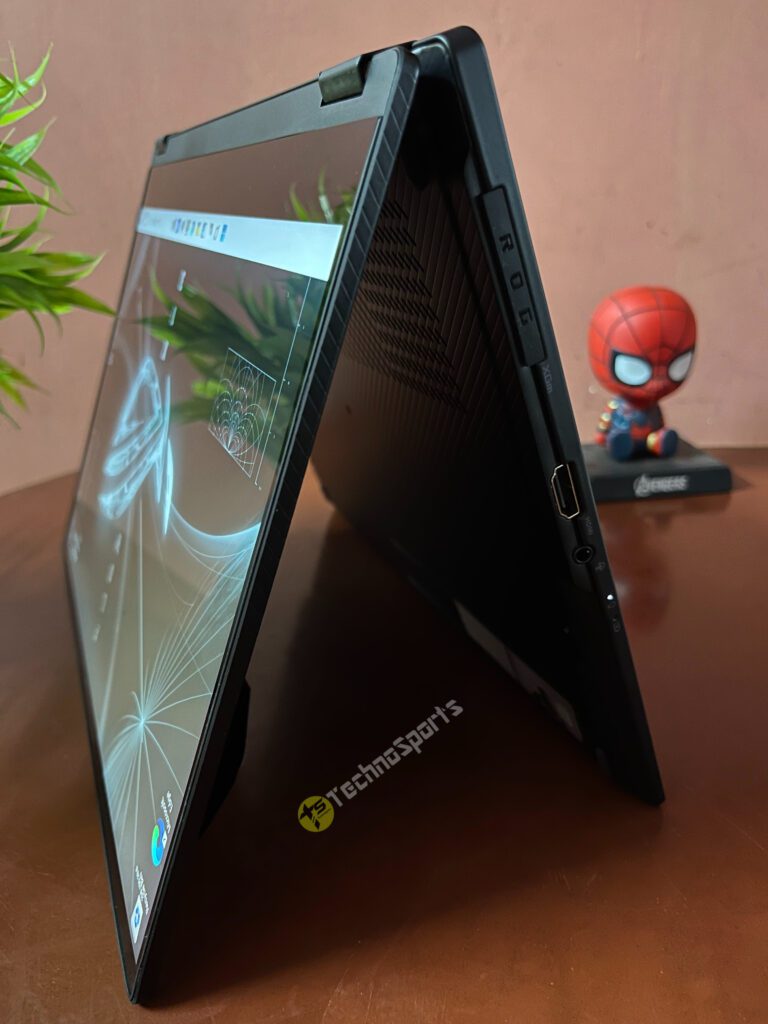 I/O & Connectivity
Coming to I/O and connectivity options, you have the XG Mobile interface (including 1 x USB 3.2 Gen 2 Type-C with DisplayPort™ 1.4, G-SYNC, and Power Delivery) on the left side including an HDMI port and a 3.5mm combo Audio jack. On the right-hand side, you have a USB3.2 Gen 2 Type-C port which supports both DisplayPort 1.4 and Power Delivery along with a USB 3.2 Gen 2 Type-A port.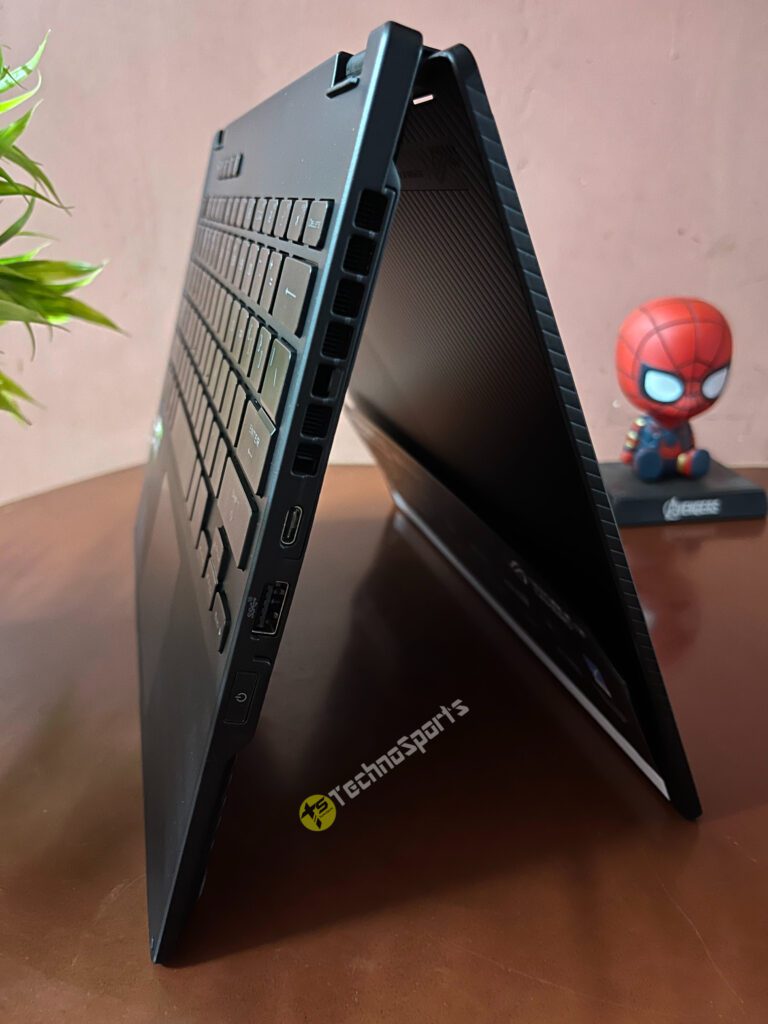 Also, you have the power button on the right side which also has the fingerprint sensor baked in that helps for quick logins. For connectivity you have the latest WiFi 6E (802.11ax) support that to be fair works well mostly, sometimes might give some driver issues but with updates, the WiFi connectivity works pretty well.
Also, you have the Bluetooth 5.2 option to connect all your Bluetooth devices and I did connect my controller, headphone, or mouse together and faced no issues using all of them.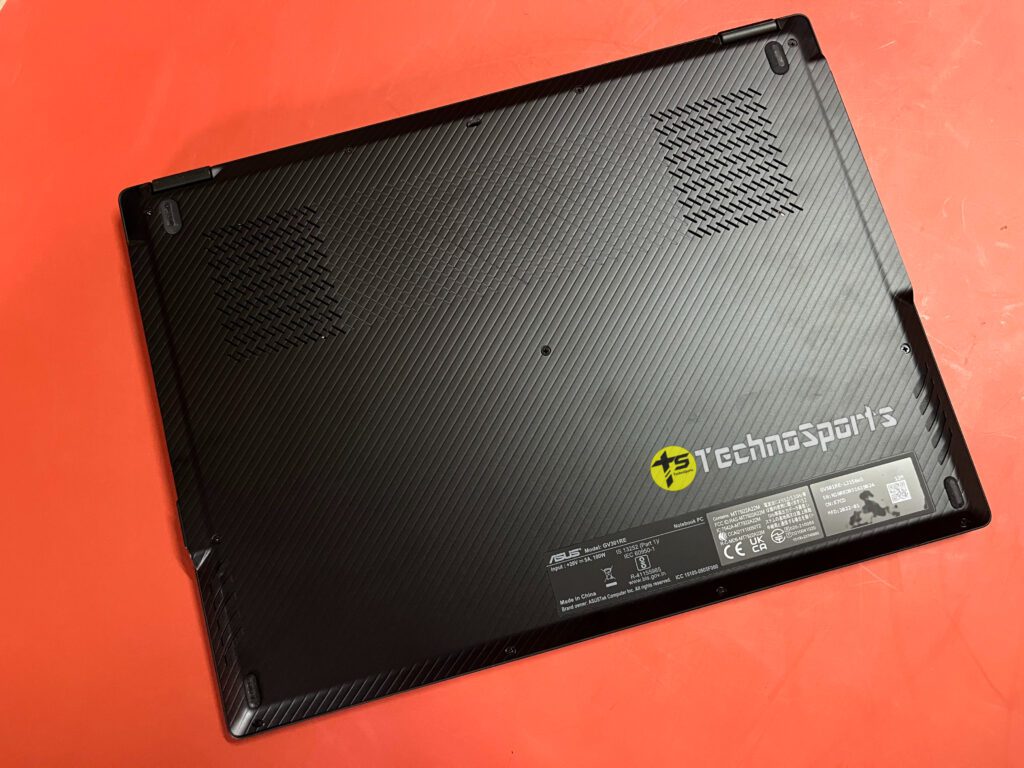 Thermals & Upgradability
In terms of thermals, ASUS has really done a good job on this ROG Flow X13 to keep it quiet in most users and you do only hear the fans spinning if you start gaming or are kept in Turbo mode. In such a thin & light form factor, the heat is dissipated easily and the laptop doesn't get very heated up even after prolonged usage.
In terms of upgradeability, here as we have a maxed-out variant there is nothing to upgrade but on the lower variants, both RAM and storage are upgradeable.
Keyboard & Trackpad
The keyboard used in this ASUS ROG Flow X13 is truly a good quality one with a nice amount of key travel which makes an amid typer like me passionate about typing more comfortably all day. You only have a white backlit keyboard which to be fair is a good one and does the job be it day or night.
Well, the trackpad is quite big for a 13-inch chassis and is more usable than other laptops, when I forgot to pair the mouse, I definitely enjoyed using the trackpad for normal usage. Now, obviously, you cannot use it for gaming or professional work but the trackpad is very usable for normal usage.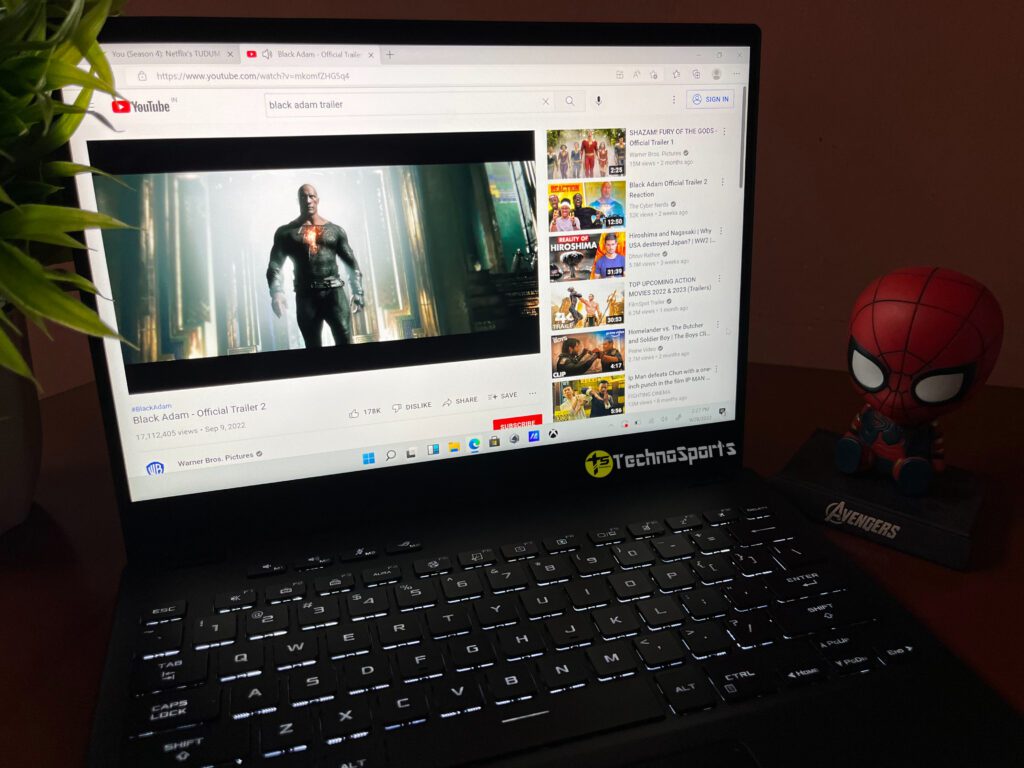 Audio & Webcam
Coming to the audio of this ROG Flow X13, much like other ASUS laptops, this one too didn't disappoint me in terms of sound quality. It doesn't give ZenBook-like sound performance but is better than the VivoBooks, so, for an average user, the dual speaker output is good enough. With both Dolby Atmos and Smart Amp Technology, this gives a decent everyday usage experience for both gaming or even casual binge-watching or music streaming.
In terms of the webcam, you have the same 720P HD camera which again is just ok, nothing too extraordinary and should be upgraded to FHD at least in 2022.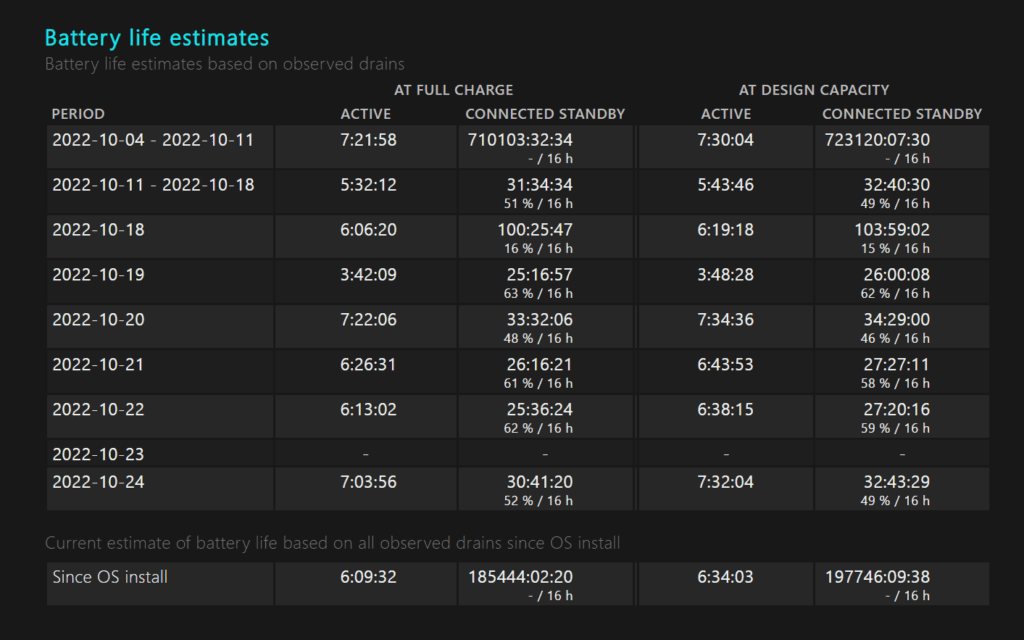 Battery Life
Now, being a thin & light 2-in-1 laptop that will be used beyond an everyday gaming laptop, the battery life is really important. Thanks to AMD's efficient chips, this ROG Flow X13 does really have a great battery life as a gaming laptop, it will easily last you for 5-6 hours if you use it smartly and you can even stretch to 7 hours of real-world usage.
For a gaming laptop, these numbers are mindblowing and the ASUS ROG Flow X13 is one of the best for its price in terms of battery life as well. So, anyone who wants to carry it anywhere and use it will have no difficulties with battery life but yes doing heavy tasks like rendering or gaming the estimates go lower than what we saw here.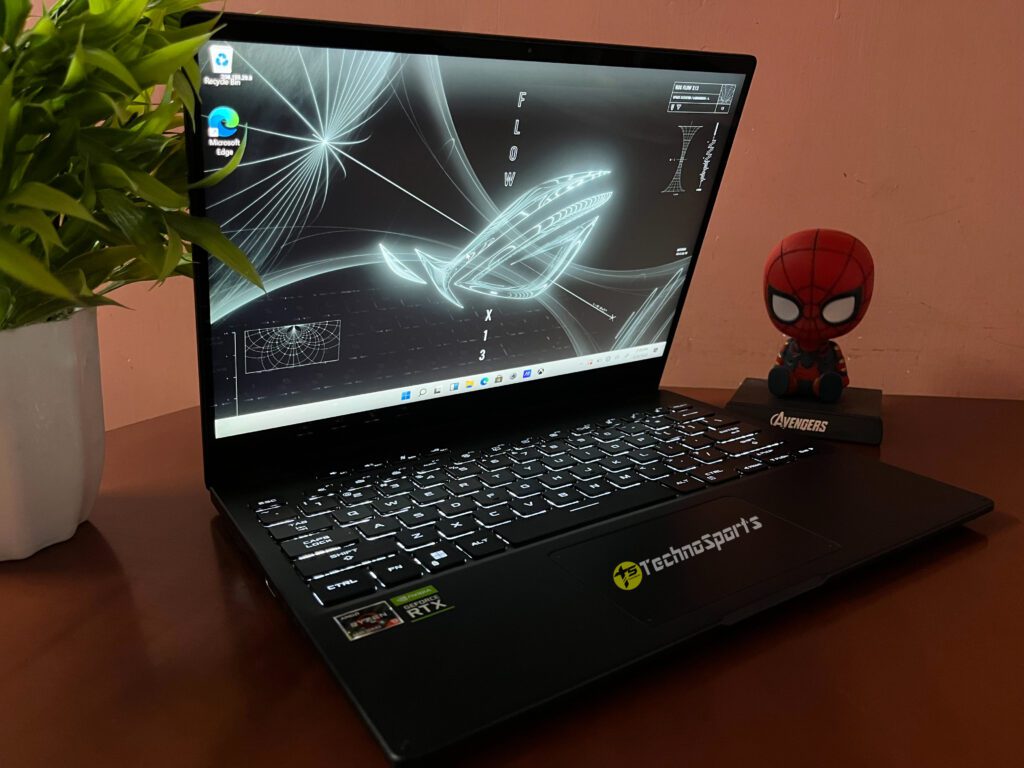 Verdict
Now should you buy this new ASUS ROG Flow X13? Well, this depends on your usage and if you are looking for a 2-in-1 form factor or not. Personally, I feel that 2-in-1 laptops are for those who like to travel a lot and want to work on the go without any fear about performance or battery life.
If both portability and flexibility of usage are what you are targeting this ROG Flow X13 absolutely makes sense but yes, it's much costlier than the regular 2-in-1s in the market. Its ROG badging and incredible performance with a unique presence makes this a premium 2-in-1 gaming laptop, perfect for people who want the best of both worlds.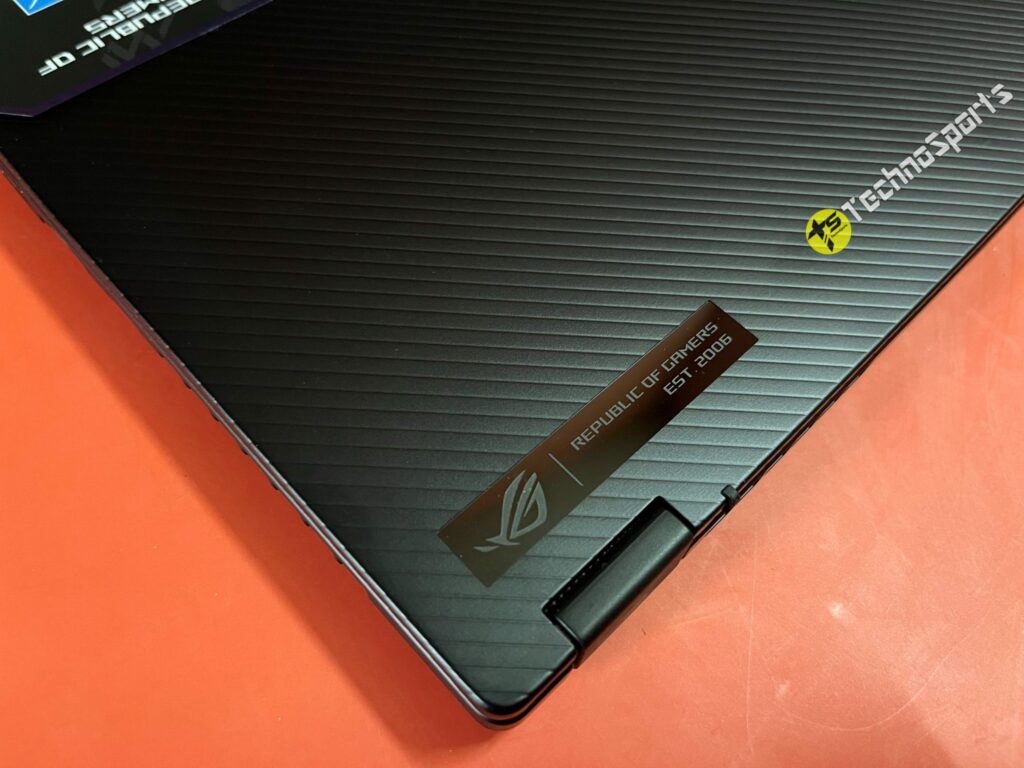 Personally, I enjoyed it using for weeks and definitely will recommend it to anyone who can pay for the premium and that 120Hz refresh rate, and the touch display with comfortable keys to type on, this is definitely one of my favourite laptops by ASUS so far. There are multiple variants of this ROG Flow X13, one with iGPU another with discrete GPU and more RAM, so, it depends on your budget and uses the case to choose which variant you desire.
Buy this flagship ASUS ROG Flow X13 from Amazon India: https://amzn.to/3yK64UE