The complete AMD EPYC Genoa CPU portfolio and performance benchmarks have leaked, revealing the capabilities of the upcoming Zen 4 server lineup. There will be three families in the AMD Zen 4 lineup: the regular Zen 4 for EPYC Genoa, the compute density-optimized Zen 4C for EPYC Bergamo, and the cache-optimized Zen 4 V-Cache for the EPYC Genoa-X series. Additionally, the portfolio will include an affordable entry-level server option called EPYC Siena that will have the same Zen 4 cores as SP5, but on a brand-new platform called SP6 that will again place a greater emphasis on TCO optimization. The EPYC 8004 family will serve as the brand name for the lineup.
Up to 12 CCDs, 96 cores, and 192 threads are included in the standard Zen 4 lineup. 32 MB of L3 cache and 1 MB of L2 cache are provided with each CCD. The AVX-512 (256b data route), BFLOAT16, VNNU, addressable memory of 57b/52b, and an improved IOD with an internal AMD Gen3 Infinity Fabric architecture with increased bandwidth will all be included in the EPYC 9004 CPUs (die-to-die interconnect).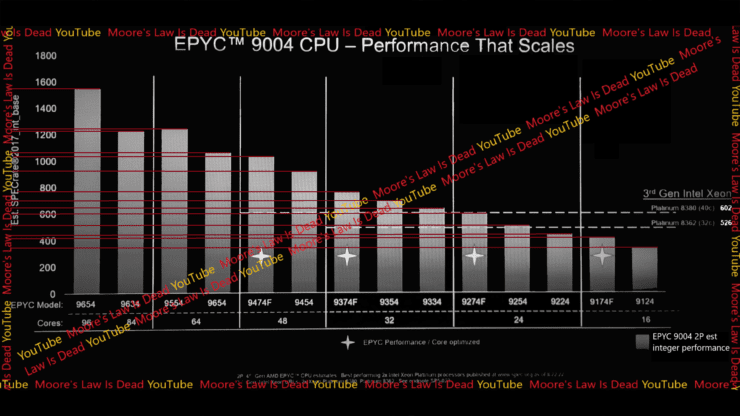 The platform will offer options for 2, 4, 6, 8, 10, and 12 interleaving, as well as 12 DDR5 channels with up to 4800 Mbps DIMM support. With 2 DIMMs per channel and a maximum of 6 TB/capacity per socket, both RDIMM and 3DS RDIMM will be supported (using 256 GB 3DS RDIMMs). There will be 64 IO lanes supporting CXL 1.1+ with bifurcations down to x4 and SDCI, 32 SATA lanes, 12 PCIe Gen 3 lanes, and 160 gen 5 lanes accessible on the 2P platform (Smart Data Cache Injection).
Performance-wise, the above charts display the SPEC2017 Integer (Base) benchmark results for 14 AMD EPYC Genoa processors.

The majority of the chips are positioned in the mid-tier and entry-tier categories, with at least five of them sitting above 1000 points. Two chips are used because all benchmarks were conducted on a 2P (dual-socket) platform.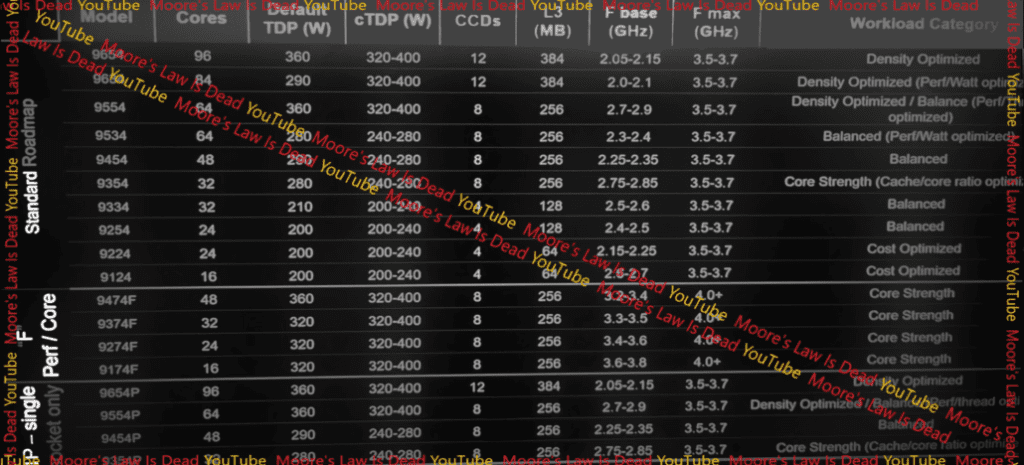 The charts also include comparison information versus the Platinum 8380, the top-of-the-line Ice Lake-SP Xeon from Intel, and the 7763, the top-of-the-line EPYC Milan chip from EPYC. If genuine, the AMD EPYC 9654 CPU offers 1.7x the performance per watt while being up to 2.6x quicker than Intel's Xeon and over 2x faster than AMD's EPYC Milan CPU.
Also Read: