When it debuts on October 12, Nvidia's GeForce RTX 4090 will undoubtedly rank among the top graphics cards. The Ada-powered graphics card, however, will use a lot of energy to provide ground-breaking performance. TDP is rated at 450W for the GeForce RTX 4090. An Nvidia graphics card with a massive power envelope has existed before.
The top-of-the-line GeForce RTX 3090 Ti from the previous generation likewise proudly displayed the 450W label. Nvidia's recommendation for power supply capacity is still 850W, at least for the Founders Edition. A 1,200W power supply is necessary for some over-engineered custom models with significant factory overclocks.
In any case, as long as their units adhere to the recommended capacity, consumers won't have to shell out a small fortune for a new power supply.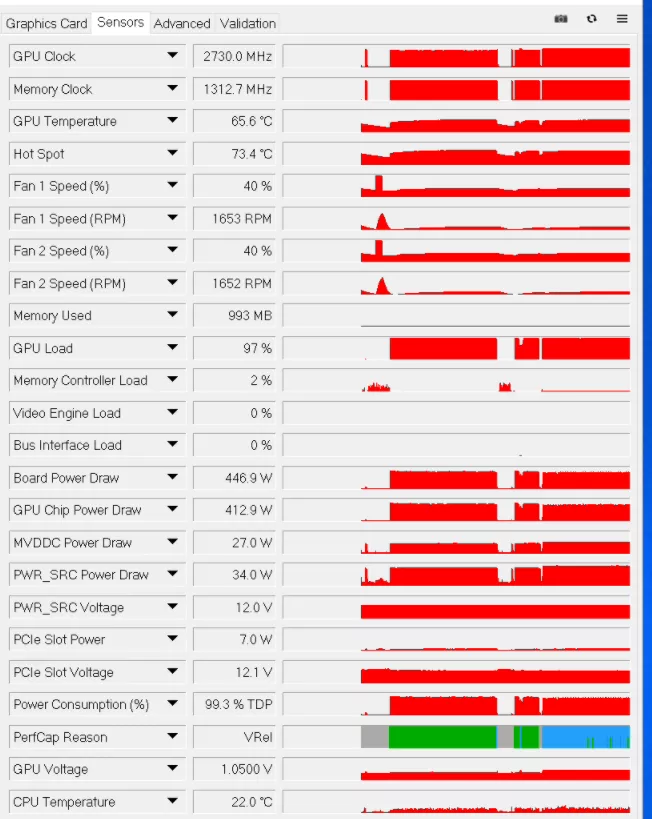 The GeForce RTX 4090 was seen running at 2,730 MHz in the recently released screenshots, courtesy of Twitter user wxnod.

The base and boost clocks on the Ada flagship are 2,230 MHz and 2,520 MHz, respectively. As a result, the GeForce RTX 4090 was performing better than expected. The GPU's average temperature was 65.6 °C, and the hot spot reached 74.4 °C. Considering that the cooling fans were only operating at 40% of their capacity, those are excellent results. It is safe to infer that the graphics card was operating at stock without overclocking because it appeared to be drawing 446.9W.
The GeForce RTX 4090 was seen in the second screenshot to have a 3,135 MHz maximum clock speed. It appears that there was not a significant increase in temperature. GPU-Z measured 68.2 degrees Celsius, which is 4% hotter than the prior reading. The increase in power use, or 10% more, brought the total to 492.8W. We regrettably don't know what workload the GeForce RTX 4090 was handling or whether manual overclocking was used because the Twitter user didn't provide any context for the screenshots.
On October 12, the GeForce RTX 4090 will go on sale at $1,599. The price of the luxury models with elaborate aesthetics and liquid coolers, however, will certainly be close to $2,000. Not far behind it will be the GeForce RTX 4080, which is set to go on sale next month for $899 for the 12GB model and $1,199 for the 16GB model.
Also Read: