Samsung unveiled a roadmap for processor sizes in various Samsung products at Foundry Forum 2022. In-depth information about the roadmap for the following five years was presented by Samsung Foundry, providing enthusiasts with a glimpse into the near future of mobile computing.
As the first foundry to produce 3nm chips for its mobile devices, Samsung has long been one of the top creators of semiconductors and computers. Even for such a huge fabricator, the company's victory against its greatest rival, TSMC, at the 3nm node was no small accomplishment.
Every year, Samsung has a Foundry Forum event where plans and roadmaps for several Samsung products and partnerships with other industries are typically presented. The company's strategy for its processors and ensuing node sizes is one of its primary areas of concentration this year. Samsung decided to outline its roadmap until 2027 after competitor TSMC stated that it hoped to begin mass production of 2nm devices by the end of 2025.
According to the roadmap, Samsung intends to release a modernised "2nd-gen" 3nm manufacturing node in 2024.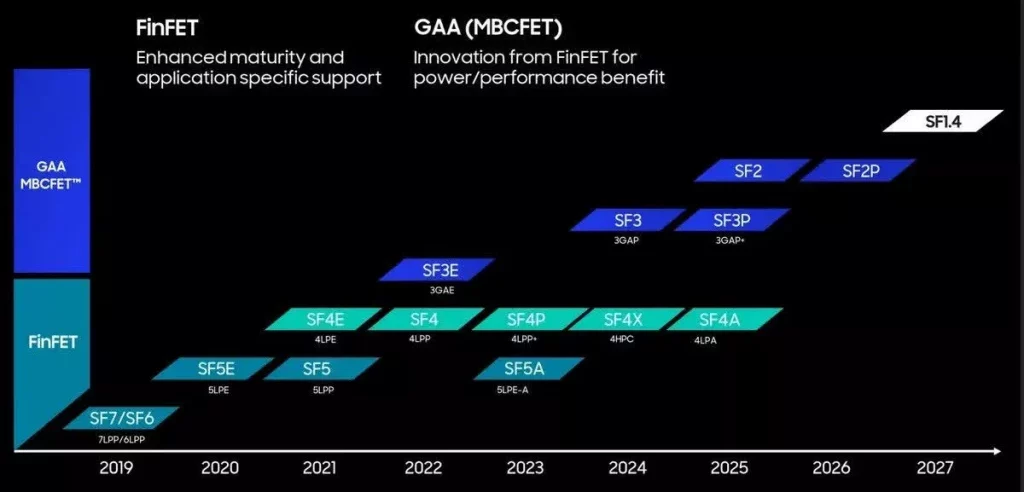 Siyoung Choi, CEO of Samsung Foundry, asserts that the improved 3nm process will have transistors that are 20% smaller, enabling better power efficiency in products that employ Samsung's processors.
The 2nm node from Samsung, expected for mass production in 2025, will get an upgrade. By relocating power delivery to the rear of the processor, it aims to boost performance. By 2024, Intel plans to add a comparable capability known as PowerVia to some of its chips.
The 1.4nm node, which is scheduled to debut in 2027, was revealed as the roadmap's final update. It did not discuss particular upgrades for these chips. We are discussing plans that are five years in the future and could alter. It is exciting to see the size, though, as it slowly approaches the even smaller picometer level.
Samsung anticipates that the automotive, HPC, IoT, and 5G markets will account for more than 50% of the demand for its processors. For automotive clients, it now makes 28nm eNVM chips, but it plans to eventually downsize to 14nm eNVM and then 8nm eNVM.
Also Read: