Rohit Sharma scripts another history by becoming the first Indian cricketer to play 400 T20 matches. He achieved this feat in the second T20I against South Africa at the Barsapra Stadium in Guwahati on October 2, Sunday.
The Indian skipper made his T20 debut in 2007 for Mumbai during the Syed Mushtaq Ali Trophy against Baroda and now he's considered to be one of the greatest white-ball cricketers. He's the first Indian to play 400 T20 matches. In the world, he's the ninth player to hit this benchmark. Players like MS Dhoni, Virat Kohli, and Dinesh Karthik have played more than 350 T20 matches.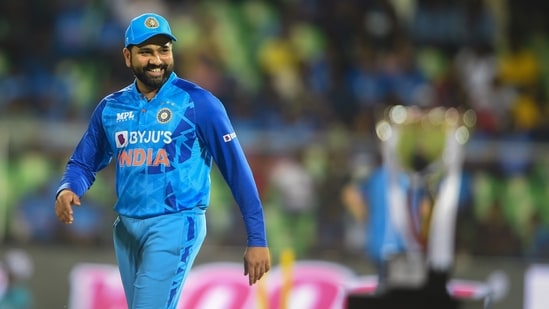 The second T20I match against South Africa was his 140th international game in the shortest format. He played 16 matches more than Pakistani cricketer Shoaib Malik who played 124 T20Is. He had a strong partnership with KL Rahul with a run stand of 96 runs. Rohit Sharma mustered 43 runs off 37 balls and got dismissed by Keshav Maharaj in the 10th over of the innings.
Indians who played the most T20Is
Rohit Sharma- 400 matches
MS Dhoni- 361 matches
Virat Kohli- 354 matches
Suresh Raina- 336 runs

The star batter has played 191 matches for the Indian Premier League (IPL) and led Mumbai Indians five times to lift the cup. He has been a part of the now-defunct Deccan Chargers in 47 T20 matches.
Under his leadership, the Indian won their first-ever series against South Africa in the shortest format of the game.
"Just want to come out, play some good cricket and entertain the crowd. We have never beaten (speaking of a series win) these guys here and it's gonna take a lot of effort from everyone to do that and we have come out prepared and pretty much ready for the game. Not too sure how the conditions will be. When I touched the pitch there was some stickiness and we gotta be a little cautious at the start. We got solid batting line-up and it will be a challenge upfront. We are playing the same team," Rohit said after South Africa won the toss and opted to field.
The last match in the India vs South Africa T20I series will be played on October 3.
Read more: Indian head coach Rahul Dravid doesn't rule out Jasprit Bumrah yet, from the T20 World Cup