Sony has a very minor impact on the smartphone industry. It's been long time, the global electronics leader is bringing very limited smartphones and that too very expenceve. Another point about the recent Sony smartphones are the camera. Sony worked exceptionally well in this section too provide the user a true freedom in smartphone photography.
Where the earlier Sony smartphones packed Snapdragon SoCs, a new Sony smartphone peeped on the Geekbench listing with the MediaTek Dimensity 8000. The new smartphone model is marked as Sony XQ-DS99 which scored 867 in single-core and 3484 in multi-core. The source further mentions that the Sony XQ-DS99 has 12GB of RAM and runs on Android 12.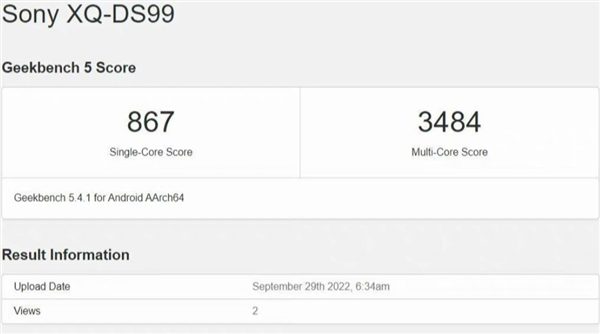 Though the reflected name on Geekbench is the code name of the actual upcoming device, it is expected the new smartphone will extend Sony's Xperia series and hopefully will bring some exceptional camera features.

The Dimensity 8000 is TSCM's 5nm process based SoC and packs four 2.75GHz A78 cores along with four 2.0GHz A55 cores. There is Mali-G610 GPU as well.