At last, the wait is over India's homegrown automaker Tata Motors officially confirmed the price and more variants of the Tata Tiago EV. Four days ago, Tata released the official trailer unveiling the launch date of the Tiago EV. Tata Tiago is a genuine city EV by Tata Motors in India.
This Petrol car was already launched in 2016 under the Tata Kite project. The new Tata Tiago at first announced as Zica while Zica has been referred to as the "zippy car", the car was made with the motive of continuing the announcement of the Zika virus. Now, the name changed to Tiago as a common Continental masculine name had taken such decisions on asking for the online.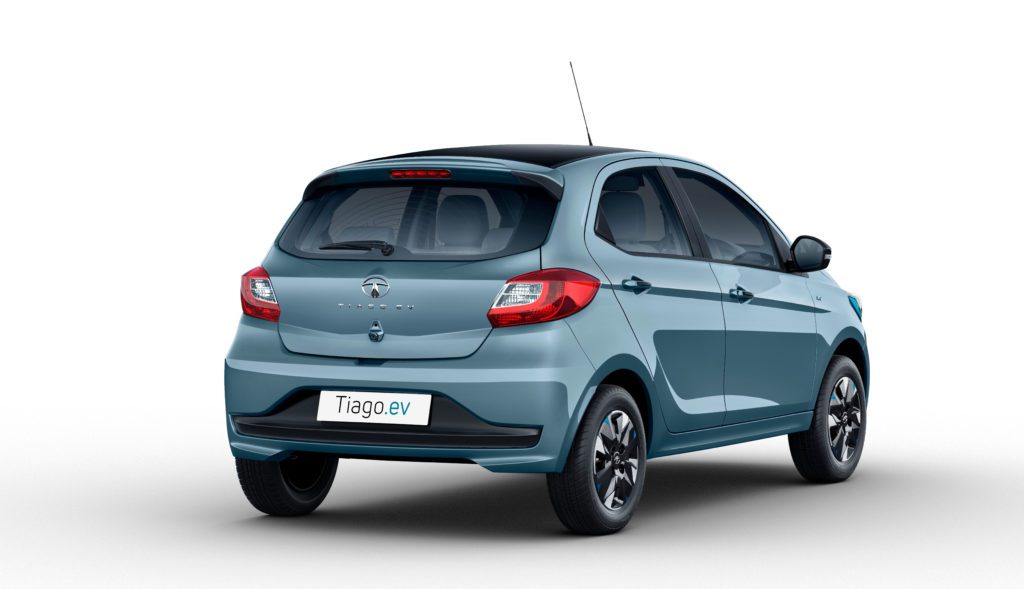 The birth of Tata Tiago due to the heir of the last tata Bolt, that just not a thing buys having such a heavy redaction of Tata Indica Vista. Tata started to manufacture a 5-door body city car set to improve the sales of the company for the Indian territory. 

Introducing the electrifying Tiago.ev, the newest member of its growing EV range, Mr. Shailesh Chandra, Managing Director, Tata Motors Passenger Vehicles Ltd., and Tata Passenger Electric Mobility Ltd. said, "Having pioneered the EV market in India, we have successfully led its growth and penetration over the last couple of years. We believe 'now' is the right time to fast forward the ongoing revolution towards the future of mobility by introducing vehicles that will encourage rapid adoption of EVs. With the launch of the Tiago.ev, India's first electric hatchback, the nation can take a giant leap forward in the quest for safe, clean and green mobility. It is an ideal fun hatch which offers premium, safety and technology features, eco-friendly footprint, spirited performance, all made even more desirable with the added advantage of a low cost of ownership. It will be the first in its segment to offer best-in-class connected features as standard across all trims, that are usually offered in more premium cars. It comes with two options of battery packs and four different charging solutions, enabling customers to choose the combination that best serves their mobility needs. With its thrilling, yet easy to drive experience amidst a luxurious ambience, the Tiago.ev is likely to become the favourite car of every family member.
"Furthermore, with an aim to make our EVs more accessible, with this launch, we are entering 80 new cities, expanding our network to more than 165 cities. We are confident that this move will help more and more customers embrace EVs as their preferred mode for personal mobility. We remain focused to play our role in fulfilling India's commitment towards reducing carbon footprint from auto emissions and will offer more choice to customers with a portfolio of 10 EVs by 2026."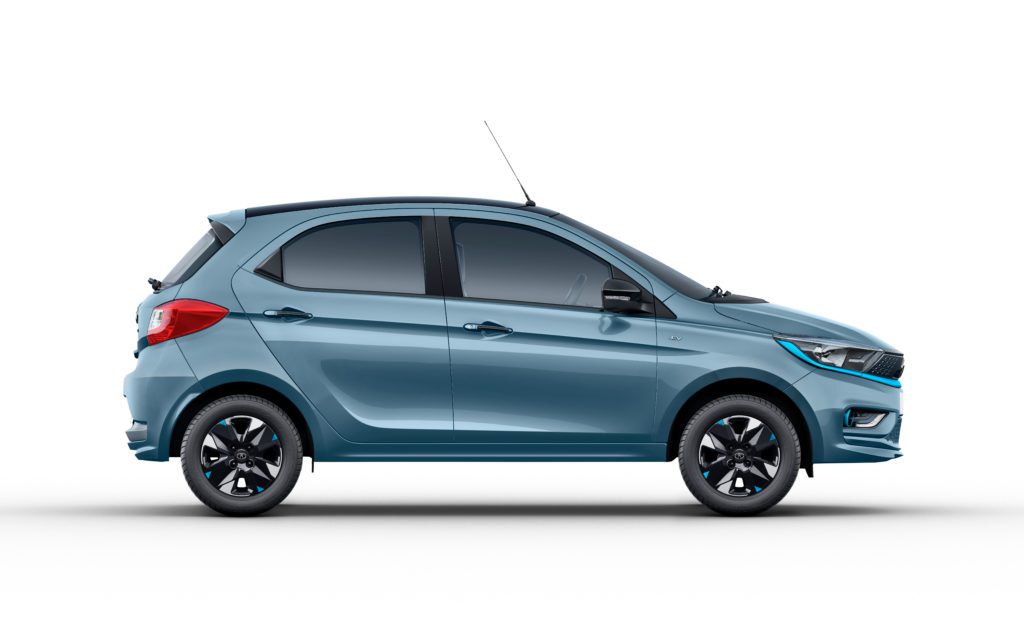 Tata Tiago EV: Design 
The most interesting that was every time the tata X0 framework that has been set to embrace the last Indica and Bolt that become changed heavily due to the latest car of Tata Motors wished to decrease the list cost like the creation costs.
Along with the Tiago. Tata is best to lead its way to launch the Rectron and Revotron three-cylinders has been modified jointly with Austria's AVL that's a family of modular propellers that has been structured to manage the overall costs. Ow, the engines also hold 1.3 MultiJet units. 
Primarily, Tata Tiago was 3.75 meters long, shorter than the old tata Bolt with 5 doors.
Tata Tiago EV: Features 
Powered by Ziptron – An unmatched and uncompromising EV experience
Tiago.ev is based on the Ziptron technology – Tata Motors' in-house developed globally competitive high voltage architecture designed for unique Indian driving and weather conditions. True to Ziptrons' 5 key pillars, the Tiago.ev stands strong on Performance, Technology, Reliability, Charging and Comfort. The Ziptron EV architecture is driven and proven over 500 million kms across diverse and challenging Indian terrains making it apt for an exhilarating EV experience.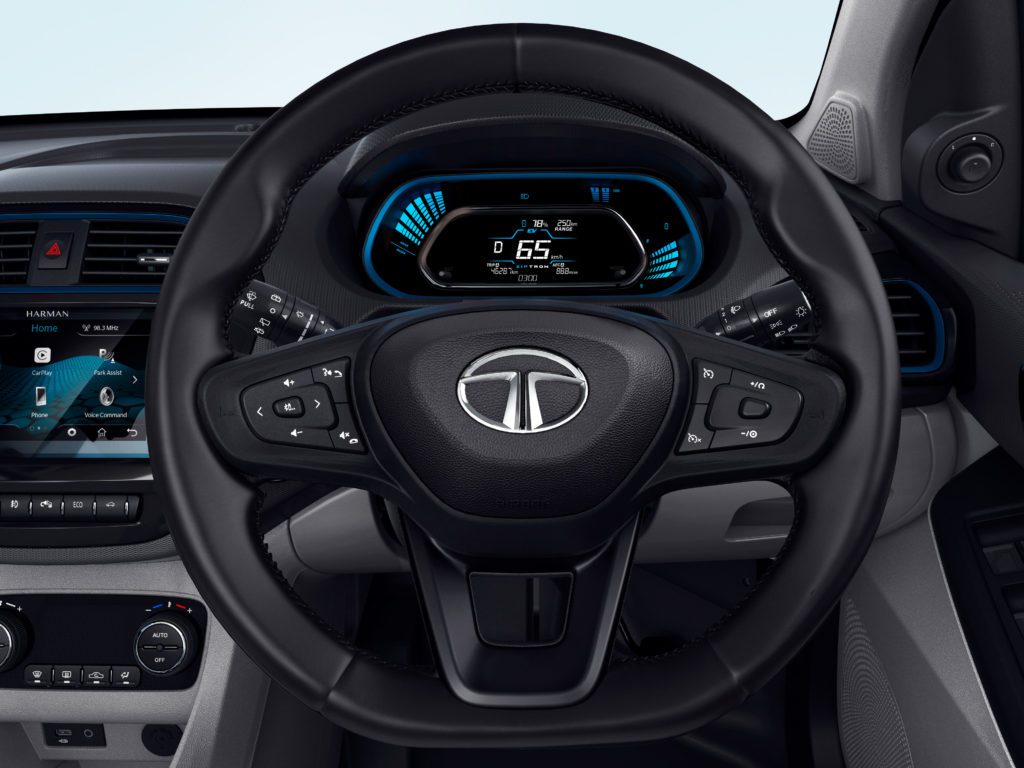 Moreover, offering easy charging options, the Tiago.ev comes with 4 different charging solutions:
A 15A plug point for hassle-free – anywhere anytime- charging
A standard 3.3kW AC charger
A 7.2kW AC home fast charger which can add 35kms range with just 30min of charging. It also aids full charging of the vehicle (from 10% – 100%) in 3 hr 36 mins
DC fast charging which can add 110kms of range with just 30mins of charging and can charge 10%- 80% in just 57 mins
Today, Tata Motors unveils the battery pack options. There are two battery pack options one is 24 kWh which will provide a 315 km MIDC range, and the another is 19.2 kWh which can give a 250 km estimated MIDC Range. Tiago EV can cover 0 to 60 km/h in 5.7 seconds.  
Luxe inside-out
With premium features on offering that is usually reserved for higher segment cars, the Tiago.ev's a plush look and feel is enhanced by leatherette seats, contrast roof, fully automatic climate control as standard, projector headlamps and cruise control. Combining luxury with convenience, the Tiago.ev also offers its customers rain-sensing wipers, auto headlamps, electric ORVMs with auto fold, push button start/stop along with a puncture repair kit to be used during emergencies.
Thrilling yet safe
Based on the GNCAP 4-star rated Tiago, the Tiago.ev will be the safest electric hatch on the road. Adding to its safety quotient, it also offers hill start and descent assistance for ease of driving on inclines, DRLs and a Tyre Pressure Monitoring System (iTPMS). Featuring a Permanent Magnet Synchronous Motor, it delivers a peak output of 55kw and an instant full torque delivery of 114Nm, which translates to a very engaging and exciting drive experience.
The Tiago.ev accelerates from 0 to 60 Kmph in just 5.7 seconds, offering a confident, inspiring and planted drive. Available in five colour options – Teal Blue, Daytona Grey, Pristine White, Midnight Plum and Tropical Mist, the car comes with two driving modes – City and Sport along with four levels of regen settings in each of the drive modes.
This provides ultimate customization according to customer driving styles. With level 3 regen settings, it delivers one pedal-like driving experience.
Tata Tiago EV: Connectivity
Connectivity on the go
Boasting of multiple connected features, the Tiago.ev will be the first in its category to offer telematics as a standard feature on all trims. The connect app will offer 45 connected car features which include Remote AC ON/OFF with temperature setting, Remote geo-fencing & car location tracking, Smartwatch connectivity, Remote vehicle health diagnostics, Real-time charge status, Dynamic charger locator, and Driving Style analytics amongst others. In addition to the above, customers will also enjoy an 8-speaker Harman Infotainment System with Android Auto and Apple Car Play connectivity.
Tata Tiago EV: Booking Process 
On the first visit to the official Tiago EV sites from October 10th onwards
On the main page, click on the booking-related options 
There is a new screen set to appear in front of you. 
Hit the 'Booking' related option if any. 
Now, you may proceed to book 
You can follow the steps easily by following further instructions and getting the car easily. 
Deliveries of this new Tiago.ev will start in January 2023.
Tata Tiago EV: Price 
The most important update is Tata has introduced the price that is Rs. 8.49 lakh. There is a variety based on the charging option and variant, as the EV with 19.2 kWh battery pack, 3.3 kW AC charging option, with XE Rs 8.49 lakh, and XT variant cost Rs. 9.09 lakh respectively.
If the customer chooses a 24 kWh battery pack, 3.3 kW AC charging options along with XY cost Rs. 9.99 lakh, XZ+ cost Rs. 10.79 lakh and XZ+ Tech UX cost Rs. 11.29 lakh.  Under the 24 kWh battery pack option if you choose the 7.2 kW AC charging option then there are two variants XZ+ which cost Rs 11.29 lakh, and XZ+ Tech LUX which cost Rs. 11.79 lakh. 
Here is the trailer:
Read More: Tata Motors Announces New Yodha 2.0, Intra V20 bi-fuel, and more commercial vehicles 
Also, the specifications for your reference:
Source: TATA Motors