To compete against AMD's latest Ryzen 7000 series of processors based on the cutting-edge 5nm process, Intel has today announced the entire 13th Gen Raptor Lake series of processors which have been on news for a lot of days now. After a lot of leaks and rumours finally we have the specs and the official pricing of these new processors.
With double-digit improvements both on single and multi-core levels, indeed these are the best CPUs currently on the market if you do not compare with the Ryzen 7000 which has just landed. This new 13th Gen Intel® Core™ processor family is led by the 13th Gen Intel® Core™ i9-13900K – the world's fastest desktop processor. 
As rumours go by, this new flagship CPU by Intel sports up to 24 cores and 32 threads and blazing clock speeds up to 5.8 GHz for the best gaming, streaming and recording experience. Much like what Intel did last year, currently, only 6 of the best-unlocked desktop processors have been launched with a starting price of $294.

Combined with both the latest DDR5 memory support and continued DDR4 memory support, users can enjoy the benefits of 13th Gen Intel Core while customizing their setup based on their own features and budget preferences. Intel also continues its performance hybrid architecture bringing together the fastest Performance-cores (P-core) ever built along with up to double the number of Efficient-cores (E-core).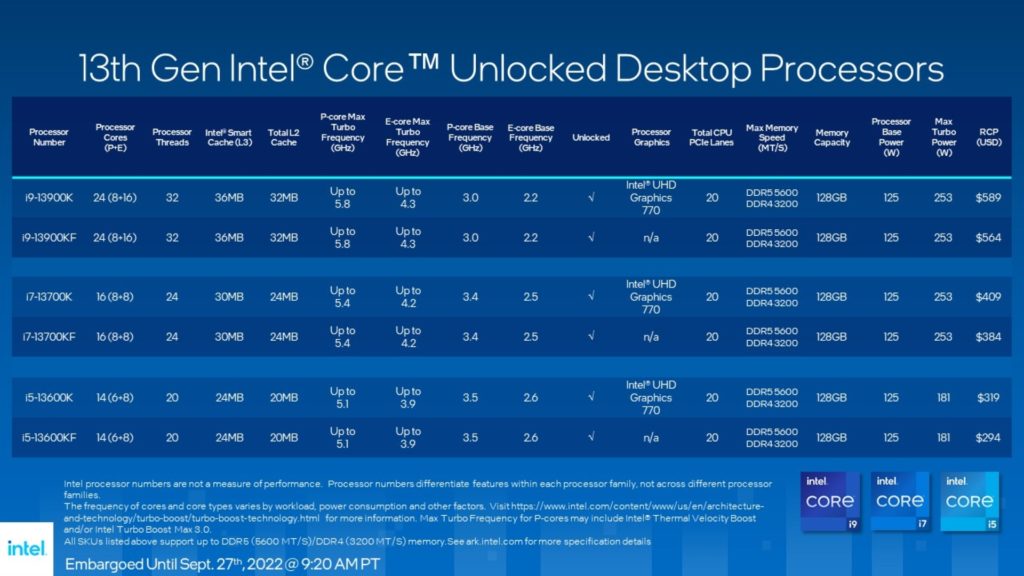 The entire lineup of CPUs launched currently will contain the likes of Core i5-13600K, Core i7-13700K and Core i9-13900K processors along with 'F' counterparts which do not have the integrated graphics. The lowest 13th Gen CPU in the product stack is the Core i5-13600KF with 14 cores, now sporting 50% more efficiency cores.
This is the same scenario with the Core i7-13700K this time with now up to 16 cores while the flagship Core i9-13900K sports 100% more efficiency cores. No doubt, the 24-core Core i9-13900K monster will give serious competition to the new Ryzen 9 7950X and it will be interesting to see how both of these compete against each other.
This time as you see Intel is maintaining almost the same pricing as last year to compete against AMD and if both x86 CPU makers give their next-gen processors at market rates from now on it will be a paradise for gamers out there.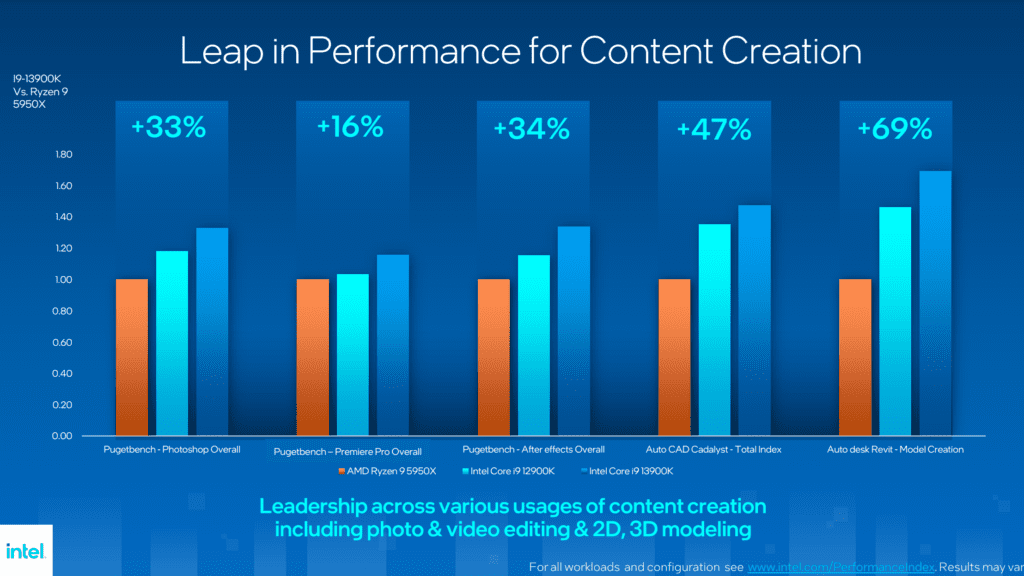 Coming to the 13th Gen Raptor Lake processors, while you can expect a good increase in both Performance and Efficiency cores individually, the total increase in performance is mindblowing as per Intel's latest presentation. As you see in content creation which does prefer both single-core and multi-core performance, depending upon software, Intel is leading by miles compared to last-gen and even the Ryzen 9 5950X.
These new 13th Gen Intel Core desktop "K" processors and the Intel Z790 chipset will be available starting Oct. 20, 2022, including boxed processors, motherboards and desktop system sales.