Prior to its release the following week, the AMD Ryzen 9 7950X flagship CPU continues to achieve incredible overclocking feats. Recently, the CPU was overclocked with LN2 to 7.2 GHz and shown excellent performance with a regular liquid cooler.
Sampson, a US overclocker who used the AMD Ryzen 9 7950X and overclocked it to 6.5 GHz across all cores while utilising LN2 cooling, has once again released new benchmarks. Under LN2 cooling, the CPU was able to overclock, enabling the Sampson to operate at higher clock frequencies. The world record was achieved using the motherboards ASRock X670E Taichi and ASUS ROG Crosshair X670E GENE.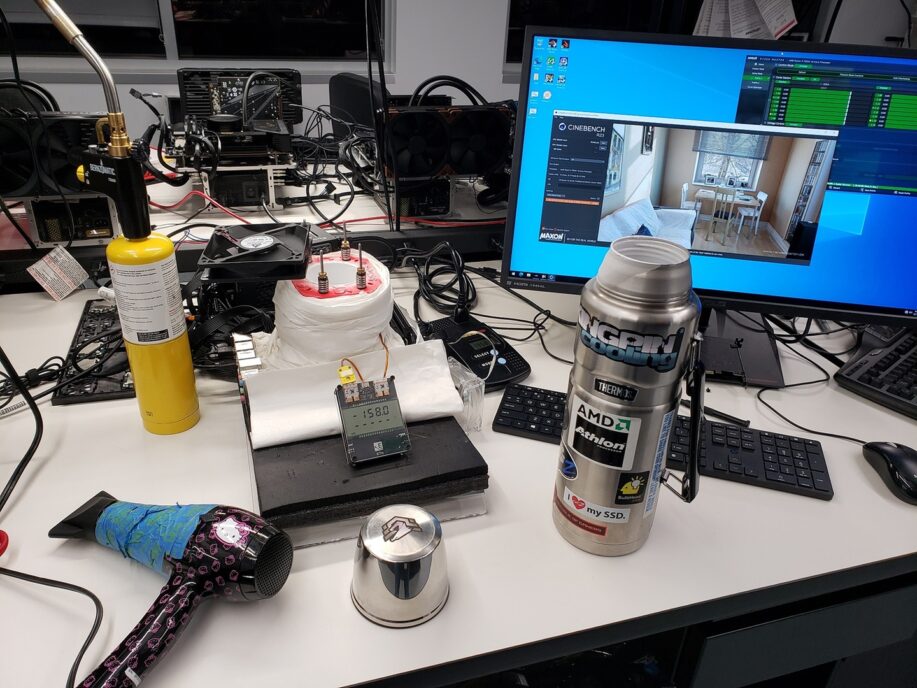 The CPU achieved a 48,235 point score in Cinebench R23's multi-core benchmark test while operating at a maximum frequency of 6.45 GHz (1.4V) and a load of 74.12%. The chip achieved 18,605 points in Cinebench R20's second benchmark while operating at 6.5 GHz (1.40V) and drawing a maximum of 270W (68.40% load). Given that the Intel Core i9-13900K needs 1.5V and uses about 400W of power to overclock to 6.2–6.3 GHz across all cores, the wattage is quite astounding in this case.
Additionally, Videocardz has released a result that shows the AMD Ryzen 9 7950X CPU scoring over 50,000 points in Cinebench R23 while operating at an overclocked speed of 6.7 GHz on the Gigabyte X670E AORUS Xtreme board.

All of these findings were obtained using LN2 cooling, and the test temperatures were constantly below zero. This demonstrates how very effective the AMD Zen 4 core architecture is, and we haven't even discussed undervolting, which will completely revolutionise both desktop and mobile platforms.
The AMD Ryzen 9 7950X, which is the top model of all, has a healthy 16 cores and 32 threads, just like it had in the previous two generations. The processor will have a base frequency of an amazing 4.5 GHz and a maximum boost frequency of 5.7 GHz (5.85 GHz F-Max), which should make it 200 MHz faster than Intel's Alder Lake Core i9-12900KS, which has a single-core boost frequency of 5.5 GHz. At launch, the CPU will cost $699 USD.
These are quite impressive numbers, and we can't wait for the AMD Ryzen 7000 CPUs to go on sale on September 27 so that customers may benefit from significant increases in single- and multi-core workloads.
Also Read: