Jhulan Goswami's play will remain as a historic third ODI match between England women and India women. She will don the Indian blue for an official game for the last time that day. At Lord's, the home of cricket, the curtains came down on September 24 after 20 years of traveling cricket.
Sources claim that former Indian cricketers Purnima Rau, Mamatha Maben, and Rumeli Dhar have lauded Goswami's illustrious career. Jhulan Goswami will always be regarded as an outstanding representative of Indian women's cricket.
Jhulan Goswami's Journey

Jhulan Goswami was not off to a smooth start when she was born in Chakdaha, West Bengal, playing with guys. One learns the game for the first time in the neighborhood maidens or through gully cricket, much like many cricketers of all genders. She had to travel a long distance for training because of a lack of facilities. Jhulan Goswami didn't experience leather ball cricket till 1997. To join the Indian team, though, only took five years.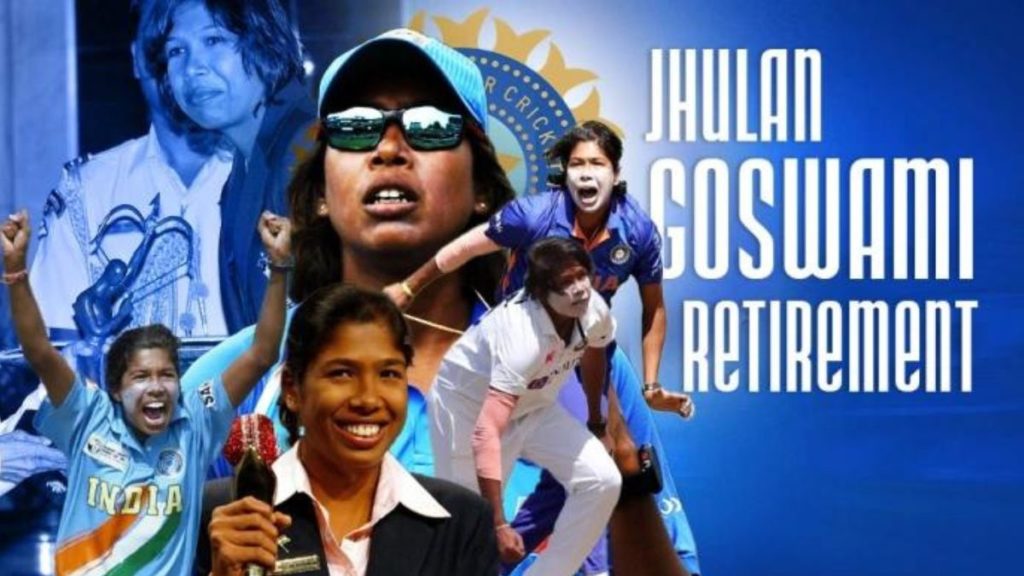 Jhulan Goswami debuted in the WODI in Chennai in 2002. She took two wickets with new balls, and her pace was what made her stand out. When Jhulan Goswami played her first Test and WODI for India, Mamatha Maben was a member of the Indian team. She is not shocked by the current stats she has in her cricket career.
Maben claimed that they had only recently realized how talented and promising she was as a young fast bowler. They have been aware of such seeds since their debut. One was aware that she was there for the long haul and desired higher accomplishments. Additionally, it was her speed that gave her the moniker "Chakda Express." She would travel at and above 120 kph.
Maben did, however, explain how Goswami had to somewhat alter her game plans. She initially focused solely on pace, but as she gained experience, she realized it goes well beyond pace. Along with line and length, she worked on other areas, which helped her develop into the best bowler in India today.
Goswami's Health and Perspective
Jhulan Goswami always maintained a high level of fitness. She has no prospect of playing international cricket for more than 20 years if not. She always had a positive outlook on the sport. Despite suffering numerous injuries throughout her career, she never gave up.
Purnima Rau, a former India captain, and coach emphasized her work ethic. She said that Jhulan put in a lot of effort. Her work ethic was exceptional. Being at the top for so long is not simple. She had a successful formula for international cricket. She adhered to the fundamentals, and her work ethic was consistently excellent. She treated each game as if it were her last. She had a remarkable career as a result.
Jhulan Goswami was the most physically fit member of the Indian squad, in addition to having an unbreakable attitude. Even though it required putting in more hours of practice, she loved working out at the nets. Her level of fitness was such that young athletes would attempt to model their training after hers.
Rumeli Dhar, a different ex-cricketer, provided more insight into the character of Goswami. She did, however, mention her training and fitness regimen, which set her apart from the competition. Even during practice, if she noticed a player's posture was off, she would approach them and make the necessary corrections.
Personal achievements and Recognition
Most wickets in WODI – 252 wickets from 201 matches
Most number of wickets across all formats – 353 wickets
She set a Test record at age 23, becoming the youngest player to take 10 wickets in a match.
She has taken 40 wickets overall in the Women's World Cup, which is the most.
The pacer has impressively competed in six World Cups.
In 2007, she was awarded as ICC Women's Player of the Year.
The lanky pacer received the esteemed Arjuna Award in 2010.
Motivate young people
Numerous cricketers have come and gone since the Bengali woman's debut in 2002, but she has remained the northern star. She has encouraged a lot of kids from all around the country to start playing the sport over the past 20 years. Most young players refer to her as "Jhulan di." After overcoming all obstacles, the pacer rose to prominence in the sport. And that motivated numerous Indians from various cities and villages to start playing cricket.
Dhar also outlined how Goswami motivated future generations. Dhar claimed that she has undoubtedly inspired a lot of Indian cricket players. She enjoys having a good time. She has fun with her teammates, friends, and everyone. Players adored being with her while she was in the locker room or the practice field. The girls observed her preparation, and training techniques and attempted to act similarly.
It's interesting to note that she not only influenced cricketers from India but also other countries. Similar to Kainat Imtiaz, a Pakistani bowler who became a pacer after meeting Jhulan Goswami.
Read: IPL 2023 Auction: Is the next auction on December 16? The salary purse increases to 95 Cr, and all necessary discussions to take place at AGM