Although the Core i9-13900K from Intel won't be available until next month, Enthusiast Citizen has managed to provide a comprehensive assessment of the top Raptor Lake CPU. OneRaichu, one of the most well-known leakers on Twitter who has a reputation for being extremely accurate, worked with ESCM on the evaluation. Enthusiast Citizen has consistently provided accurate information on a variety of future CPUs. So let's start with the requirements.
The Intel Core i9-13900K, which has 24 cores and 32 threads in an 8 P-Core (Raptor Cove) and 16 E-Core (Gracemont V2) configuration, is the top-tier Raptor Lake processor.
The CPU is set up to run at 3.0 GHz base speed, 5.8 GHz single-core boost (1-2 cores), and 5.5 GHz all-core boost (all 8 P-Cores). The CPU has a 125W PL1 rating that goes up to 250W and 68 MB of shared cache.
Both DDR5 and DDR4 platforms were used to test the Intel Core i9-13900K. The Z690 Taichi Razer Edition and an unnamed Z790 motherboard were used, but the actual product name cannot be revealed due to NDA.
The motherboards were put through their paces with DDR5-6000 CL30 and DDR4-3600 CL17 memory kits, as well as a Radeon RX 6900 XTXH graphics card. The CPU was cooled by a NZXT Kraken X73 AIO. The CPU can support native memory speeds of up to DDR5-5600, whereas Alder Lake can only support DDR5-4800 native JEDEC speeds.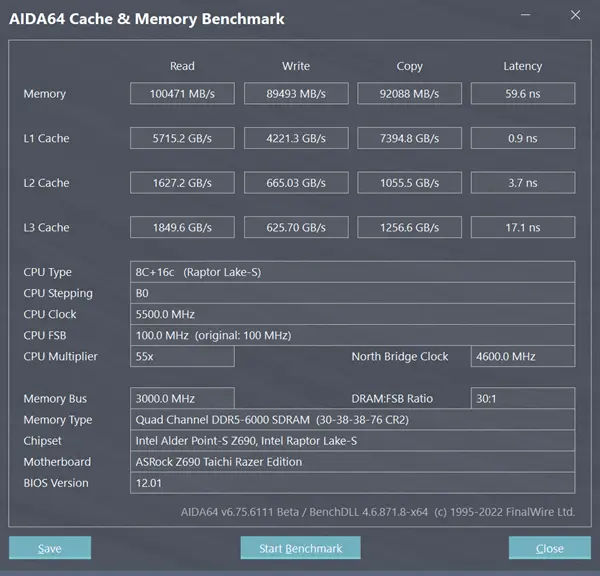 Enthusiast Citizen did the typical single-core, multi-core, and gaming application tests while OneRaichu evaluated the memory, bandwidth, and cache performance of the Raptor Lake Core i9-13900K and the Alder Lake Core i9-12900K.
OneRaichu demonstrates how the new ring bus design, which has a boosted frequency, enables all P-Cores and E-Cores to achieve a consistent latency and not dip to a lower frequency resulting in larger latencies as we observed with the Alder Lake CPUs. Next, we have the performance benchmarks.
The total frequency & cache uplift allows for improved overall single-threaded performance, even though the IPC of the P-Core does not experience a significant bump as detailed above. The Raptor Lake Core i9-13900K provides a 12.5% improvement in single-threaded performance over Alder Lake. The Gracemont E-cores do experience a modest 6% rise in IPC performance, while the 13900K's additional E-cores allow for significant multi-threaded performance gains. The flagship of the 13th generation performs 42% better on average than the previous generation, which is a significant improvement.
The outlet also tested a variety of games, and it appears that those that depend on CPU speed would experience a sizable bump, averaging approximately 10%. While the FPS does go up, the 13th Gen Raptor Lake CPUs' larger L2 and L3 cache capacities are what really make a difference in the 0.1% lows.
While the Intel Core i9-13900K consumes 253W at load in AIDA64's FPU test, enabling "Unlimited Power Mode" increases Raptor Lake's power consumption to 343W.
Because this is a stress test, real-world power usage in games and applications will vary, but Enthusiast Citizen will share those numbers later. The full review can be found here. It remains to be seen whether this significant performance boost will be sufficient for Intel to compete with AMD's Ryzen 7000 CPUs, which have also significantly increased single and multi-threaded performance.
Also Read: