Bengaluru FC has been a team which has always dominated the Indian Footballing leagues since its establishing days. January 2013 was when the hunt to register this beautiful club started. Since its start, the journey has been one hell of a ride for the Blue's supporters.
This was the time when Indian Football wasn't too popular with teams like Mohun Bagan and East Bengal only being massive during that time. It was time for Indian Football to step forward. It was rumoured that clubs could enter India's top league I-League through corporate entry.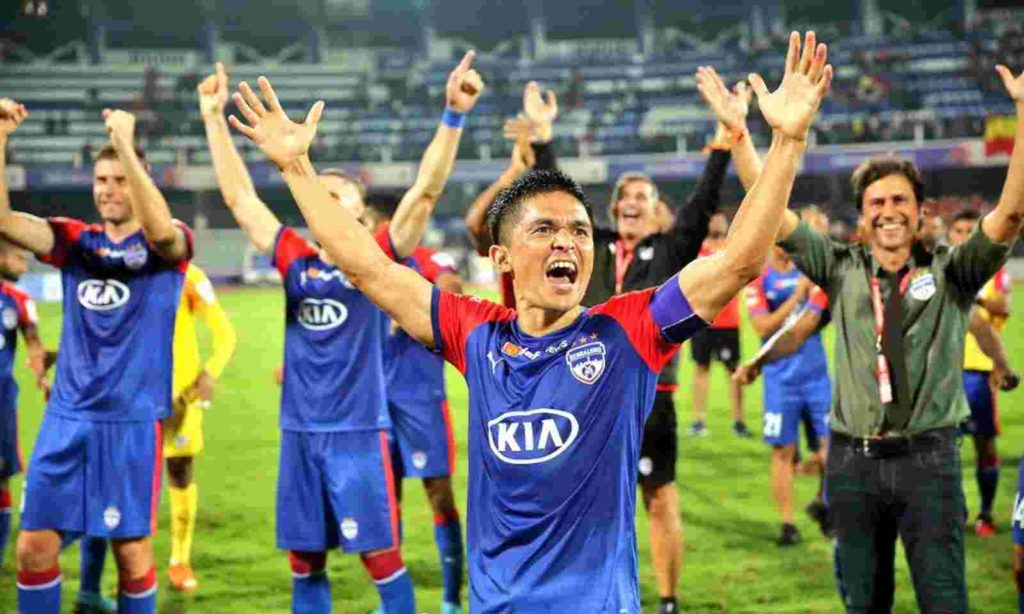 The Journey of Bengaluru FC
Bengaluru FC is the face of the modern era of Indian football. Formed in July 2013, BFC have not only managed to deliver quick success, winning the I-League in their first season, but also sustain it since. The combination of the club's success on the field and their approach to football off it has resulted in Bengaluru FC becoming one of Indian football's best club sides in just nine years of existence.

"We are certain the club will raise the bar for professionally run football teams in the country along with being the ideal platform for youth development," Sajjan Jindal, the Chairman and Managing Director of JSW had said after the launch of Bengaluru FC in 2013.
25th August was when Bengaluru FC rolled the ball for the first time. They played a friendly against the national team as preparation for SAFF Cup 2013. The journey of this beautiful club started on 22nd September 2013. It was their first I- League match and it was against Mohun Bagan. They won their next match 3-0 against Rangdajied United. Bengaluru FC played their first away match against the Kolkata giants East Bengal and it wasn't a result they expected as they lost 3-0 against them. It was the first defeat for the club.
When hardly few believed in them, they had to believe in themselves. They had a good first season, they lost only 5 games in the 24 games that they played. They finished the season with 47 points. East Bengal were 4 points adrift of them. They could proudly say that they topped the table in their first season. They could proudly call themselves 'Champions of India' in their first season.
The club has a block in the stands which started with less in number but it is growing year after year. The block is an emotional block for every BFC fan, Its called the West Block. A lot of effort has gone to make this a successful block. Although in the start the numbers were less, they still used to chant a few chants and always wanted to follow the European culture back in their homeland. It was successfully executed.
In the 2015-16 season, Bengaluru FC made sure that they rise from the title defeat stronger than ever. They took the previous season's title loss under their strive and came back stronger in the upcoming season. They were the first Indian Club to reach AFC Cup finals. Bengaluru FC winning a trophy a season continued after winning their 4th trophy is 4 years. They won the Federation Cup in the 2016-17 season. Only in the 2019-'20 season did Bengaluru FC go without winning a trophy.
In just seven years, Bengaluru FC have played 47 matches in Asian competitions, a tally bettered only by East Bengal. However, Bengaluru FC have more wins than any other club in Asian competitions and thus a higher win percentage. Lastly, Sunil Chhetri-led Bengaluru FC beat Mumbai City FC 2-1 in the final of the 131st edition of Durand Cup at the Vivekananda Yuba Bharati Krirangan in Kolkata.
A trendsetter in so many ways in Indian football, Bengaluru FC are now beginning to transition from a brilliant success story to perennial winners. Attracting the best Indian talent, Bengaluru FC have been working towards building a dynasty in Indian football. If the first seven years are anything to go by, the Blues from Bengaluru are going to take some stopping.