ASUS, as we know, makes some of the best GPUs out there for PCs and its RTX 30-series GPUs are great, however, as RTX 40-series graphics cards are coming, buying GPUs priced over $500 makes no sense. This means that apart from budget graphics cards don't spend on a costly one and for that, we have taken this ROG Strix GeForce RTX 3050 OC Edition GPU for review.
Though it's an old GPU, however, considering the GPU crisis has relatively cooled down since 2022, a lot of people are already hunting for a good budget GPU. This is why the RTX 3050 is now the most affordable RTX 30-series GPU which is available at MSRP or even less in India now.
To help you get the best one for the price with ultimate performance, here we have the ASUS ROG Strix GeForce RTX 3050 OC Edition graphics card for review. Let's see how it performs in both gaming and productivity tasks:
ASUS ROG Strix GeForce RTX 3050 OC Edition Specifications
NVIDIA Ampere Streaming Multiprocessors: The all-new Ampere SM brings 2X the FP32 throughput and improved power efficiency.
2nd Generation RT Cores: Experience 2X the throughput of 1st gen RT Cores, plus concurrent RT and shading for a whole new level of ray-tracing performance.
3rd Generation Tensor Cores: Get up to 2X the throughput with structural sparsity and advanced AI algorithms such as DLSS. These cores deliver a massive boost in game performance and all-new AI capabilities.
Axial-tech fan design has been newly tuned with a reversed central fan direction for less turbulence.
2.7-slot design expands cooling surface area to make the most of the three powerful Axial-tech fans.
Super Alloy Power II includes premium alloy chokes, solid polymer capacitors, and an array of high-current power stages.
GPU Tweak II provides intuitive performance tweaking, thermal controls, and system monitoring.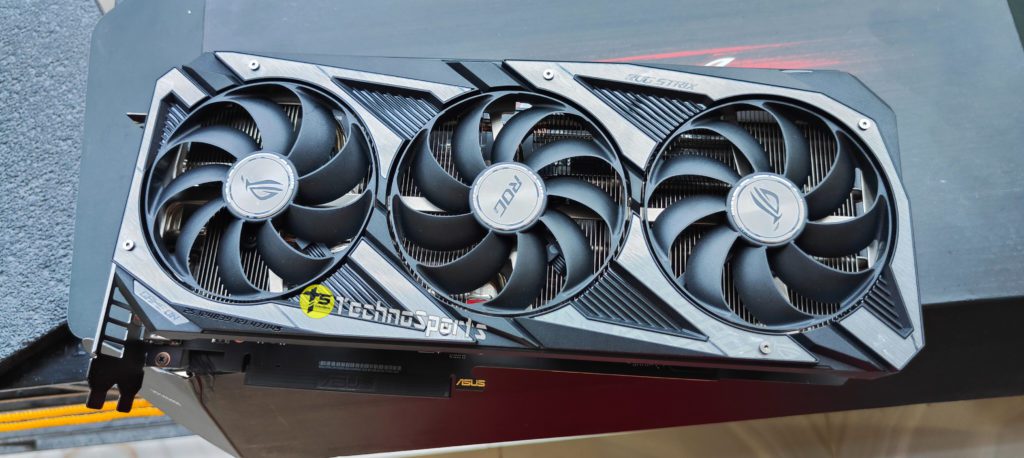 Test Config Specifications:
Motherboard: GIGABYTE Z690 UD AX Wi-Fi Motherboard
RAM: 16GB Corsair Vengeance Performance DDR5 Memory
Primary SSD: Western Digital SN850 500GB PCIe Gen 4 SSD
Secondary/Game SSD: 480GB Crucial SATA SSD, WD Green 960GB SATA SSD
Power Supply: Antec HCG-1000-EXTREME PSU
CPU Cooler: DEEPCOOL GAMMAXX L360 ARGB
Cabinet: Cooler Master MasterBox K501L
OS: Microsoft Windows 11 Pro
Design, Look & Thermals
The ASUS ROG Strix GeForce RTX 3050 OC Edition is the most premium ASUS RTX 3050 GPU out there with a triple fan design and RGB all-around. With a bigger area to cool (heatsink), this custom RTX 3050 variant excels from others and never did it get too hot even with hours of gameplay.
That subtle design and RGB just make it look damn cool as well as a part to flaunt with, the lights flow across the GPU effortlessly and you can customize that easily from the software. At night it looks darn cool and if you want to make a full RGB Gaming PC but are tight on budget, this is a great choice, to be honest.
In terms of thermals, those axial-tech fan design does really make a difference in sustaining the airflow and performs much better than a twin fan. As the RTX 3050 is not a very high TDP GPU, the ROG Strix GeForce RTX 3050 OC Edition doesn't heat much and that is a positive sign, preferred for gamers who want a cool yet silent PC.
Productivity
In productivity, the RTX 3050 isn't a clear choice for professionals, however, budget content creators could actually opt for it because of its affordable pricing. This custom top-end ROG Strix GeForce RTX 3050 OC Edition could in fact be used for work because of its triple-fan design that dissipates more heat and helps to push the GPU even further also being overclocked.
On paper, one could actually see this pairing with say a new 12th Gen Core i5, however, how much advantage does this 8GB GDDR6 memory give to you? Let us find out:
As you see this is an RTX 3050, so it will have its limit, however, generally having tested out several GPUs, for productivity, AMD slightly has an advantage. Still, for budget productivity owners, this card has its value and those gamers who want to game while also working on creative apps could use this GPU.
However, for those productivity first people in the same price range, you have both RX 6600 and RX 6600 XT available even from ASUS as well and could be a better choice there.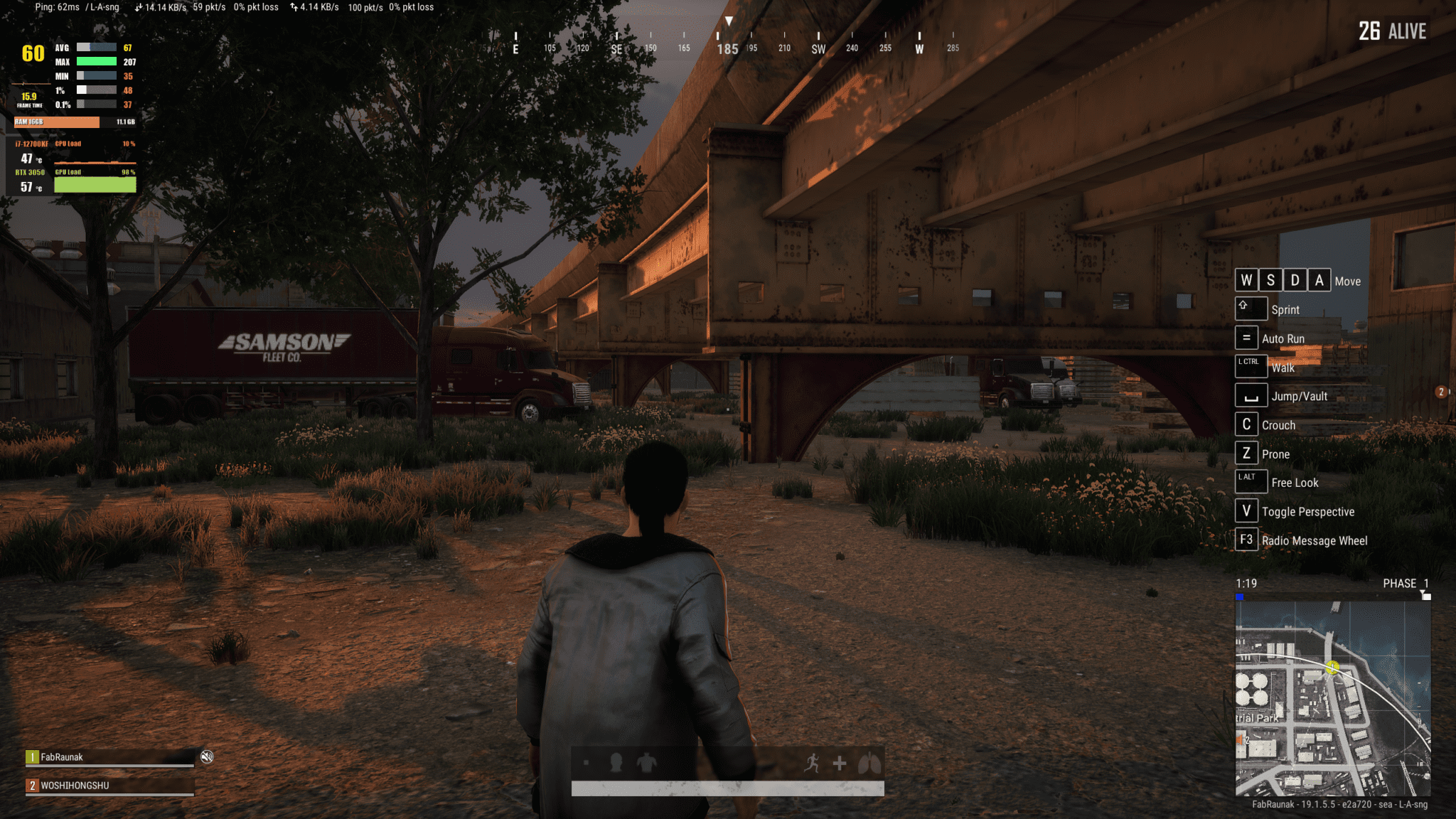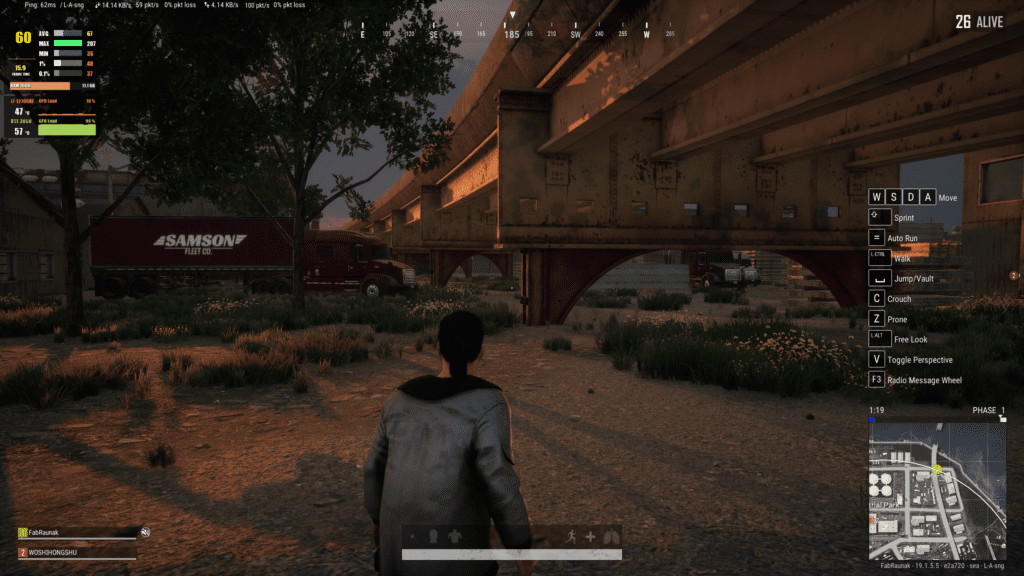 Gaming
You could indeed be confused about how this GPU perform in 2022, however, thanks to the larger 8GB GDDR6 memory and higher clock speeds, this ASUS GPU does perform well in both FHD and QHD as well. Obviously, if you pair a strong 12th Gen Intel CPU you should get good gaming performance because of the single-core performance improvements.
Here we have tested this setup with some of the most popular triple-A and eSports games:
As you see this Core i7-12700KF and RTX 3050 combo performed really well and consistently gave 60+ FPS in the most challenging games like Cyberpunk or Assassin's Creed Valhalla without even using DLSS. Now, say you want to play at a higher QHD resolution, this is also possible thanks to this overclocked ROG Strix GeForce RTX 3050, as you see in most games at even QHD you are getting 60FPS.
Suppose the game supports DLSS, just turn it on at Quality you will again get a frame boost to make the FPS even better without almost any noticeable difference in graphics quality. This ASUS ROG Strix GeForce RTX 3050 OC Edition as an RTX 3050 excels in FHD and to some extent QHD gaming totally.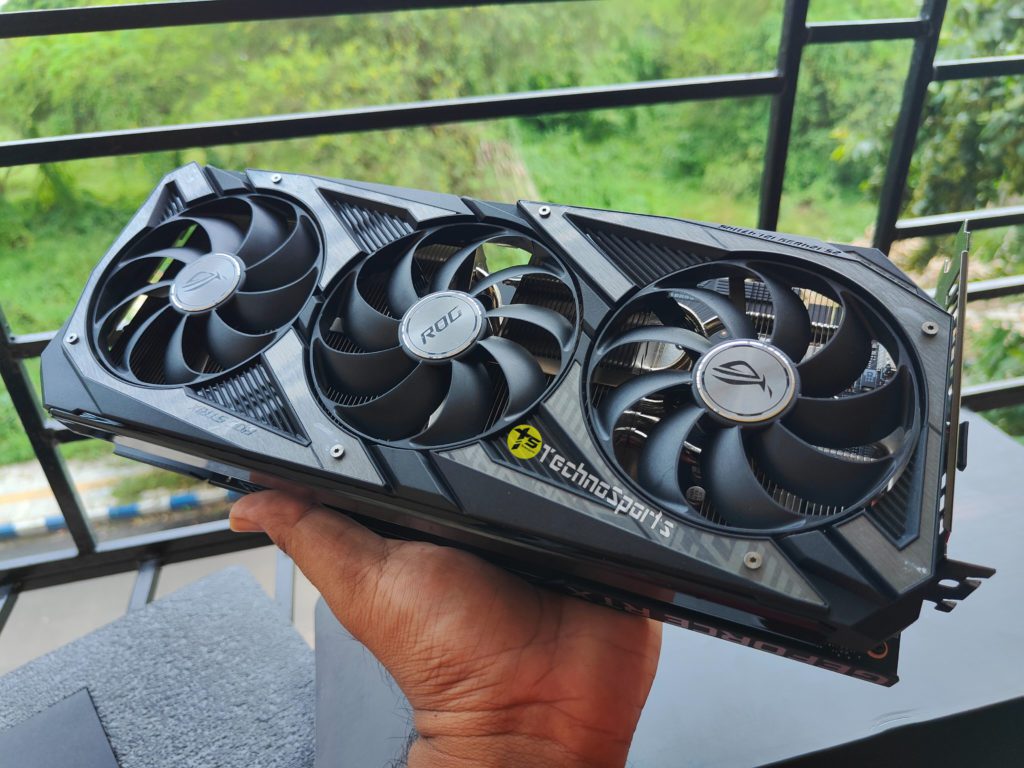 In Battle Royale titles like CS:GO, Valorant or PUBG PC, you really get strong numbers which goes to show most gamers who play this kind of game can enjoy them fearlessly. I was amazed to see how well games like Valorant performed at the highest graphics settings with NVIDIA's lower latency, enjoying a lag-free fluid gaming experience.
Overall, in gaming, which should be the biggest priority for anyone opting for a GPU in this segment, this ASUS ROG Strix GeForce RTX 3050 OC Edition is undoubtedly one of the best RTX 3050 custom GPUs out there.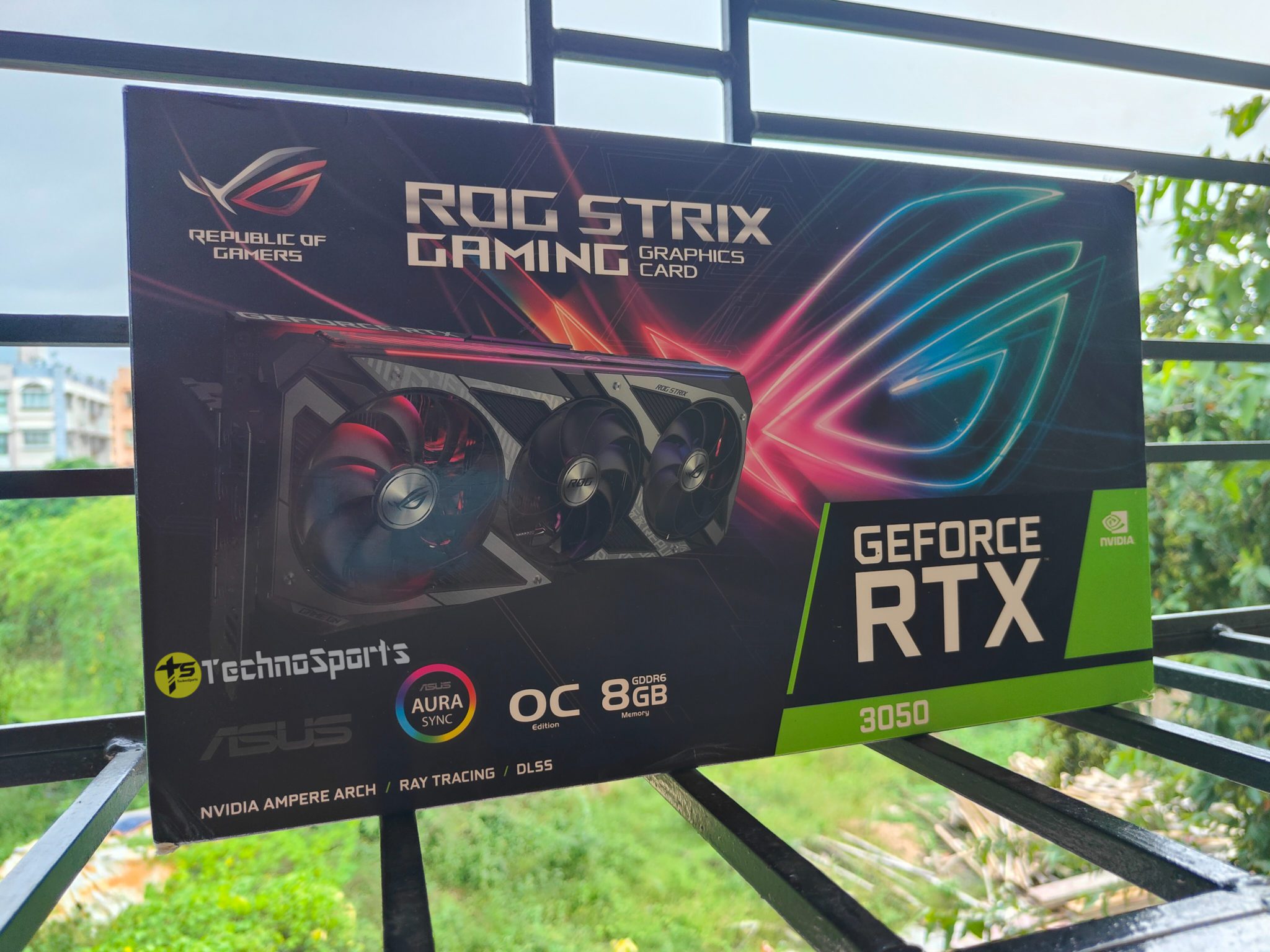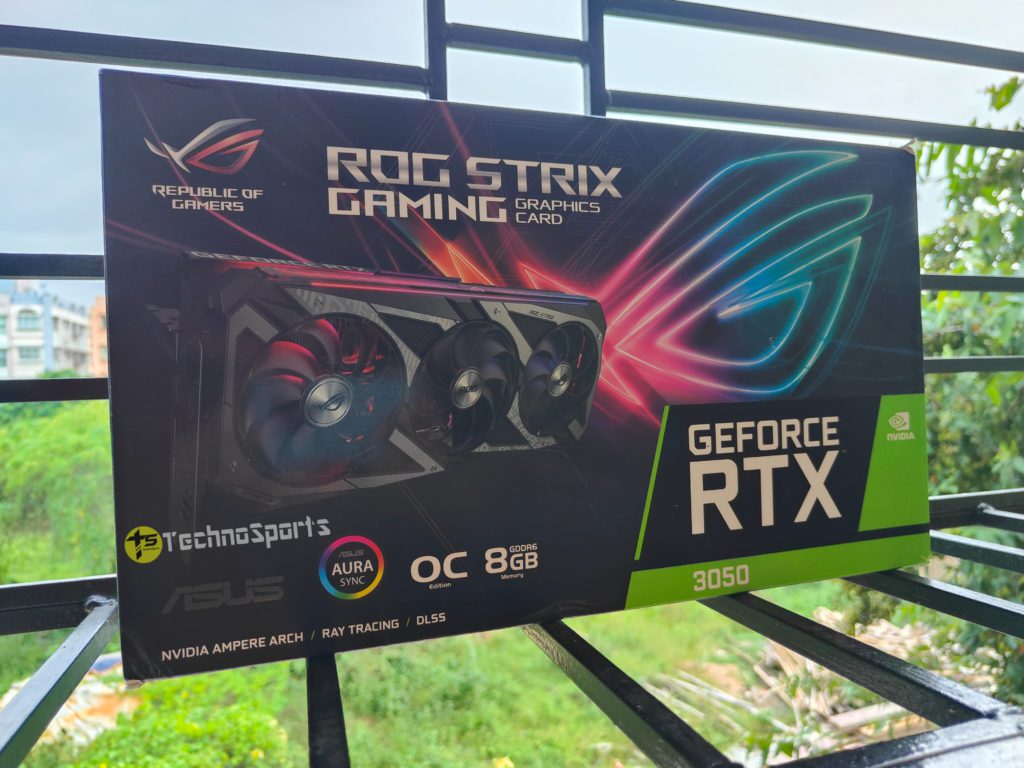 Verdict
Well, as you might have seen in our review this ASUS ROG Strix GeForce RTX 3050 OC Edition GPU has more positive things than ever, but, yes it does get affordable when the next-gen is coming up. However, the prices of these RTX 3050 GPUs are set to fall even further down the line, so, budget gamers could actually look at those upcoming festive sales.
ASUS ROG as a brand maintains its reputation and delivers amazing products for years now, this top-of-the-line RTX 3050 OC edition is an example of that. It does cost around Rs.35k in retail which again corresponds to the pricing of the RX 6600 XT or RX 6700 as well, however, if you want to enjoy those exclusive NVIDIA advantages this card will be the best choice.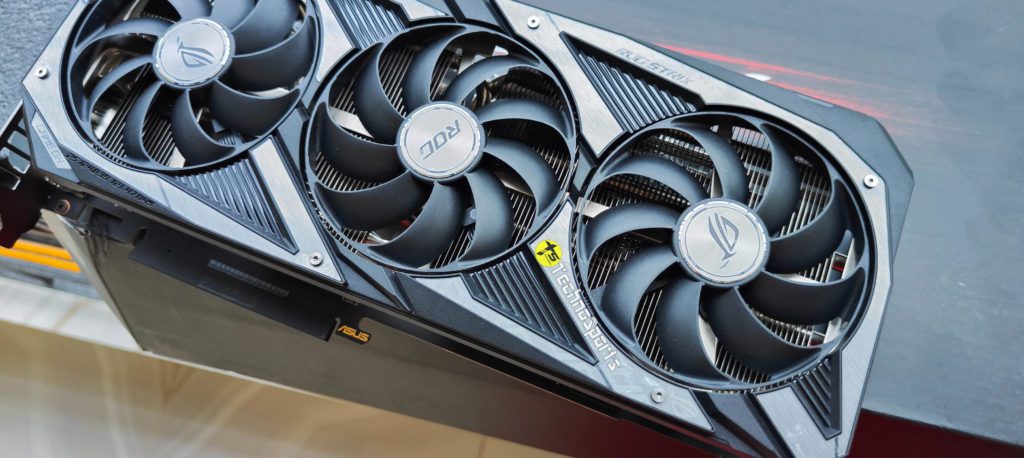 With almost no fan noise and staying cool throughout prolonged gaming sessions, this ROG Strix GeForce RTX 3050 OC is the best out there to recommend, however, one has to pay its price. If you are a budget gamer or have been keeping an eye on RTX 3050s for quite some time should go for this during sales or price drops definitely as even the upcoming RTX 40-series will have a long waiting time to tackle.
Buy this ASUS ROG Strix GeForce RTX 3050 OC Edition from Amazon India: https://amzn.to/3BcXFt1