Last month XPG had announced a new variant of its Alpha series which offers one of the most premium Gaming RGB mice. The Alpha series has a wired gaming mouse named XPG Alpha Gaming Mouse. This also looks the same as the new one as XPG has not made any major changes on the design part of this mouse. Now coming to the name, XPG has dubbed it as XPG Alpha Wireless Gaming Mouse.
After almost a month we got our hands on the XPG Alpha Wireless Gaming Mouse and now we are using it in our daily activities. The XPG Alpha Wireless Gaming Mouse has a 16000 DPI sensor which makes it one of the most sensitive wireless RGB gaming mice in this segment. The Ergonomic Gaming Design of the XPG Alpha Wireless Gaming Mouse made it the 'reddot' winner of 2022.
In this article ahead we will discuss more on the user experience of this XPG Alpha Wireless Gaming Mouse and will talk about its different functionalities that have impressed us. Now, let's begin with the in-depth review of the XPG Alpha Wireless Gaming Mouse.
Specification and Feature of XPG Alpha Wireless Gaming Mouse
Interface: USB Type-C
Connection: Wireless 2.4G / Bluetooth 5.1 / Wired
Battery Life: Up to 60 hours
Sensor: PAW 3335
Resolution: 100-16,000 (via PRIME)
IPS: 400
Max. Acceleration: 40 G
Polling Rate: 250 / 500 / 1000 Hz (via PRIME)
Switch: OMRON with 60-million clicks rating
Lighting Effect: RGB (PRIME Support)
Voltage: 5 V
Current: 410 mA
Material: PC + ABS
Buttons: 6
Dimension: 128 x 78 x 40mm (5.04 x 3.07 x 1.57 in)
Weight: 98 ±5g (without cable)
Cable Length: 1.8 m (5.9 ft)
Certification: CE/FCCIC/BSMI/NCC/VCCI/TELEC
OS Compatibility: Windows
PRIME Support: v
Warranty: 2 Years
Design and Build Quality
XPG is well known over the globe for its computer accessories and parts that are built for the power they add to your allover built. Now coming to the XPG Alpha Wireless Gaming Mouse we can see that it retains almost the same 2022's 'reddot' winning Ergonomic Gaming Design similar to the wired version of the Alpha Gaming Mouse. This design gives a proper fit of the mouse in your palm, not too big not too small, and provides a decent grab size with a proper finger-to-button distance on all sides.
On both sides of the mouse, you can observe and feel textures that give a proper grip while holding it. The Ergonomic Gaming Design of the XPG Alpha Wireless Gaming Mouse also comes with a thumb rest section on the left side which in our opinion is a must for any gaming or productivity mouse. At the bottom of the mouse, we can see a few rubber padding for a smooth surface sliding experience, a toggle switch that switches between Bluetooth and 2.4GHz connection, and a slot for the 2.4GHz receiver.
The Wireless Gaming Mouse retains a classic 6-button design which provides ease and comfort to use for long hours. At the top, we can see Right and Left clickable buttons, a scroller wheel in the middle, a DPI button beside the scroller, and two programmable buttons on the left side of its body. This simple design is tried and tested and everyone loves it for its simplicity and easy-to-access placements of the buttons. This button also glows with an RGB effect.
You can see RGB elements embedded on the scroller and on the XPG brand logo at the top. There is another RGB element present below the Left and Right buttons which emits the light from the front at the lower side. The RGB lighting can be controlled by the XPG Prime software application.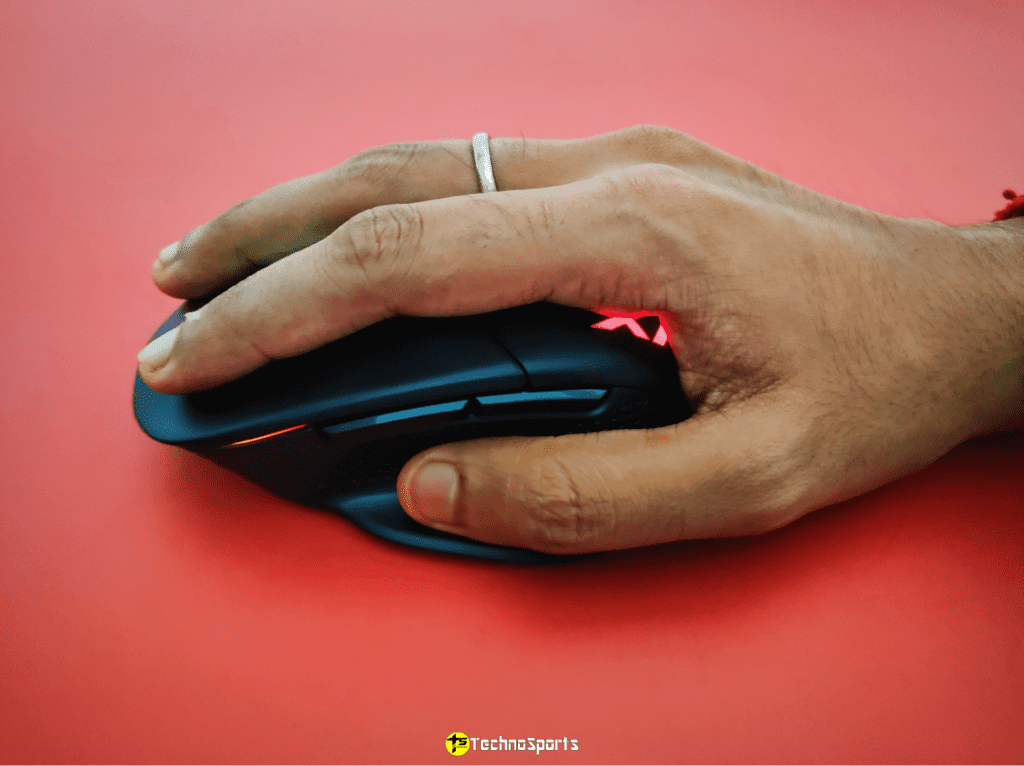 As mentioned earlier, the mouse can fit perfectly in your palm and can be used by almost everyone. The mouse is bigger than any traditional office mouse and the size of a standard gaming mouse but interestingly it is quite light, weighing just 98 ±5g (without cable). Overall, the built quality of the XPG Alpha Wireless Gaming Mouse is very premium and solid.
Performance: Gaming & Productivity
The XPG Alpha Wireless Gaming Mouse connects wirelessly via Bluetooth 5.1 and Wireless 2.4G connector. You can also use this mouse wired by connecting with the in-the-box Type-C cable. In all the connectivity cases you will get a similar kind of performance from the mouse.
This gaming mouse comes with an energy-efficient, high-performance PAW-3335 sensor from Pixart, it provides a range of DPI settings from 100 to 16000 to meet the requirements of all types of games. In other words, these high-quality sensors help in the precise mapping and positioning of the mouse on a surface, which results in better accuracy.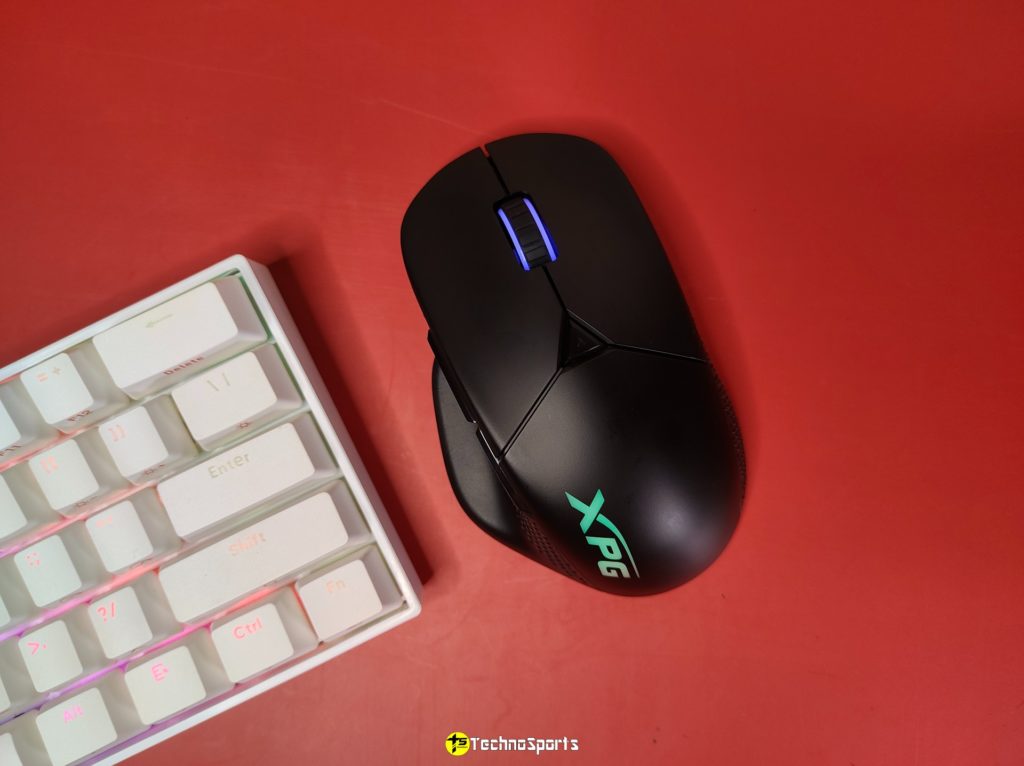 These features help mostly while playing PC games which require the utmost precision of any gaming mouse in real-time. We have tested this mouse wirelessly while playing games and the response from the same was amazing. No lag or any issues were faced while playing games with this mouse. Similarly, in our daily work, we focus mainly on productivity and this mouse turns out to be a game-changer. The size and design of the mouse match my grab size of the palm and by far this mouse gave me the best comfort while working for long hours.
Programmable Buttons
As mentioned earlier, XPG Alpha Wireless Gaming Mouse has 6 programmable buttons which are made of premium Omron switches capable of 60 million clicks. The button clicks on this gaming mouse are not so quiet but are also not loud like any other gaming mouse. These button clicks feel kind of satisfying as it's better to have a minimal sound effect than complete silence, which enhances the feedback to our figure tips justifying the purpose of using a gaming mouse.
You can also assign system commands, shortcut keys, and keyboard commands to these 6 buttons. You can also create powerful macros, which let you input sequences of commands in a row that executes every time you click the assigned button.
The programmable triangular button at the top of the mouse offers excellent flexibility in connecting to XPG PRIME software. While not connected with the software it usually is used to change the DPI of the mouse. This button also helps while pairing the mouse with a new device.
RGB Lighting
The RGB lighting on the XPG ALPHA Wireless Gaming Mouse diffuses subtle and elegant light via 3 dedicated zones that are independent of each other.
Light settings can be stored using 3 customizable hardware profiles or through XPG PRIME software.
This is how your mouse will look on a gaming desk in a dark room while playing games.
XPG Prime Software: Customizing XPG Alpha
XPG PRIME application software is specially designed for customizing the XPG gaming mice XPG Alpha Wireless Gaming Mouse.
The buttons, DPI settings, and RGB lighting effects can be customized and tailored to each user's needs. Programmable buttons, button assignments, and Macro settings can be programmed and saved to user profiles for seamless switching between PCs. Learn more about XPG PRIME here.
Pros and Cons
| | |
| --- | --- |
| Pros | Cons |
| Light Sync RGB | More places for RGB lights |
| Award-Winning Ergonomic Design | Colour options for the mouse |
| Wireless connectivity via 2.4GHz and Bluetooth 5.1 | |
| Fully customizable 6 programmable buttons | |
| 16,000 DPI | |
| Battery life | |
In The Box
XPG Alpha Wireless Mouse
Braided USB Type-C cable
User Manual
XPG Stickers
Verdict
XPG Alpha Wireless Gaming Mouse is a power-packed mouse and is suitable for both gaming and productivity. This mouse was just launched in India and is currently one of the most premium RGB wireless gaming mice in the market. After using this mouse for more than a week I can easily say that its adjustable 16,000 DPI has helped a lot while gaming and the precision mapping made it worth buying.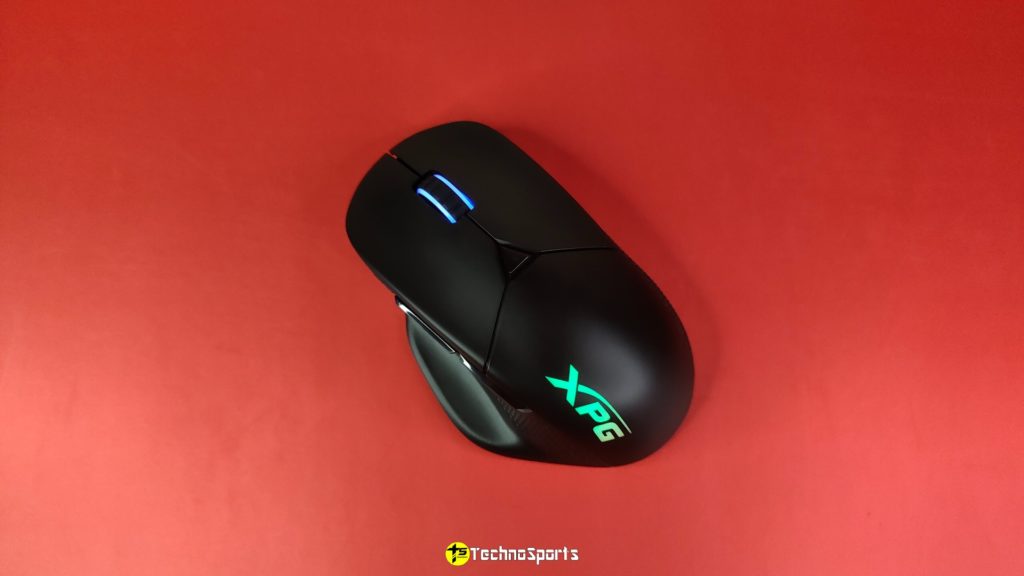 If you are a PC gamer or like productivity and also want a clean desktop setup with no wires messing around then you can easily decorate as well as utilize this XPG Alpha Wireless Gaming Mouse on your desk. The RGB effects look amazing and give a premium feel to the allover design.
To learn more about pricing and availability in your region, contact an XPG representative near you via www.xpg.com. XPG ALPHA will also be available in a wired variant.