The AMD Ryzen 5 7600X 6-Core CPU's thermal & power characteristics at stock load are shown in a few eye-catching data points given by Videocardz. The AMD Ryzen 5 7600X has a high 4.7 GHz base clock and a 5.3 GHz single-core boost frequency. It has six cores and twelve threads. The CPU's 105W TDP (142W PPT) is significantly greater than its 65W predecessor, but again, you have to make that sacrifice to get quicker clock rates. 38 MB of cache, made up of 6 MB of L2, and 32 MB of L3, will be carried by the CPU.
The AMD Ryzen 5 7600X's performance while CPB (Core Performance Boost) is activated and off has been compared by Videocardz. The technology, which is already present on current AM4 motherboards, merely disables the boosting mechanism. The processor will use less power and operate cooler because it won't be operating at its intended frequency.
The performance tests were done on an X670E motherboard equipped with a dual-fan AIO kit, DDR5-6000 memory, and the most recent BIOS. In light of the fact that the reviews are only a few weeks away, one should anticipate that this is the final performance. In terms of performance, the chip achieves 14768 points in multi-core tests and 1920 points in single-core testing with CPB enabled at stock.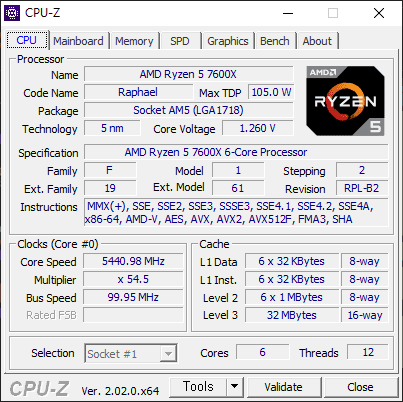 AMD Ryzen 5 7600X CPU scores 1681 in single-core tests and 13003 in multi-core tests with CPB deactivated.
It makes sense because the chip was observed operating at 4.7 GHz with CPB disabled and boosted to its 5.3-5.4 GHz boost profile with the algorithm enabled. This is a 14% improvement with CPB or the stock option enabled.
The difference in clock frequency is 16%. Unsurprisingly, the chip also delivered cooler operating temperatures at power ratings of 56C/60W with CPB off compared to standard operating temperatures of 92C/110W for the same chip.
This is a little less than the 142 or so Watts the CPU uses at its maximum package power, but the temps are still an issue, especially given that an AIO cooler of 240 or 280mm was utilized in this case.
Also Read: