Within Geekbench 5 and CPU-z, new benchmarks of a retail AMD Ryzen 7 7700X 8-Core CPU have surfaced. According to the benchmarks, AMD's next CPU will compete with Intel's Core i7-12700K for single- and multi-threaded performance.
The most recent benchmarks were made available in the CPU-z and Geekbench 5 benchmark tests. Since the IPC uplift in CPU-z is just +1% while the IPC uplift in Geekbench is at +14%, both of these benchmarks demonstrate a significant discrepancy in single and multi-core performance for the Ryzen 7 7700X CPU. Therefore, in these benchmarks, we are seeing AMD's 8-Core Zen 4 performance in both the worst-case and best-case scenarios.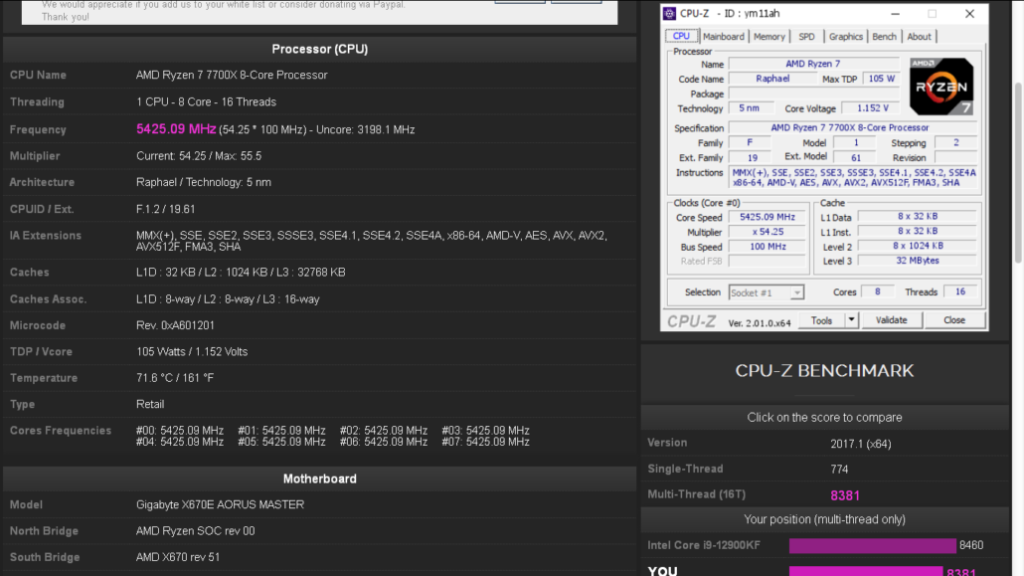 The AMD Ryzen 7 7700X has eight cores and sixteen threads. The CPU will have a base frequency of 4.5 GHz and a boost clock of 5.4 GHz but with a lower 105W TDP because AMD views this as the sweet spot for gaming (142W PPT). The CPU will receive a 40 MB cache pool, which is made up of 8 MB L2 and 32 MB L3 from the single Zen 4 core and CCD, respectively.
In with CPU-z, the retail model of the AMD Ryzen 7 7700X was operating on the Gigabyte X670E AORUS Master motherboard.
The CPU's operational voltage was 1.152V, and it was working at 5.42 GHz all-core boost rates with temps around 71C. Neither the type of cooling employed nor if this was operating under load are known. The chip's reported maximum multiplier is 55.5x, which results in a peak frequency cap of 5.5 GHz.
The CPU scored 774 points for single-core performance and 8381 points for multi-core performance. The new CPU performs 27% quicker in multi-threaded results than its forerunner, the Ryzen 7 5800X, and 20% faster in single-threaded results. In single-core tests, the chip matches the Intel Core i7-12700K with a 3 percent performance gap, but falls short in multi-threaded tests with a -15% performance gap.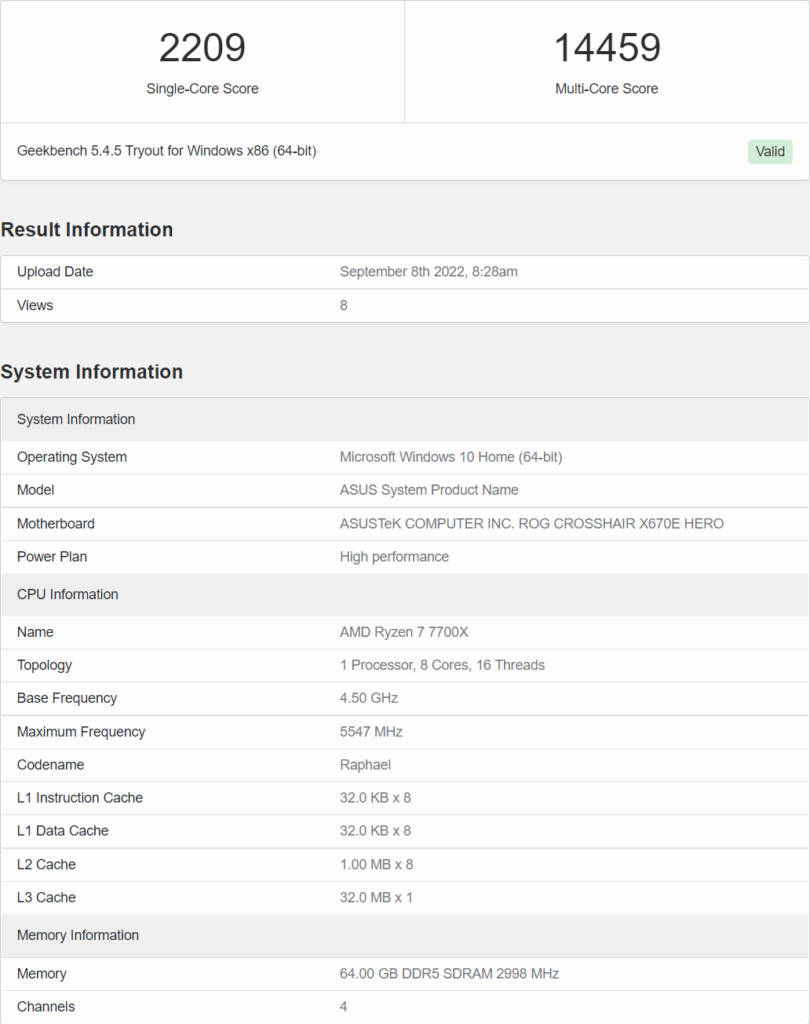 The AMD Ryzen 7 7700X 8-Core CPU can be seen racing ahead with an astonishing 2209 points in single-core & 14459 points in the multi-core tests in the Geekbench 5 benchmarks. In this case, the CPU performs single-threaded operations 32% faster than the Ryzen 7 5800X, 19% faster than the Core i7-12700K, and 10% faster than the Core i7-13700K. In multi-core tests, the chip performs 3% and 40% better than the Core i7-12700K and Ryzen 7 5800X, respectively, but falls short of the Core i7-13700K by 27%.
Also Read: