A Russian NVIDIA GeForce RTX 3080 Ti GPU, a specialised graphics card from Gigabyte, was mentioned in a report from a year ago. It was unclear at the time if it was true or not, even though we never saw this scale of GPU launch outside of Russian markets.
It was eventually determined to be the Gigabyte GeForce RTX 3080 Ti 20 GB GDDR6X by Gigabyte's sub-brand AORUS. The card was widely publicised prior to the listing and images from Russian store ZSCOM, although it was said that they had been cancelled. There was no further discussion after that, save from the model that made it to Russia.
Even more recently, we witnessed an unreleased RTX 3090 SUPER graphics card, demonstrating that many of the reported or leaked combinations are in fact created by GPU makers but never went into mass production. As VRAM capabilities are something that AICs may vary, but the internal GPU configuration is something that only NVIDIA can change, this is done to ensure that the firm has some form of quantity at launch when NVIDIA gives the go-ahead.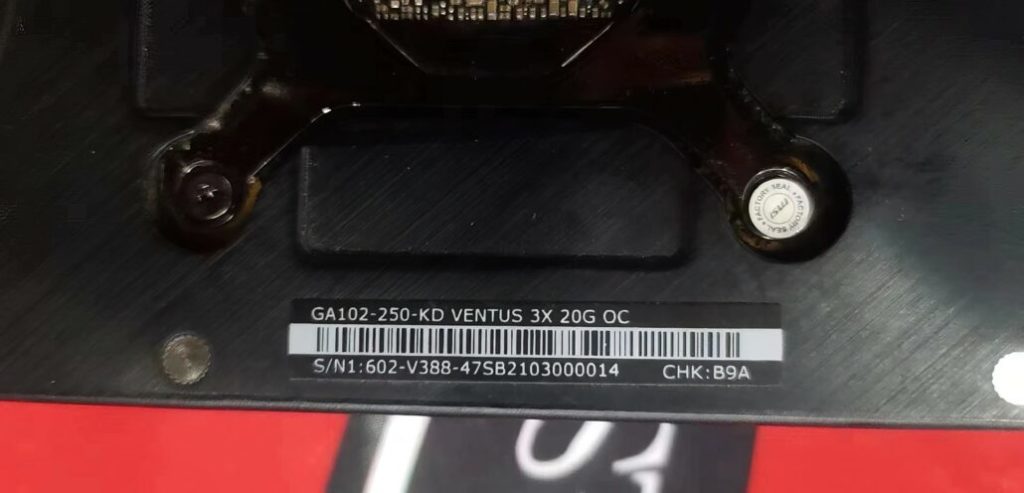 Currently, a Chinese merchant is offering the MSI version of the NVIDIA GeForce RTX 3080 20GB for less than $600, a significant discount (when compared to GPUs from a few years ago).
Crypto miners have been using NVIDIA GPUs for their mining rigs over the past few years since they were the best GPUs for accessing stable hash rates when compared to other companies' GPUs with many functions closed. Miners are either looking at other currencies or selling their stressed GPUs and rigs for a fraction of the price in order to obtain close to their return on investment, or ROI, as the Ethereum currency plans to migrate to a new structure for mining, removing the use of the NVIDIA GPUs.
An important development is that a few mining farms have full access to the upcoming 20 GB NVIDIA GeForce RTX 3080 GPU. Social media is leaking images of the MSI GeForce RTX 3080 Ventus 3X OC 20 GB model, which is not to be confused with the Russian model we saw earlier in the year.
Initially, 10 GB, 12 GB, and 20 GB GPUs as well as LHR variants were considered by NVIDIA with board partners. It was safe to infer that no other cards existed since only the 10 and 12 GB variants made it to market. The listings from China and Russia were all GPUs that the IT community believed were never issued and later cancelled because NVIDIA never fully acknowledged the existence of a 20 GB GPU.
The GeForce RTX 3080 20 GB GPU is shown in the image from the Chinese store with the typical plugs for the display connector, which are ineffective for cryptocurrency mining. As the cards could access 97.48 MH/s rates, proving that NVIDIA activated the LHR block on the GPU, it is alleged that MSI sold the GPUs directly to miners and not to ordinary consumers.
Also Read: