The Chinese smartphone giant had already become a global phenomenon but for the last few years they have slowed down a bit after Carl Pei left and the company got Oppofied. However, it's still out there making smartphones, from budget to high-end, the Never Settle motto is still carried out but honestly it has lost that X-factor.
Previously, OnePlus had a huge fanbase and people loved its phones for their price, features and X-factor but slowly its merging with Oppo has made a difference. With each iteration and launch cycle, one of the flagship features that made the OnePlus stand out is gone for which it has got a lot of criticisms though but this is how it is.
At ₹50k, it's more of an upper affordable flagship level but yes you can get Rs.5000 discount to effectively make it available for ₹44,999, but is it still worth buying?
I have been using this smartphone for almost a month now, so, here I will talk about what I really liked, also what I really miss from OnePlus:
OnePlus 10T 5G Specifications
Display: 6.7 Inches; 120 Hz Fluid AMOLED Display with Corning Gorilla Glass; Resolution: 2412 X 1080 pixels; HDR 10+, sRGB, Display P3, 10-bit Color Depth
Display Features: Image Sharpener, Video Color Enhancer, Screen Color Mode, Auto Brightness, Manual Brightness, Screen Color Mode, Bright HDR Video mode, Dark Mode, Screen Color Pro Mode
Camera: 50MP Main Camera with Sony IMX766 and OIS, 8MP Ultrawide Camera with 120-degree FOV and 2MP macro lens with LED Flash; 16MP Front (Selfie) Camera with EIS support
Camera Features: Nightscape Mode, Ultra HDR, Smart Scene Recognition, Portrait Mode, Pro Mode, Panorama, Tilt-Shift mode, Long Exposure, Dual-View Video, Retouch, Movie Mode, Cat/Dog Face Focus, Video Nightscape, Video HDR, Video Portrait, Focus Tracking, Timelapse, Macro mode
Operating System: OxygenOS based on Android 12
Processor: Snapdragon 8+ Gen 1 Mobile Platform
Battery & Charging: 4800 mAh with 150W SuperVOOC
In-Display Fingerprint Sensor
In the Box
OnePlus 10T
160W SUPERVOOC Power Adapter
Type-C Cable
Quick Start Guide
Welcome Letter
Safety Information and Warranty Card
Screen Protector (pre-applied)
Protective Case
SIM Tray Ejector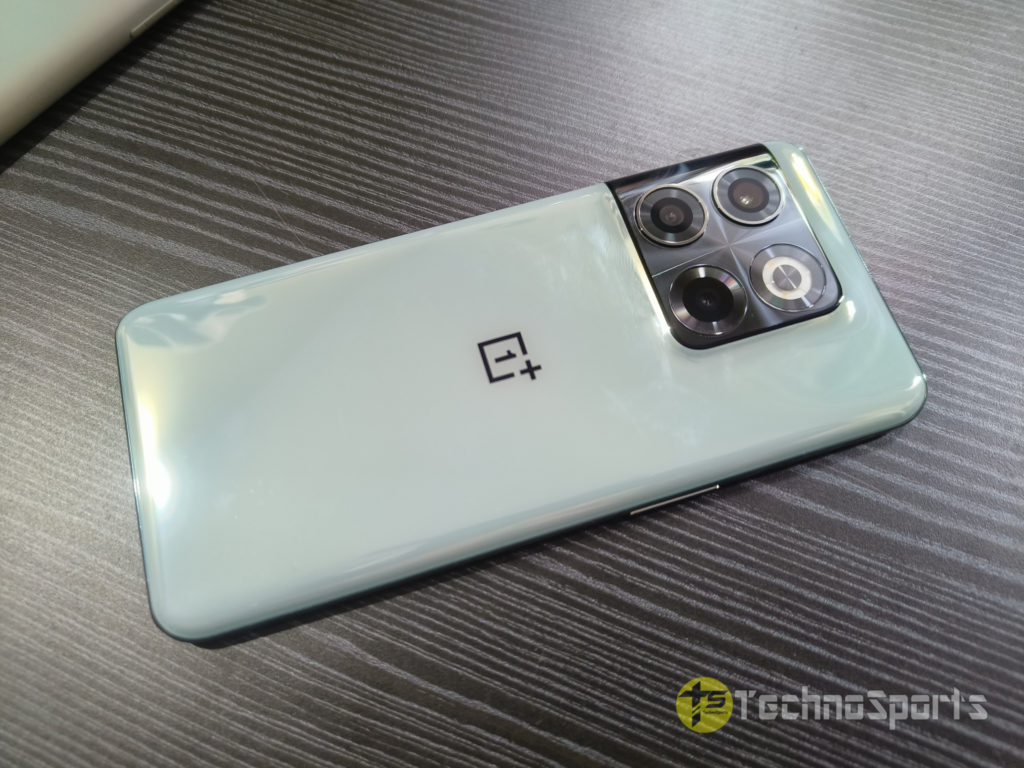 Design is Simplified
The design of this OnePlus 10T has been inspired by the 10 Pro flagship, now, this is subjective I would say but the new colors and glass back is the classic OnePlus we have known. One thing I did like is that the weight balance has been done quite well.
Holding the 10T is really easy even while using it with one hand or even carrying it with you anywhere. I found it more light to use than the flagship OnePlus 10 Pro and the overall design is quite good, subtle & simple.
Also, at the back of the phone, due to the glass finish, it gathers fingerprints, so do use a cover.
Gorgeous Display
Talking about the display, the first thing you would notice is that there is no curved display, looking more like a generic Oppo phone. However, in terms of display quality, I have no complaints as such because the 120Hz AMOLED display is really smooth and color accurate.
Much like other Oppo and OnePlus devices, the display is indeed flagship level, so for daily usage, binge-watching and taking it outdoors isn't a problem. Also, gamers will enjoy playing on this device and the high refresh rates do help when needed.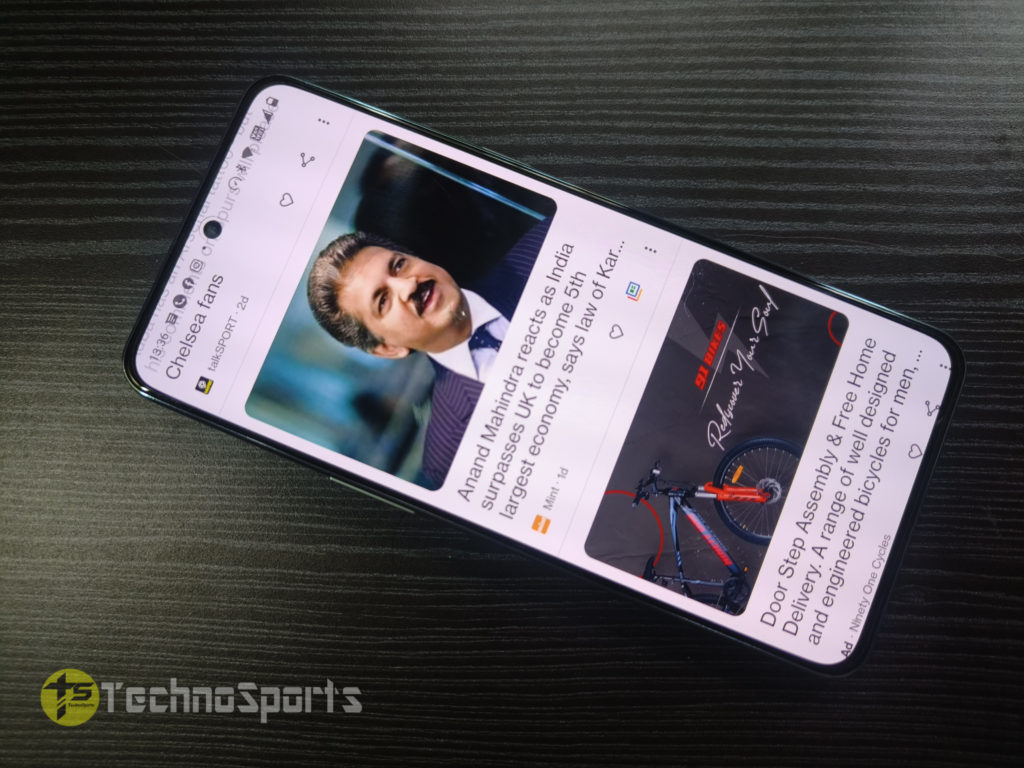 However, one thing I have been concerned about on all these new OnePlus phones is the quality of display because there's no Gorilla Glass protection rating officially. Also, I see the screen is not very susceptible to falls, so, do use screen protection positively.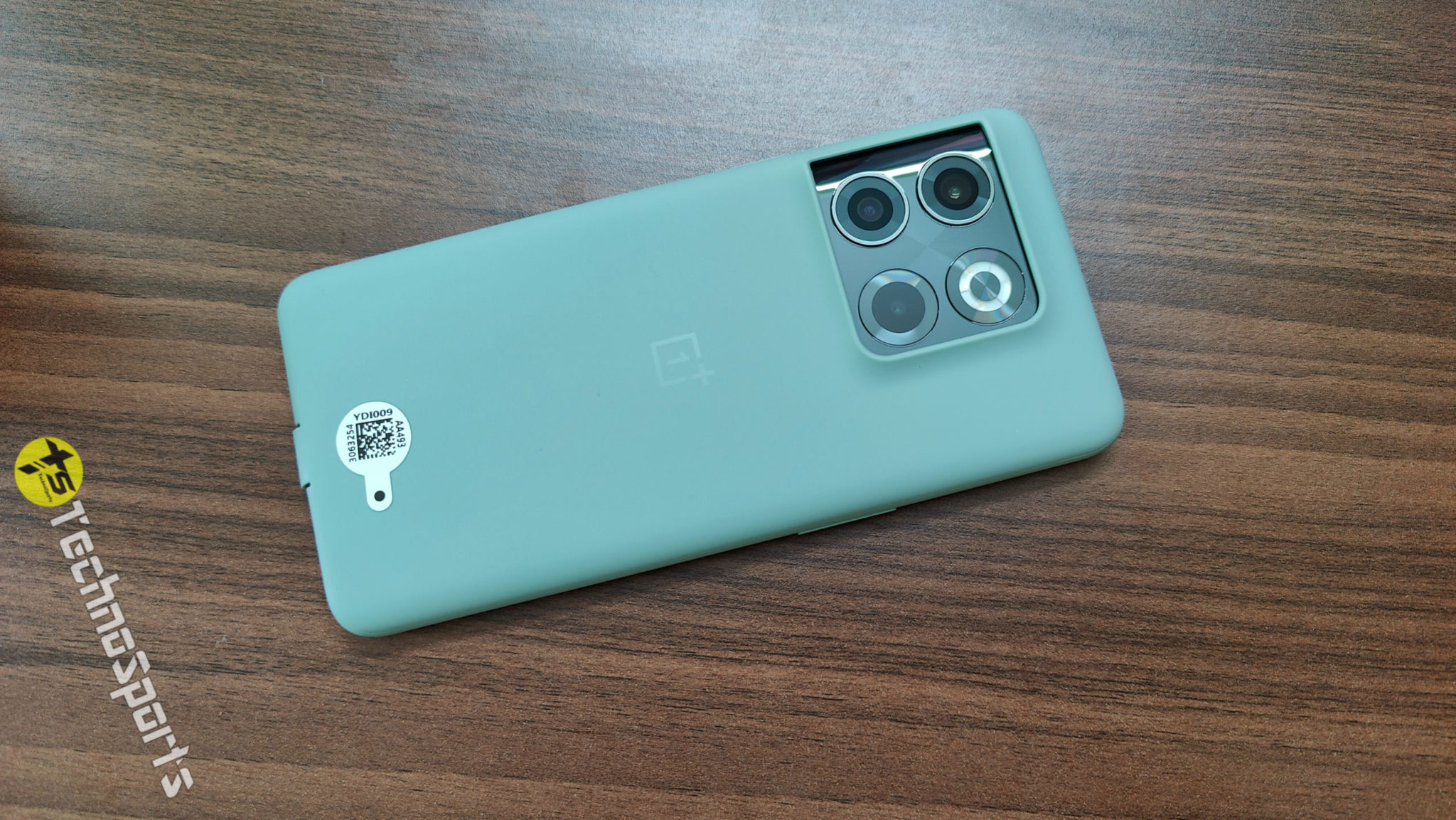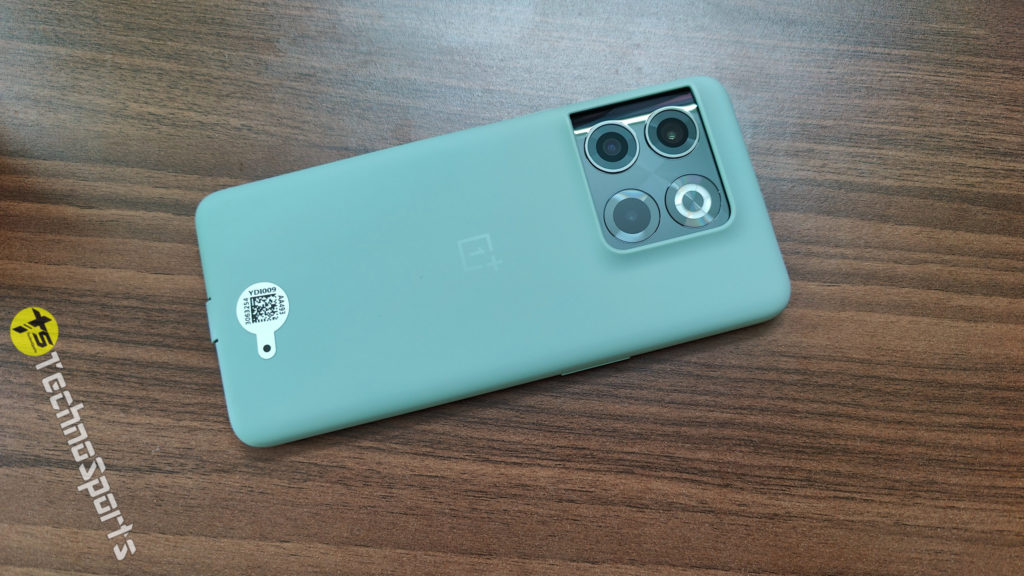 Reliable Performance
Coming to performance, here you won't have to complain much because the performance of these OnePlus phones has been consistent and reliable for the past few years now. The new Snapdragon 8+ Gen 1 gives a fluid Android experience paired with matured OxygenOS.
Here we have the 12GB RAM/256GB storage variant with the latest specs, making it really powerful for day-to-day usage and gaming as well. Using this OnePlus 10T as my daily driver never did I feel any lag or stutter even with hundreds of apps installed, performance has always been reliable on OnePlus phones no doubt.
As you see in the benchmarks, here in Geekbench 5, even while 3 continuous tests, the OnePlus 10T 5G didn't lose its peak performance as you see with a high score of 1289 points in single-core and 3758 points in multi-core, indeed flagship-level scores. The new TSMC's 4nm process does make a difference because it's much more efficient, to be honest, to get the best performance, use the Performance mode.
In AnTuTu tests, you see the new OnePlus 10T easily scores up to 100,000 points, goes to show how much raw performance you get with this smartphone. The Adreno 730 GPU really performs well whether you play games or use it for work with 6377 points in Compute benchmark and 2696 points in the Wild Life Extreme benchmark.
As you see in the CPU throttle tests, when you push the Snapdragon® 8+ Gen 1 to a low number of threads in 15 minutes you see a drop up to 90% performance which is great even when you compare it to the OnePlus 10 Pro we reviewed previously. However, when you stretch it to almost 50 threads a second for 15 minutes you will see a drop in performance up to 49% which is bad.
The new Vapor chamber cooling system does make an impact because it gets less heated up than the OnePlus 10 Pro surprisingly and weighs lighter. So, with a larger cooling area and good heat dissipation, the thermal performance of this OnePlus 10T 5G is indeed flagship level, very helpful while gaming and intensive applications.
The camera is decent not Flagship level
In terms of the rear camera, you have the same 50MP Sony IMX766 sensor with OIS support, the same as found on the OnePlus 10R. However, thanks to a better Snapdragon chipset, the ISP and image processing are quite good resulting in crisp photos with low noise as compared to what we saw with the MediaTek-powered OnePlus 10R.
The ultra-wide camera is also good with a gimmicky 2MP macro lens, good for nothing, overall giving you good shots but lacking that X-factor. With two software updates since I got the OnePlus 10T, the camera performance has seen good improvements, at good lighting conditions, the portrait shots are quite good along with other day-time photos emerge pretty well with this device.
The OIS does help to stabilize videos and is a must-have for Rs.50k price phone, however, if you have some more money I would suggest the OnePlus 10 Pro any day because of its better camera performance. The colors gathered by this OnePlus 10T are good undoubtedly but sometimes it's not reliable as the OnePlus 10 Pro is. Other camera modes like Tilt-Shift mode, Long Exposure, Dual-View Video and more really help make the most out of the OnePlus 10T's camera.
The videos taken from the rear camera are quite good whether you shoot during the day or at night, the OnePlus 10T 5G's videos come out sharp with proper focusing.
In the front camera department, you have the same 16MP camera that captures decent selfies and for an everyday user, it will easily suffice all your needs. Next time, OnePlus has to improve its camera performance and bring that X-factor I feel and the telephoto lens at this price range should have been there.
Top-Notch Connectivity & I/O
The new OnePlus 10T 5G is a true 5G smartphone with all the 5G bands which will be used in India even better than the OnePlus 10 Pro. Also with the latest connectivity options like Wi-Fi 6, NFC and Bluetooth 5.2, you will face no issues connecting to the internet or using multiple Bluetooth devices along with the smartphone.
The Wi-Fi speeds along with Bluetooth connection have always been reliable on these OnePlus phones and this OnePlus 10T 5G is no different.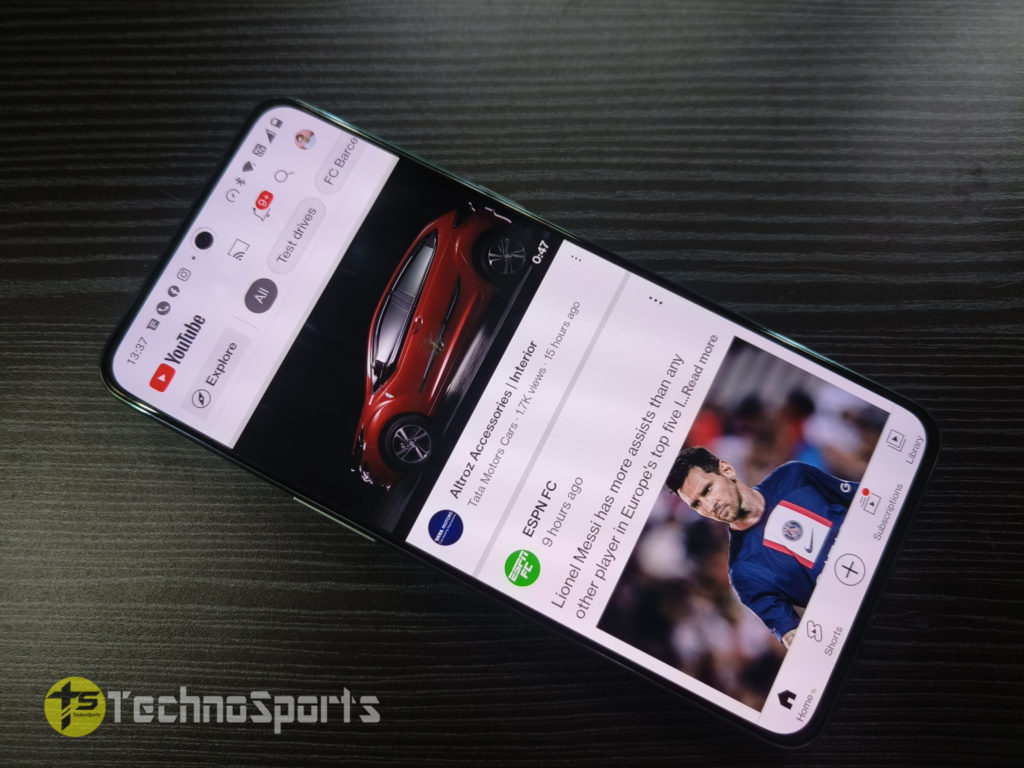 Good Audio/Microphone
Much like the flagship OnePlus 10 Pro, this OnePlus 10T also comes with Dual Stereo Speakers with Noise cancellation support. This results in a great audio experience while watching something or during casual music listening and being a music freak I used it as a speaker quite often, but never did it fail me with crisp sound output.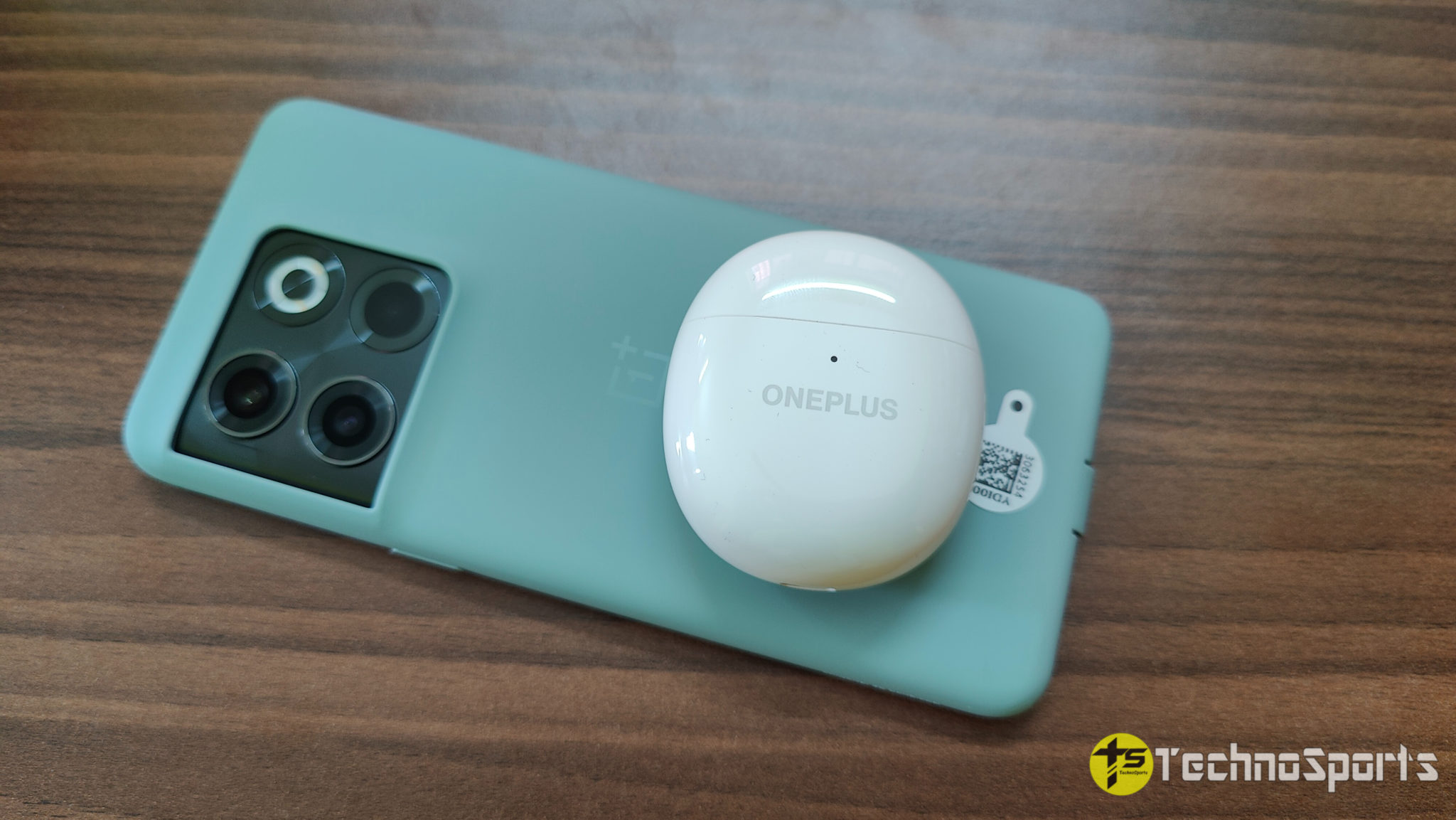 A lot of OEMs do skip on providing good microphones on even costly smartphones but this is not the case with the OnePlus 10T which has proper microphones to help you while you call, record and even play games. Never did I face any call drops or complaints from the receiving end for the sound quality or as such, so, for those who take a lot of calls will easily suffice from this OnePlus 10T 5G.
OxygenOS mixed with ColorOS but clean
Yes, you still have OxygenOS 12, not the same as it used to be with a lot of elements borrowed from ColorOS but I am glad that Pete Lau didn't kill the OxygenOS entirely. With time-to-time updates, the OnePlus 10T will never disappoint you in terms of software experience and as I use OnePlus phones mostly, it feels much better than using a Vivo, Xiaomi or other devices.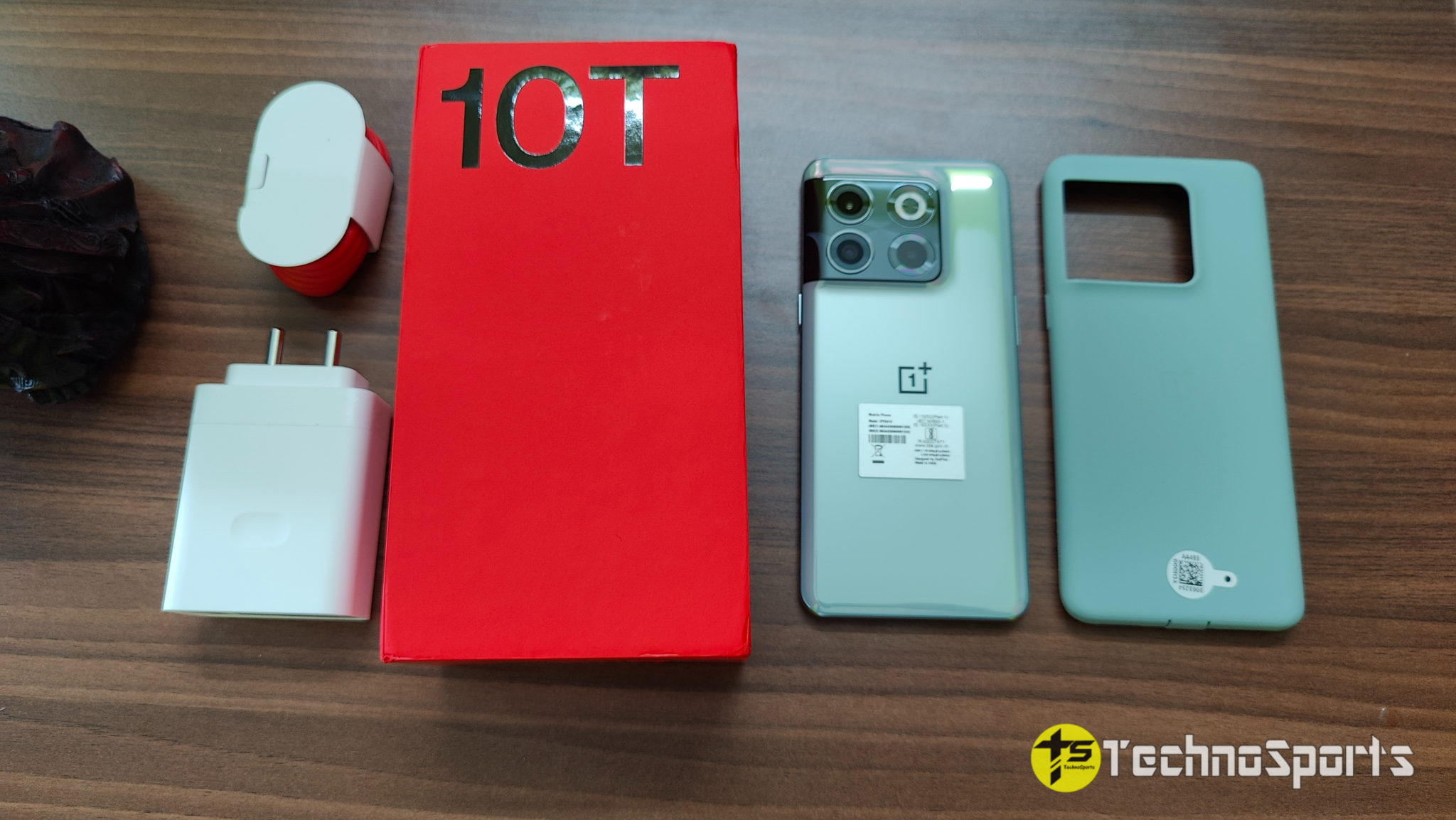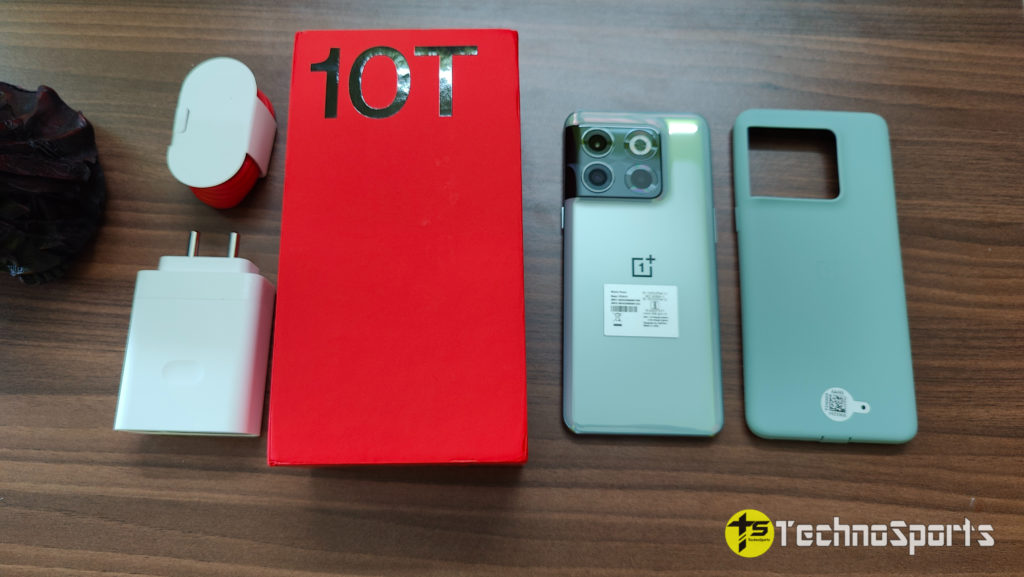 Insane Fast Charging and Battery Life
Yes, OnePlus has brought the insane 160W SUPERVOOC charger to this OnePlus 10T which ensures a full charge within 20 minutes, and 10-100% in almost 15 minutes. This is a real convenience but the charger is almost a brick yet is very helpful when you need a quick charge.
In terms of battery life, OnePlus has increased the battery size to 4,800 mAh with two 2,400 mAh batteries for improved fast charging, however, for this OnePlus has removed the iconic alert slider which I do really miss on this OnePlus 10T. On average you should get a day of battery life with heavy usage and for a regular user, the battery life is quite good.
Verdict
Finally, comes the question should you spend your money on the new OnePlus 10T 5G or not knowing its pros and cons, well, it depends on you. Personally, I had no problem using it on a daily basis even though this lacks the iconic OnePlus things like alert slider, curved display, near stock OxygenOS but if you ask a person who has not been a fan of these then it won't be any issue for you.
For those who want a great display, decent design, and incredible performance on Android, this is the smartphone you should look for. Overall, it doesn't seem like an absolute flagship though still, users who need a premium-looking device with reliable performance in all aspects should go for the new OnePlus 10T easily.
Buy from here: https://amzn.to/3RSnjub