AMD has given us a first look at their newest Radeon RX 7000 "RDNA 3" GPUs in tandem with their spectacular Ryzen 7000 "Zen 4" CPU launch. The AMD teaser provides us with a glimpse of the graphics card using the RDNA 3 GPU core. This might be one of the lineup's flagship designs, and it also appears to be a little bit thicker than existing cards like the RX 6950 XT. We can also detect a glimmer of RGB illumination on the card's front, and the shroud appears to be quite close to the reference design used by current cards.
On three of the heatsink fins, right next to the dual 8-pin connectors that Angstornomics previously described, the heatsink also has a distinctive crimson trim. AMD revealed that their RDNA 3 GPUs, which feature a significant performance boost, will be released later this year. David Wang, Senior Vice President of Engineering, Radeon Technologies Group, stated that the new GPUs for the Radeon RX 7000 series will provide over a 50% increase in performance per watt over the RDNA 2 GPUs now in use.
The RDNA 3 GPUs from AMD, which will power the following generation of Radeon RX graphics cards, were recognised for a handful of their major capabilities in the information the firm shared.
The RDNA 3 GPU will have a 5nm process node as its foundation and make use of cutting-edge chipset packaging that increases performance per watt. In addition, the GPU will house several novel technologies, including the next-generation Infinity Cache, a completely new and redesigned Compute Unit, and an enhanced graphics pipeline.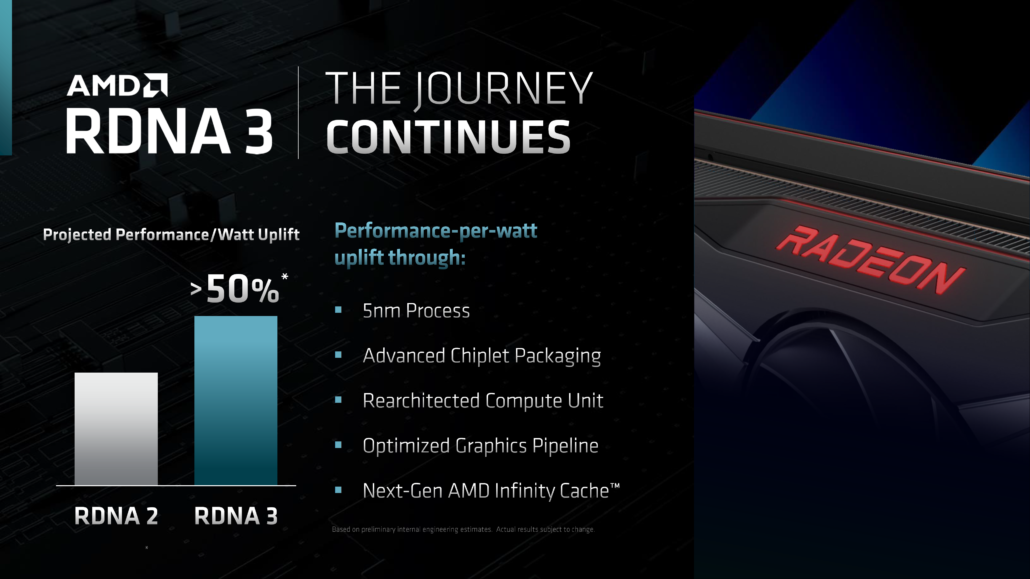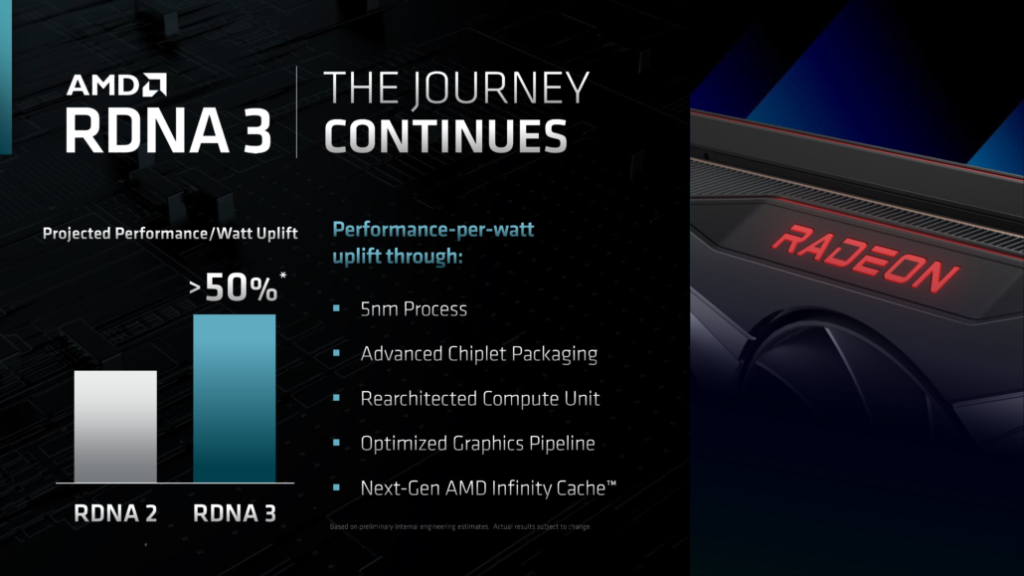 The Radeon RX 7900 XT graphics card and other next-generation enthusiast cards would be powered by the AMD Navi 31 GPU, the top-tier RDNA 3 processor. We've heard that AMD would replace its next-generation RDNA 3 GPUs' compute units with workgroup processors. Dual CU (Compute Units) will be housed in each WGP, but there will be four SIMD32 clusters per CU, as opposed to two on each CU in RDNA 2. According to rumours, AMD has the choice of the 6nm die from TSMC or Samsung.
One GCD with 48 GPS, 12 SAs, and 6 SEs is what is anticipated from the AMD Navi 31 GPU with RDNA 3 architecture. There will be a total of 12,288 stream processors distributed as a result. This represents a 2.4x increase in cores above the 5120 SPs found in the Navi 21 GPU. According to reports, the Navi 31 GCD, often known as the GPU, would be packaged on TSMC's 5nm production node and measure 308mm2.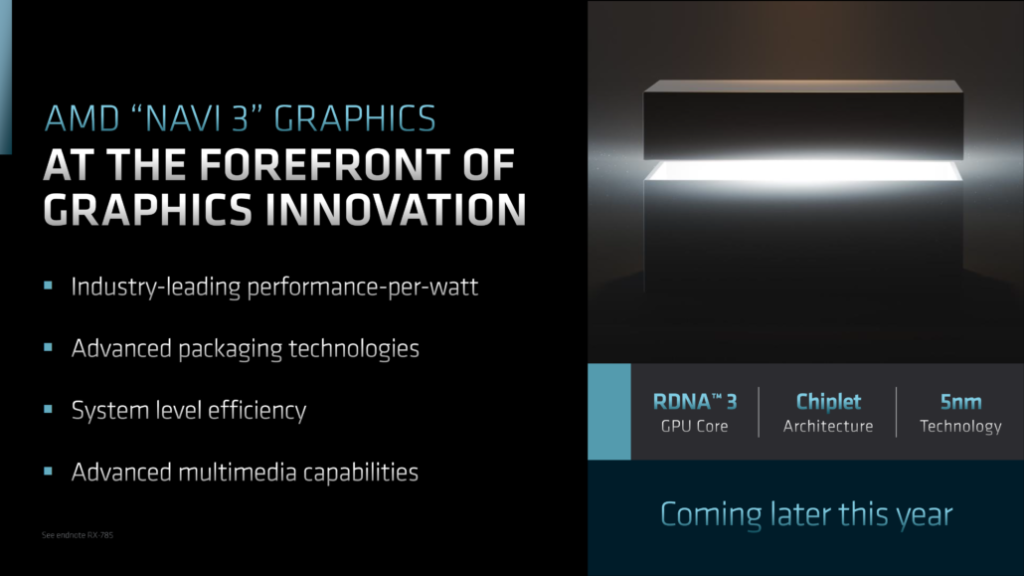 The Navi 31 GPU will also include 6 MCDs, each of which will have a 16 MB Infinity Cache. Additionally, these MCDs are anticipated to include 64-bit (32-bit x 2) memory controllers, giving the device a 384-bit bus interface. There is a 3D-Stacked solution in development that would double the Infinity Cache with 32 MB (16 MB 0-hi + 16 MB 1-hi) capacity for a total of 192 MB of cache, even though this equates to 96 MB of Infinity Cache, which is less than the 128 MB featured on the current Navi 21 GPUs.
With a 50% improvement over the current Navi 21 design, Navi 31 is the first GPU to feature both chipset and 3D stacked designs. These chipsets, also known as MCDs, will be produced on TSMC's 6nm production node and have a 37.5mm2 surface area each.
Also read: