Nvidia released its financial information for the second quarter of its fiscal year 2023 on Wednesday. Its client PC operations saw decreases, while its automotive and data centre businesses saw growth, so the results were mixed.

Nvidia had to issue a warning to investors because its gaming and ProViz graphics business divisions, as well as its mining and OEM business segments, all experienced large sequential and yearly declines. While the business stated that it would discuss its upcoming Ada Lovelace architecture the next month, it remained mum regarding the release date of GeForce RTX 40-series graphics cards.
However, compared to the same quarter last year, shipments of Nvidia's data centre and automotive hardware increased dramatically. As soon as the company's Hopper H100 computing GPUs are through manufacturing and prepared for shipment, they will resume operation in Q3 FY2023.

The total revenue for Nvidia in Q2 FY2023 was $6.704 billion, up 3% annually but down 19% sequentially. The business's net income decreased to $656 million, a 72% year over year and a 59% quarter over quarter (QoQ) decline (YoY). Additionally, Nvidia's gross margins dropped from roughly 65% in recent quarters to 43.5%.


"Concerning Hopper, we are in full production now and we are racing to get Hoppers to all of the CSPs (cloud service providers) who are who are dying to get it," said Huang. It goes with our HGXs, which are multiple Hoppers on a system tray. It is a supercomputer on the motherboard if you will and it goes along with networking gear and switchgear. There are enormous amounts of resources applied from all of the CSPs around the world and ourselves to get Hopper to them. We expect to ship a substantial [number of] Hoppers in Q4."
"We will get through this [inventory correction] over the next few months and go into next year with our new architecture," said the head of Nvidia. "I look forward to telling you more about it at GTC next month."
Nvidia faced numerous difficulties during the second quarter of fiscal 2023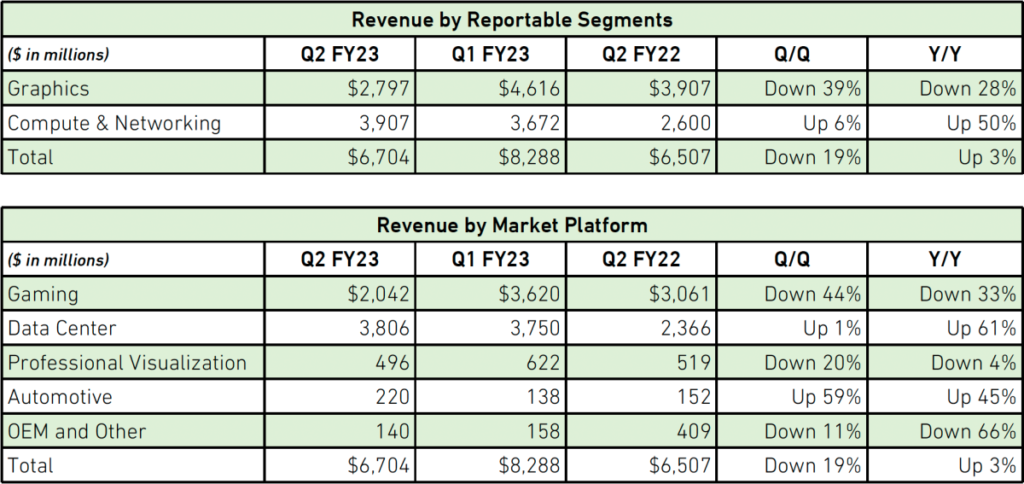 this includes macroeconomic conditions (inflation and consumer uncertainty), high channel inventory levels (as the company aggressively sold its graphics cards in prior quarters), softening end-user demand (as both gamers are anticipating Ada Lovelace to launch soon and as a result of uncertainties), inventory corrections by partners, and lowering graphics card prices.
"These decreases were primarily attributable to lower sell-in of Gaming products, reflecting reduced channel partner sales due to macroeconomic headwinds," said Colette Kress, chief financial officer at Nvidia. "In addition to reducing sell-in, we implemented pricing programs with channel partners to address challenging market conditions that are expected to persist into the third quarter."
It should be noted that Nvidia's gaming revenue in Q2 was still substantially greater than the $1.654 billion recorded in the company's second fiscal quarter of 2021 (Q2 of the calendar year 2020). It suggests that the need for discrete GPUs for gaming PCs, the rise in the cost of independent graphics cards, and the craze for cryptocurrency mining all hugely benefited the chip creator.
Also read: