Samsung aims to release a portfolio of brand-new DDR5 server memory modules to support the introduction of AMD and Intel's next-generation server platforms. These modules will be based on 16Gb and 24Gb DDR5 devices and will include the first 512GB RDIMM/LRDIMM in the market. Samsung's DDR5 innovation will advance with the arrival of a 32Gb IC in early 2023, which will allow the business to produce a 1TB memory module in late 2023 or early 2024. Samsung plans to introduce ICs with a 7200 MT/s data transfer rate in two years.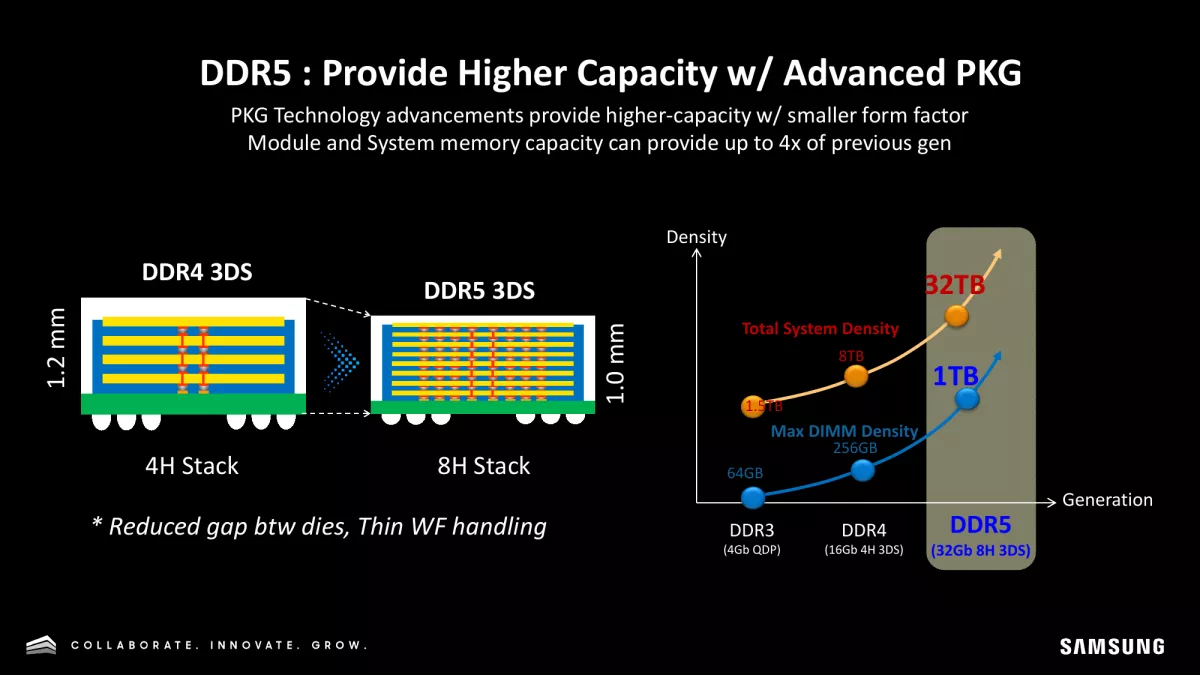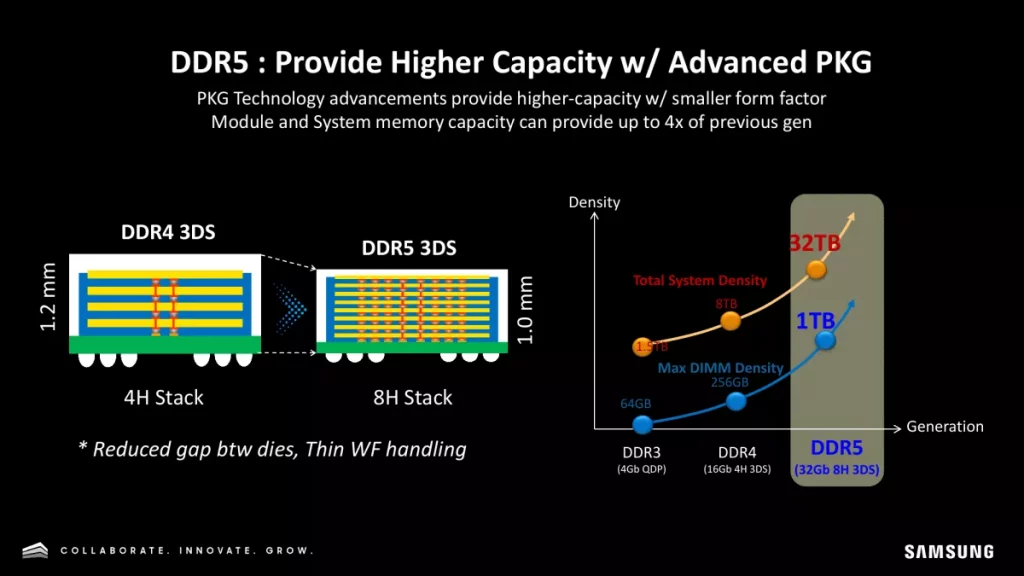 The DDR5 specification from JEDEC offers significant advantages for server platforms. They also introduce novel approaches to raise per-chip and per-module capacities, as well as improved reliability and yield-improving strategies, in addition to improved performance scalability. Additionally, the specification permits the integration of up to 16 DDR5 ICs and 64GB monolithic DDR5 memory devices into a single chip (up to 16 ICs whose capacity is lower than 64Gb). As a result, it is not surprising that 32Gb DDR5 ICs are now available.
To commemorate the completion of its development, Samsung plans to formally launch 32Gb DDR5 smartphones perhaps early in 2019. The first devices based on these chips, 32GB unbuffered DIMMs for client PCs, may be publicly unveiled by Samsung at the end of 2023 when these chips will ramp up. The company will later reveal its 32 8-Hi 32GB stack and 1TB DDR5 memory modules that are intended for server platforms due in 2024 to 2025.
DRAM manufacturers like Samsung currently employ 8-Hi stacks with up to eight memory devices, but in a few years, they'll switch to much larger stacks.
For instance, Samsung will be able to create 2TB server-grade DDR5 modules and enable devices with tens of terabytes of memory per socket by stacking sixteen 32Gb DRAM ICs or eight 64Gb DRAM ICs (e.g., a 12-channel memory subsystem supporting two DIMMs per channel might get up to 48TB of memory)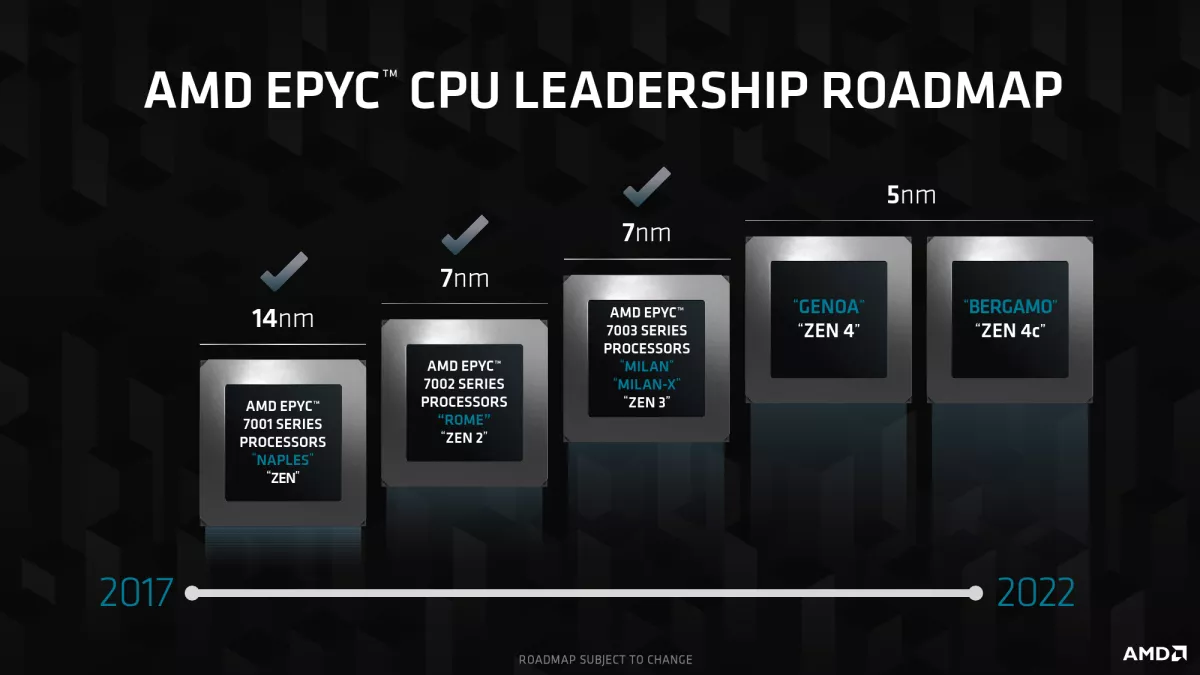 Samsung's 32GB DDR5 memory devices will enable the construction of extremely reasonably priced single-sided 32GB DIMMs once yields of these chips reach levels equivalent to those of 16GB ICs. This will allow desktop enthusiasts to outfit their PCs with 128GB of memory without breaking the bank.

While capacity is vital, enthusiasts also value high speeds, so Samsung is making great efforts to enhance the functionality of DDR5 products. The business is planning to provide us with 5200 MT/s to 5600 MT/s official ratings that are intended for the next client's PC platforms. We anticipate that manufacturers of modules like Corsair and G.Skill will employ these chips to create products with speeds of 6800 MT/s to 7000 MT/s and higher, however, those products will need higher voltages.
In 2025, Samsung expects to release DDR5 chips with a 7200 MT/s data transmission rate at the JEDEC-required 1.1 Volts. Samsung has been discussing the DDR5-7200 speed bin for a while but hasn't said when it intends to start making the necessary hardware. Finally, the business showed a graphic at the webinar that dates "DDR5-7200+" to 2025. So anticipate that experts in memory modules will use such ICs to achieve speeds of 10,000 MT/s or greater.
Also read: