The 15th season of the Asia Cup is set to begin on August 27 and continue till September 11. This season will be held in UAE and six teams will be participating in this tournament. In this edition, the competition will be in the T20I format. India has been the most successful team in this tournament so far. Let's have a look at some of the records in both ODI and T20I format
Records (ODI format)
Highest Runs: Sanath Jayasuriya has scored the most runs in the Asia Cup tournament. He amassed 1220 runs at an average of 53.04 and a strike rate of 102.52 with six centuries and three fifties. His highest run score was 134.
Highest Individual Score: Virat Kohli has the record of the highest individual runs in this tournament. He mustered 183 runs in 148 deliveries against Pakistan while chasing 330.
Highest wickets: Muthiah Muralitharan has taken the most wickets in the Asia Cup series. He has had 30 scalps at an average of 28.83 and an economy rate of 3.75 in 24 innings. His best bowling figure was 5/31 against Bangladesh.
Best Bowling figure: Sri Lankan spinner Ajantha Mendis best bowling figure came against India at 6/13 which helped the team win the title.
Highest Total– Pakistan mustered the highest total of 385 runs against Bangladesh in Dambulla in 2010. Shahid Afridi in this game smashed a fantastic 124 runs off 60 deliveries. he hit 17 fours and four maximums.
Lowest Total– Bangladesh has had the lowest total in the Asia Cup tournament. They got all out in just 87 runs in 34.3 overs against Pakistan in 2000. They were chasing 321 runs but could score only 87!
A cricketer with the highest Player of The Match award– Sanath Jayasuriya is at the top here. He has won this award five times in the history of Asia Cup.
Records (T20 format)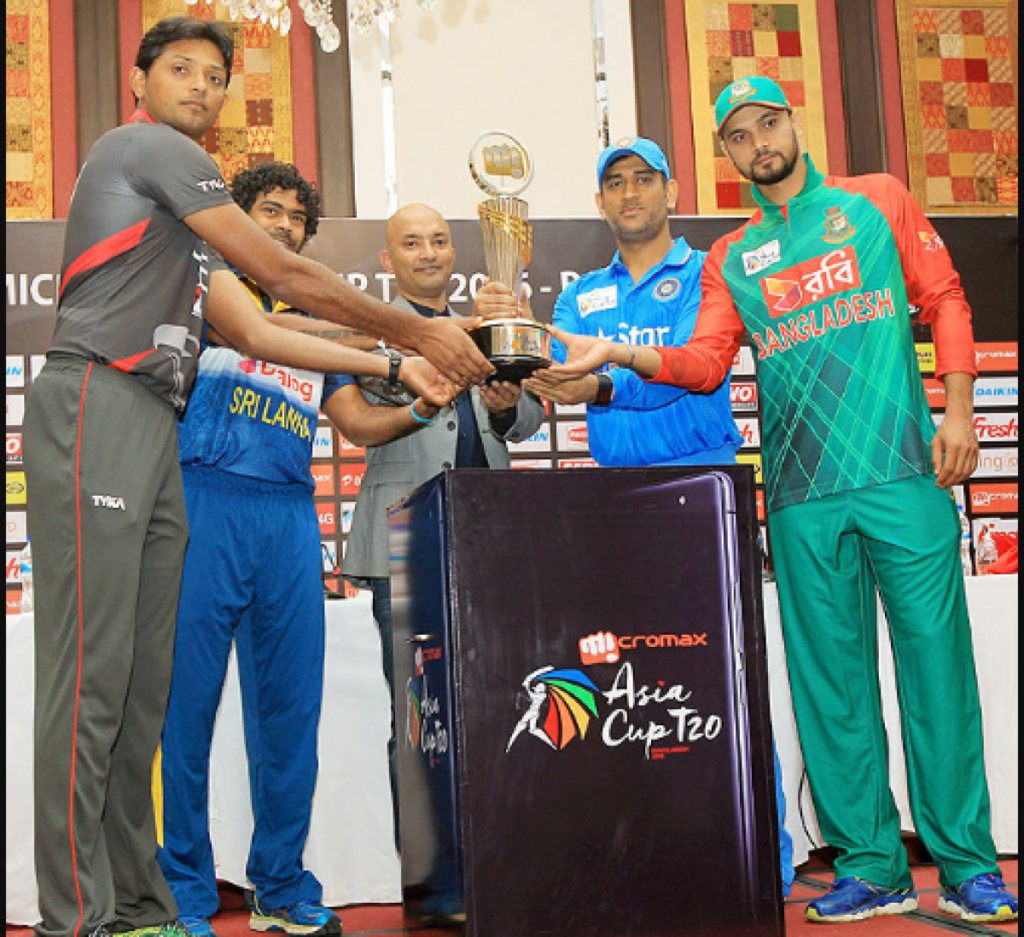 Highest Runs– Babar Hayat from Hong Kong has scored the most rins in T20I format. He scored 194 runs in three innings at an average of 64.66 and a strike rate of 160.33. he hits one century and one-half century.
Highest Individual Score: Indian player Rohit Sharma mustered 83 runs in 55 deliveries with seven fours and three maximums against Bangladesh in 2016.
Highest wickets- Amjad Javed has the highest scalps in the tournament. He picked 12 wickets at an average of 14.08 and a strike rate of 11.5 with an economy rate of 7.34 and figures of 3/25.
Best bowling Figure– Sri Lankan fast bowler Lasith Malinga has the best bowling figure. His best was 4/26 against UAE in four overs in the second match of 2016.
Highest total– India has the highest total against Bangladesh which was 166/6 in the competition. However, Bangladesh could score only 121/7 .
Lowest Total– UAE has the lowest total in the T20I format coring only 81/9 in 20 overs in 2016 Asia Cup. Bhuveneshwar Kumar picked two wickets in four overs and India finished the match in 10.1 overs.
Cricketers with the highest Player of The Match award– Virat Kohli and Rohit Sharma have won this award two times each. They played five matches in 2016 under MS Dhoni and achieved this feat. Nine other players won the award only once in the tournament.
Read more: IND vs ZIM 1st ODI: India won the match by 10 wickets