Flagship graphics cards like the AMD Radeon RX 6900 XT and NVIDIA GeForce RTX 3080 Ti are now available for -30% less than MSRP, as GPU costs continue to decline.
Due to the crypto meltdown, a shrinking PC market, and generally weak demand because of the expectation of the next-gen GPUs, the entire GPU market has decreased significantly over the previous few months. As a result, the cost of graphics cards—especially expensive models—has fallen to an all-time low.
However, if you're searching for something under $1000 US, you can still buy various AMD & NVIDIA high-end enthusiast graphics cards. Two AMD Radeon RX 6900 XT graphics cards, one from Gigabyte Gaming OC and the other from ASRock Phantom Gaming, are available for purchase at Newegg. These two versions are each priced for $699.99 US, which is a 30% discount off their $999 US MSRP.
If you're searching for something environmentally friendly, Gigabyte's (Gaming OC) NVIDIA Geforce RTX 3080 Ti 12 GB graphics card is on sale for $869.99 US, which is -28% off MSRP.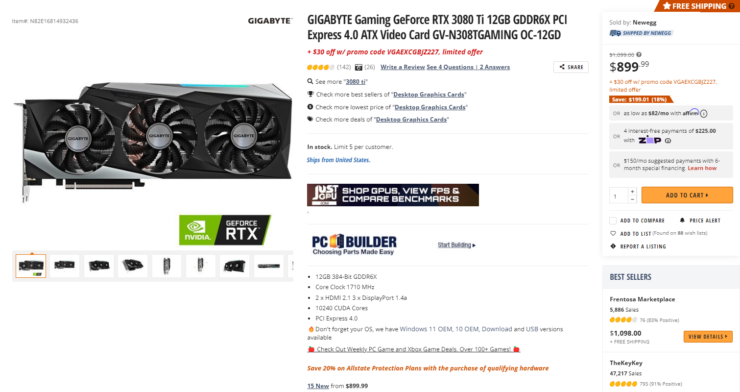 The graphics card is a very capable alternative that can work wonders for your PC's ultra-high-end 4K gaming needs.
Even if the majority of gamers will be interested in these graphics card offers, it should be noted that as the arrival of the next-generation lineup draws closer, we may anticipate further price reductions.
Also Read: NEW MOBILE AND DESKTOP WORKSTATIONS BY LENOVO WITH AMD RYZEN PRO 6000 PROCESSORS LAUNCHED