The PC market is in an increasingly precarious condition as sales slow following several years of meteoric rise, according to preliminary Mercury Research CPU market share data for the second quarter of 2022. The recent earnings reports from Intel, AMD, and Nvidia indicate that the recovery will take some time. Nevertheless, AMD has maintained its market share advantage over Intel in every CPU market segment, suggesting that it is faring better than other companies for the time being.
Last week, Intel released a dismal financial report; the business lost money for the first time in decades, in part due to a fall in PC sales. Additionally, Intel said that it would delay the release of its crucial Xeon Sapphire Rapids data centre CPUs and kill off Optane, another failing business area, making it the sixth unit to be killed off under the leadership of new CEO Pat Gelsinger.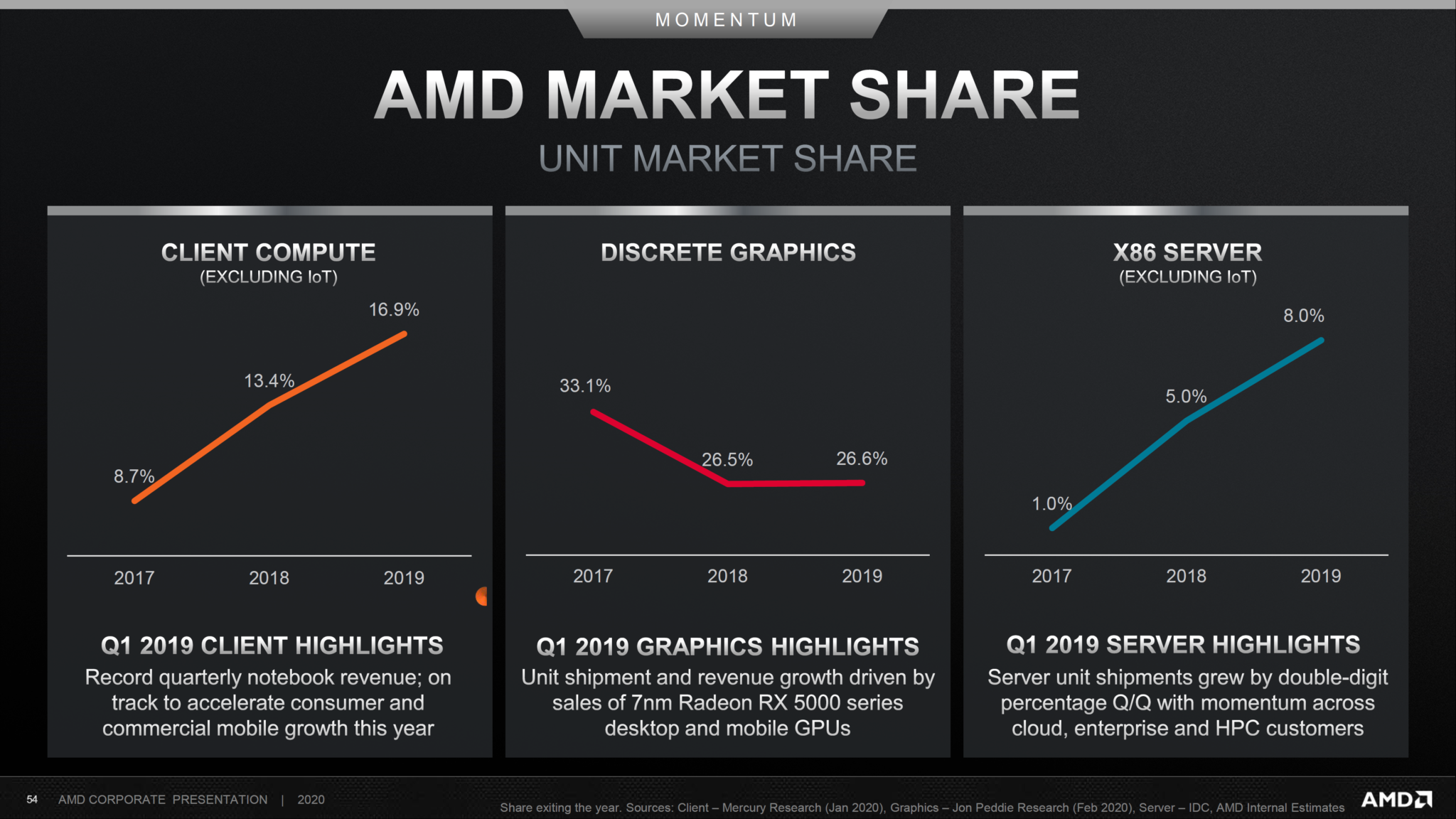 In contrast, AMD's revenue increased 70% year over year as the business maintained and even increased its excellent profitability. As planned, AMD will introduce its Ryzen 7000 CPUs, RDNA 3 GPUs, and EPYC Genoa data centre processors. AMD is operating at full capacity.
AMD made significant progress in the mobile/laptop market once more, achieving a new record-high unit share of 24.8%.
For the thirteenth straight quarter, AMD increased their share of the server market, taking 13.9% of the market. In particular, AMD's quarterly increase in server sales is the highest we've observed in our historical data, which extends back to 2017.
It's reasonable to say that all indications point to a continued PC downturn; Intel and AMD anticipate a double-digit decline in desktop PC sales until the end of the year. Due to sagging gaming GPU sales, Nvidia also disclosed that it had significantly underperformed its guide by $1.4 billion. According to its partners, this year's GPU shipments will drop by up to 50%. The tea leaves are unclear because it's difficult to tell how much of that amount was truly intended for gaming PCs as opposed to crypto miners.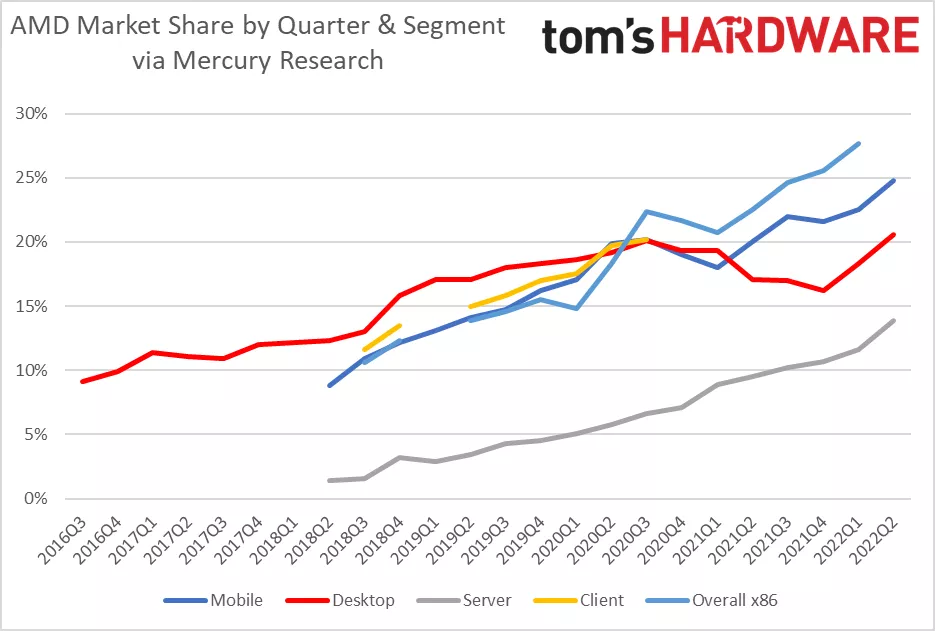 As the epidemic subsided and inflation and economic unrest increased on a worldwide scale, the PC market started to shrink. Seasonal downturns compound slow CPU sales, and these factors have combined to lower demand for both Intel and AMD. However, AMD has continued to increase its market share, increasing its unit share to 20.6% in the third quarter.
Given that it doesn't sell as many processors in the low-end category as Intel, AMD achieved a remarkable feat by setting yet another market share record in the notebook industry. This represents another high for AMD in terms of mobile market share.
As far back as our records go, AMD continued its three-year string of quarterly share rises and recorded the highest single quarterly gain (2017). For the thirteenth straight quarter, AMD increased their share of the server market, reaching 13.9%.
In addition to announcing yet another delay for its Sapphire Rapids, Intel said it continues to struggle in this market. Although the company hasn't specified a specific date, we anticipate the full launch to occur in the first quarter of 2019.
Also read: