Karan Johar's most controversial show Koffee With Karan kicked off episode 6 of Season 7. This time we will see two members of the Kapoor family, Sonam Kapoor, and Arjun Kapoor. The two cousins come on the occasion of Raksha Bandhan's special episodes while they both have come on the show many times but separately. This is the first time that they are appearing jointly.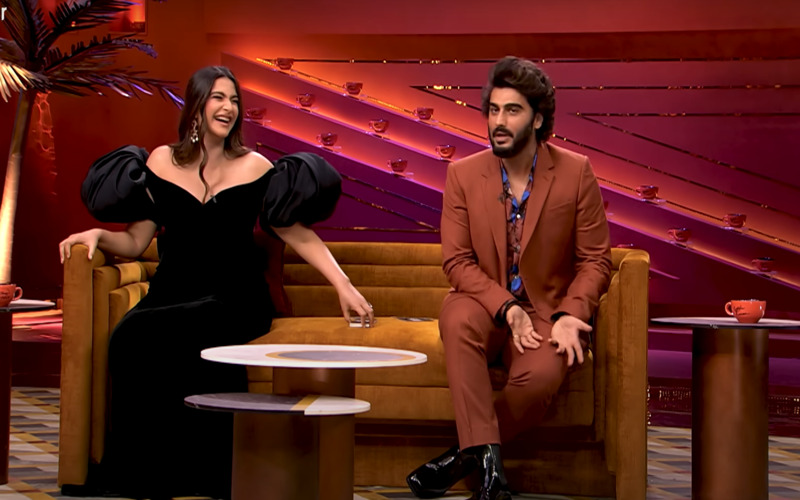 The promo of the new sixth episode is set to drop on social media on Tuesday. The short promo unveils pregnant Sonam Kapoor in the black dress joining her cousin Arjun on the couch. Karan starts with him having a very annoying habit of hers. Ge will reply mainly that's a habit of complimenting herself. She also pinned Anil Kapoor's daughter, "You don't wait for anybody else to give you the compliment, you just give yourself a compliment. Am I not looking good? Am I not looking gorgeous in this dress? I am looking beautiful." 
Karan asks how many of her friends Arjun has dated. She is saying 'between my brothers, there is no one left.' maybe in a twist of the words. Arjun and Karan having shocked. Karan asks what is like the brothers that she has while Arjun tells her off for exposing too many of her brothers' secrets. the show exposes Harsh Vardhan Kapoor that left a comment on Katan's post. He wrote with a facepalm emoji with "Oh God".
Karan also seeking Sonam who is the most happening actor in Bollywood right now. Sonam also takes her friend Ranbir Kapoor having the name as he has been set to promote his film along with Ayan' while asking about the film that was, she also guessed 'Shiva No. 1'. She has not getting invited to Brahmastra in the next month. 
The latest episode is set to premiere this Thursday, at 12 am. There are other guests that show so far have been Ranveer Singh, Alia Bhatt, Akshay Kumar, Samantha Ruth Prabhu, Janhvi Kapoor, Sara Ali Khan, Kareena Kapoor, Aamir Khan, Ananya Pandey, and Vijay Devarakonda.
Here is the trailer:
Read More:  Delhi Crime (Season 2): Shefali Shah and her team come into the field to cease the Growing Crime in the City