An Intel Arc A380 graphics card with the MSI name has been discovered online. The first instance comes from one of the top three AIBs. Even if the card is only offered as a part of pre-built MSI systems and not as a standalone retail product, it is still a major discovery.
The Arc A380 graphics card from MSI is the company's first Intel graphics card, and it is a low-profile (LP) design. It seems like a sensible choice given its 75W construction. While many of the earlier MSI LP designs for Nvidia and AMD GPUs similarly employ two tiny fans, the cooling shroud design for Intel Arc is novel. It is basic but nicely carved, and we wonder if Intel was involved in the design.
The Arc A380 with reference GPU and memory clocks was shipped by MSI as the first AIB.
It likely assisted in keeping it inside the 75W TDP and may indicate that it is completely bus powered (i.e., it won't require a second power socket from your PSU). If this is the case but MSI's specifications don't support it, it might be a decent option for those updating PCs without access to spare power connectors. Earlier Gunnar and ASRock A380 designs require an additional 8-pin power connector.
The Arc A380 GPUs in the MSI desktop systems were discovered by VideoCardz (opens in new tab) and are sold at the Chinese electronics retailer JD.com (opens in new tab). The most potent and contemporary variant is equipped with the aforementioned Arc A380 and an Intel Core i5-12400F CPU, and it is advertised as being suitable for eSports games or internet café-style gaming.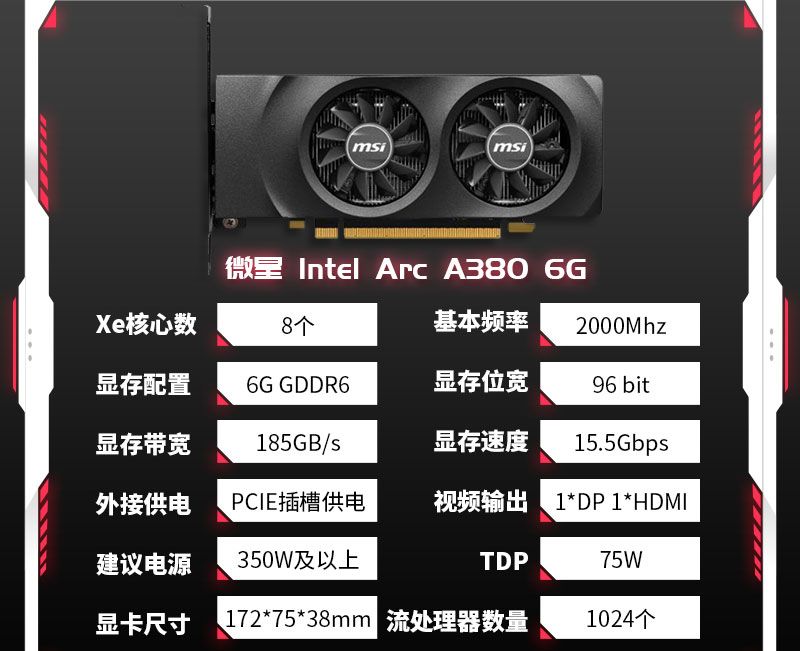 However, for individuals with fewer budgets or more minimal needs, there are additional CPU options available, such as the Core i3-10105F or i5-10400F. There are MSI Bomber motherboards in every system (H510M or H610M, depending on processor generation). These systems cost between the local equivalent of $530 and $650.
also read: