PV Sindhu makes India proud once again by beating Michelle Li 21-15, 21-13, and clinched her first CWG singles gold medal.
Match Highlights
PV Sindhu who's an Olympic medallist won her first singles gold medal at the Commonwealth Games by beating Canadian player Michelle Li 21-15, 21-13. Life has come to a full as in 2014, PV Sindhu won bronze the same year when Li bagged her gold medal. Sindhu got her silver medal in 2018 and gold in Birmingham. She had strapping on her ankle that hindered her movements early in the match however, she got over it and played fiercely. Well, that's how a champion plays.
Prime Minister Narendra Modi praised the ace badminton player as she clinched her first gold medal on Monday in the singles at the Commonwealth Games event.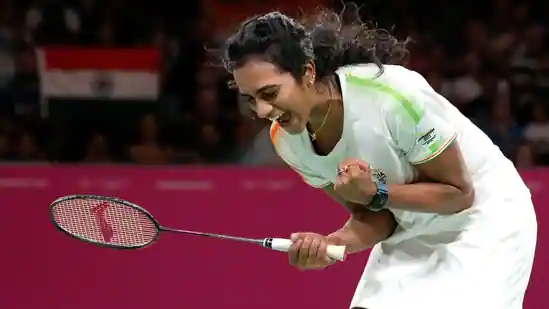 The world number seven from India defeated her 13th ranked opponent 21-15, 21-13. She added a commonwealth singles gold to her overflowing cabinet of medals with this win.
Praising her, our beloved prime Minister said, "The phenomenal P V Sindhu is a champion of champions! She repeatedly shows what excellence is all about. Her dedication and commitment is awe-inspiring. Congratulations to her on winning the Gold medal at the CWG. Wishing her the best for her future endeavours."
For both coach, Verma and Sindhu Birmingham weren't easy. They worked towards a particularly stacked month and peaked three times winning the Singapore Open, the Commonwealth Games next two weeks, and then to the World Championships.
Verma said "She was always the toughest, strongest athlete I know. I just added explosive strength and my recovery protocols have ensured she's never injured from overloading."
How Twitterati reacted to PV Sindhu's win
Read more: CWG 2022: Indian Women's Team wins silver, get defeated by Australia Women's Team