The Commonwealth Games 2022 finally came to an end. India won 61 medals out of which 22 were gold, 16 were silver, and 23 bronze. The 22nd edition of the Commonwealth Games is held in Birmingham, England. The 10-day event is completed today.
India finished fourth in the overall tally, whereas Australia secured the first position.
India finished fourth in the overall medals tally and finished with 61 medals – 22 gold, 16 silver, and 23 bronze.
On Day 11, the Indian hockey team, four badminton players, that included PV Sindhu and Lakshaya Sen, and Achanta Sarath kamal bagged gold medals in Commonwealth Games Day 11.
Sandeep Kumar also won the 10km racewalk event and bagged a bronze medal.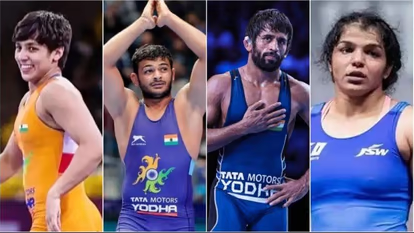 The 10km racewalk event also saw national record holder Sandeep Kumar forget his World Championship failure last month with a bronze medal in the 10km racewalk.
The Indian Cricket team for women got a silver yesterday, losing the match by 9 runs against Australia.
PV Sindhu, Lakshaya Sen, and men's duo Chirag Shetty/ Satwiksairaj Rankireddy secured gold on the final day.
Here's a full list of medal winners from India
Commonwealth Games 2022 Indian winners
| | | | |
| --- | --- | --- | --- |
| Medallist | Sport | Event | Medal |
| Mirabai Chanu | Weightlifting | Women's 49 kg | Gold |
| Jeremy Lalrinnunga | Weightlifting | Men's 67 kg | Gold |
| Anchita Sheuli | Weightlifting | Men's 37 kg | Gold |
| Sanket Mahadev Sargar | Weightlifting | Men's 55 kg | Silver |
| Bindyarani Devi | Weightlifting | Women's 55 kg | Silver |
| Gururaja Poojary | Weightlifting | Men's 61 Kg | Bronze |
| L. Sushila Devi | Judo | Women's 48 kg | Silver |
| Vijay Kumar Yadav | Judo | Men's 60 kg | Bronze |
| Harjinder Kaur | Weightlifting | women's 71 kg | Bronze |
| India's Lawn Bowls women's Team | Lawn Bowls | Women's Fours Team | Gold |
| Vikas Thakur | Weightlifting | Men's 96 kg | Silver |
| Men's Table Tennis Team | Table Tennis | Men's Team | Gold |
| Badminton Mixed Team | Badminton | Mixed Team | Silver |
| Lovepreet Singh | Weightlifting | Men's 109 kg category | Bronze |
| Saurav Ghosal | Squash | Men's Singles | Bronze |
| Tulika Mann | Judo | Women's 78 kg | Silver |
| Gurdeep Singh | Weightlifting | Men's +109 kg | Bronze |
| Tejaswin Shankar | Athletics | Men's High Jump | Bronze |
| Sudhir | Para Powerlifting | Men's heavyweight | Gold |
| Murali Sreeshankar | Athletics | men's Long Jump | Silver |
| Bajrang Punia | Wrestling | Men's 65 Kg category | Gold |
| Sakshi Malik | Wrestling | Women's 62 kg category | Gold |
| Deepak Punia | Wrestling | Men's 86 kg category | Gold |
| Anshu Malik | Wrestling | Women's Freestyle 57 kg category | Silver |
| Divya Kakran | Wrestling | Women's 68 kg freestyle | Bronze |
| Mohit Grewal | Wrestling | Men's freestyle 125 kg | Bronze |
| Vinesh Phogat | Wrestling | Women's 53 kg category | Gold |
| Naveen | Wrestling | men's freestyle 74 kg category | Gold |
| Bhavina Patel | Table Tennis | women's singles class | Gold |
| Priyanka Goswami | Race Walk | 10,000m event | Silver |
| Avinash Sable | Athletics | men's 3000m steeplechase | Silver |
| Indian Men Lawn Bowls team | Lawn Bowls | men's fours team | Silver |
| Deepak Nehra | Wrestling | Men's 97 kg category | Bronze |
| Pooja Gehlot | Wrestling | Women's Freestyle 50 kg category | Bronze |
| Pooja Sihag | Wrestling | Women's 76 kg category | Bronze |
| Mohammed Hussamuddin | Boxing | Men's 57kg featherweight category | Bronze |
| Rohit Tokas | Boxing | Men's 67kg Welterweight | Bronze |
| Sonalben Manubhai Patel | Table Tennis | women's singles class 3-5 | Bronze |
| Jaismine Lamboria | Boxing | women's lightweight (60 kg) category | Bronze |
| Ravi Kumar Dahiya | Wrestling | Men's 57 kg freestyle | Gold |
| Nitu Ghanghas | Boxing | women's 48 kg category | Gold |
| Eldhose Paul | Athletics | men's triple jump | Gold |
| Amit Panghal | Boxing | men's 51 kg category | Gold |
| Nikhat Zareen | Boxing | women's 50 kg category | Gold |
| Table Tennis Mixed Team | Table Tennis | Table tennis mixed doubles | Gold |
| Abdulla Aboobacker | Athletics | Men's Triple Jump | Silver |
| Sharath Kamal and G Sathiyan | Table Tennis | men's Doubles Final | Silver |
| Women's Cricket Team | Cricket | Women's Cricket Team | Silver |
| Indian Women Hockey Team | Hockey | Women's Hockey | Bronze |
| Sandeep Kumar | Athletics | Men's 10,000 m racewalk | Bronze |
| Annu Rani | Athletics | women's Javelin Throw event | Bronze |
| Tressa Jolly and Gayatri Gopichand | Badminton | Young Women's Doubles pair | Bronze |
| Saurav Ghosal and Dipika Pallikal | Squash | Mixed Doubles | Bronze |
| Sagar Ahlawat | Boxing | men's 92+ kg category | Silver |
| PV Sindhu | Badminton | Women's Singles | Gold |
Read more: CWG 2022: Indian Women's Team wins silver, get defeated by Australia Women's Team