As it disclosed its most recent earnings results earlier today, chip designer Advanced Micro Devices, Inc. (AMD) continued its solid history of increasing revenues annually. At a time when its competitors are dealing with a sluggish economy and high inflation, AMD's second quarter of 2022 earnings report showed the business generated $6.6 billion in revenue during this year's June quarter. The company's operating segments, which serve the personal computer, data centre computing, gaming, and bespoke devices markets, all saw increases in the second quarter, helping AMD set a new record for sales.
As was to be expected, AMD's data centre was the main point of attention at today's earnings report. The preceding few quarters have seen tremendous growth in this market, and Q2 was no exception. The data centre business alone outpaced the company's overall sales growth and drove the latter to new milestones, AMD said, bringing in $1.5 billion, or an 83 percent annual rise.
AMD emphasised that the EPYC processors were able to secure more than 60+ cloud computing instances as evidence that cloud computing encouraged data centre growth. The data centre market was not without its challenges, however, as AMD was not immune to inflation and saw only a modest 7 percent annual increase in operating margin to 32 percent this year from 25 percent at the end of the second quarter of last year. However, overall operating income growth surpassed revenue growth, increasing by 131 percent yearly to $472 million in Q2 2022.
Although data centres continued to perform well, client or personal computing remained AMD's strongest market. The semiconductor designer generated $2.2 billion in sales from personal computing during the quarter, up 25% annually from $1.7 billion the previous year. Operating income increased by 26% to reach $676 million, while operating margin stayed essentially stable at 32 percent, increasing by 1% annually.
The third time that the firm has reported a gross margin more than 50%, a critical statistic for its long-term financial models, AMD's non-GAAP gross margin, which removed the impact of some purchased assets, increased by 6 percent annually to 54 percent.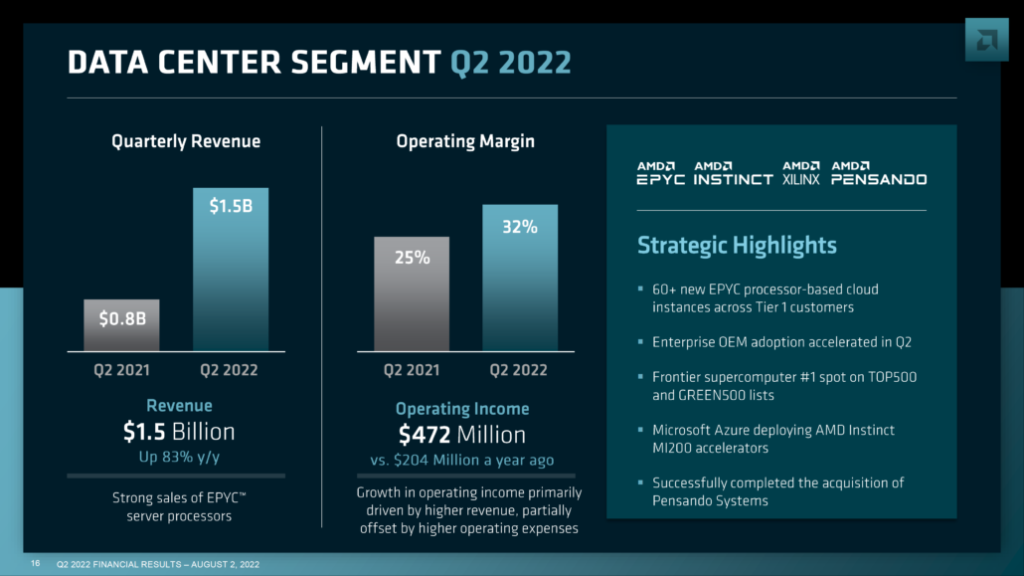 As it battles with a significant supply chain crisis, AMD increased its accounts receivable this quarter over the prior one, which brings us to its balance sheet.
The $3 billion revolving credit facility that the company signed during the first quarter made an impact on the balance sheet during the second quarter at the same time the company's debt load increased. As Q2 came to a close, AMD's overall debt increased from $313 million to $2.8 billion.
Finally, AMD anticipates that its revenues will increase by a further 55 percent yearly in the second quarter and will reach around $6.7 billion by the conclusion of the September quarter of this year. In addition, the company anticipates unchanged gross margins, and its full-year sales projection places top line earnings at $26.3 billion, representing a 60 percent annual increase over fiscal year 2021.
Also Read:
Intel plans to launch Wi-Fi 7 and Apple shifting to Wi-Fi 6E