The Taiwanese giant ASUS has been improvising its lineup for a long time now, diversifying its offering in India via its Vivobook and Zenbook laptops in the mainstream consumer lineup. From affordable Chromebooks to high-end ROG gaming laptops, the brand has literally offered everything in its arsenal to lure enthusiasts like you and me.
In 2022, they launched a lot of products but not the mainstream consumer Vivobook Flip laptops, and yes today they have formally launched the new ASUS Vivobook S14 Flip. This is the new 2-in-1 laptop from ASUS powered by the last-gen AMD Ryzen 5600H or the newer and more powerful Core i5-12500H whichever might your preference.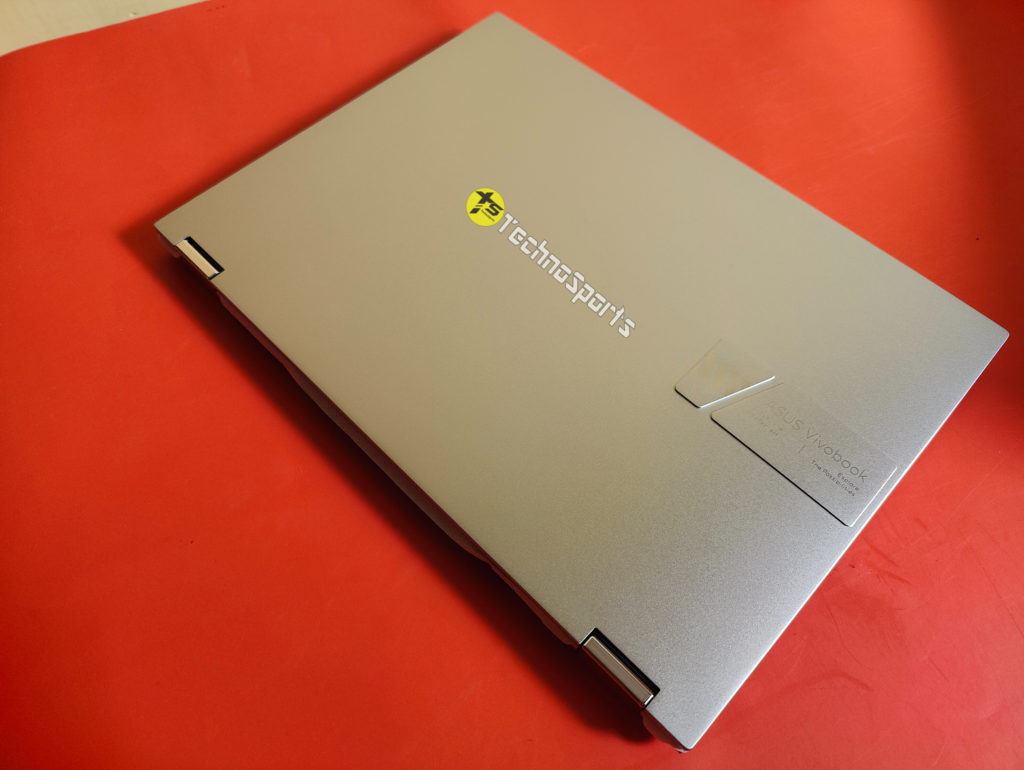 Continuing the good things of the Vivobook Flip series, this new S14 Flip laptop brings a new 16:10 aspect ratio touch display with up to 300 nits of peak brightness. Now, with a plethora of ports, a NumberPad 2.0 included (previously reserved for ZenBooks only) makes the new 2-in-1 laptop a good option for those who love this form factor.
We got to check out the AMD Ryzen 5 5600H powered variant i.e. the TN33402 with 16GB of RAM which will retail for ₹ 72,990. This AMD-powered variant is available in only Cool Silver color and the Quiet Blue color has been reserved for Intel-powered one, which makes sense.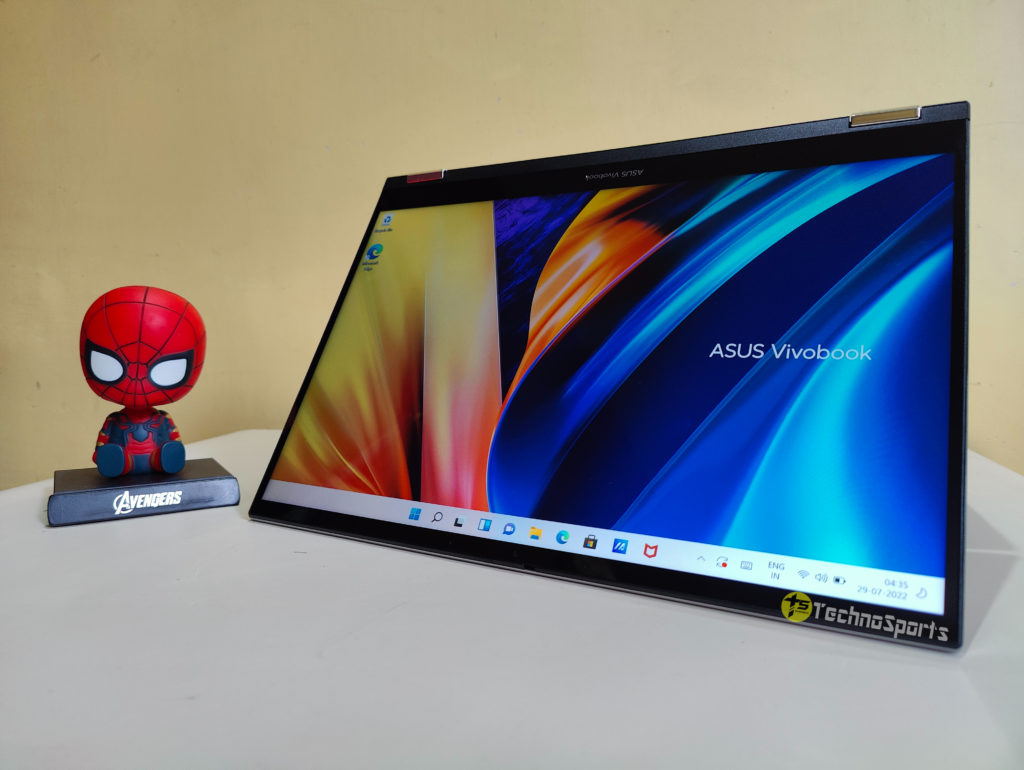 Specifications of new ASUS Vivobook S14 Flip (2022)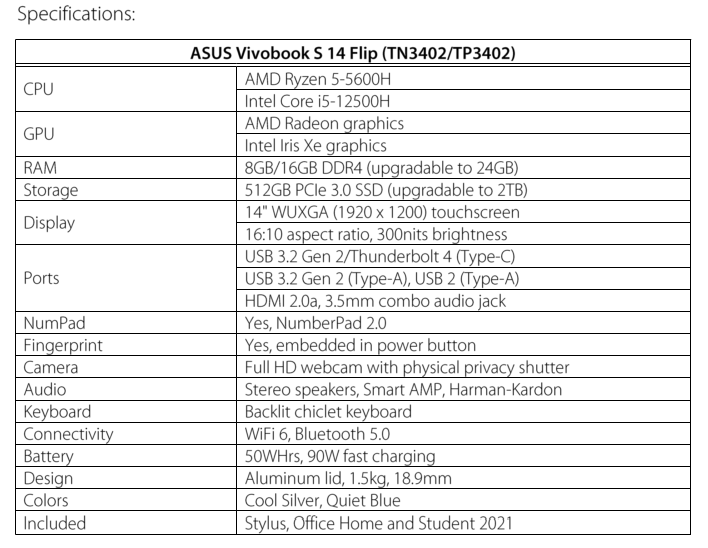 Design & Build Quality
ASUS has made this Vivobook S14 Flip look and feels premium even though it comes in at a mid-range price tag, with a metal lid and a solid plastic body. The body doesn't creek at all and has an added weight to it to make it 1.5kg in total, so, you can open it with almost one hand.
The new Vivobook logo on the metal lid looks refreshing and the overall white look is kind of unique in this range of course being a 2-in-1 laptop you can flip it up to 360 degrees. The hinge which is responsible for this is pretty solid and bending to any type of mode is seamless, overall, in terms of build quality, there seems to be no compromise for the price range.
I personally have been using my Vivobook Flip 14 for years now and this S14 Flip is a nice upgrade in terms of design and build, which you will notice as soon as you hold this laptop.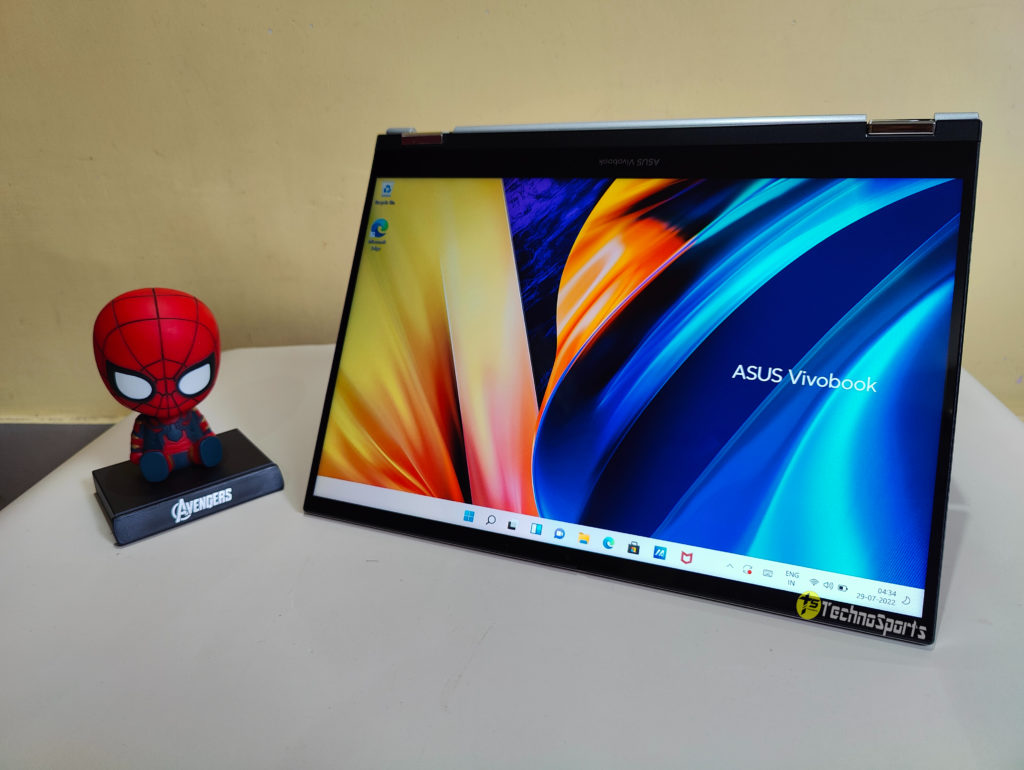 Display & Stylus
One serious complaint I had with my Flip 14 was the poor display quality but has ASUS fixed the same with the new Vivobook S14 Flip? Well, it looks to be decent on paper with a 14-inch (1920X1200) touchscreen display protected by Corning Gorilla Glass, a new added bonus but it's not anti-glare so the display is still reflective.
However, I was quite excited to see the peak brightness getting upgraded to 300 nits, but does it suffice in 2022? Well, to me the brightness issue is a thing I really hated on the Vivobook Flip 14 and here in the new S14 Flip (2022) this is fixed to some extent as it's more than enough indoors.
Want to know more about the display's color accuracy and other details? Here are some of the display tests we ran with our DataColor SpyderX Pro:

As you see in the color analysis tests, unsurprisingly, ASUS hasn't really upgraded the quality of the display rather than the brightness has only been upgraded. With only 64% of sRGB color gamut coverage, this touchscreen display is not good for those who want to do serious work where-in the color accuracy of the display plays a vital role.
However, the feature of low blue light emission is a much welcome feature that a lot of people will appreciate. If you do need that great display, you should definitely look for OLED displays but at this range, you won't get a 2-in-1 laptop with an OLED screen, you can look forward to the ASUS Vivobook S15 OLED though.
The brightness and contrast levels are okay-ish, no comparison with the OLED displays from ASUS but definitely consider this laptop's display if color accuracy is not a priority for you. Well, from everyday work to quick Netflix sessions, the Vivobook S14 Flip excels at almost all conditions and the new 16:10 aspect ratio gives more screen real estate to enjoy.
Also, pointing out that the ASUS Pen 2.0 stylus that comes inside the box, is a good thing to have with this ASUS Vivobook S14 Flip and talking about the quality of this stylus, it is decent. You charge it before using it and then select the tip you want to use for what kind of work you want to do, also the 4,096-level pressure sensitivity helps to draw or write precisely with the pen.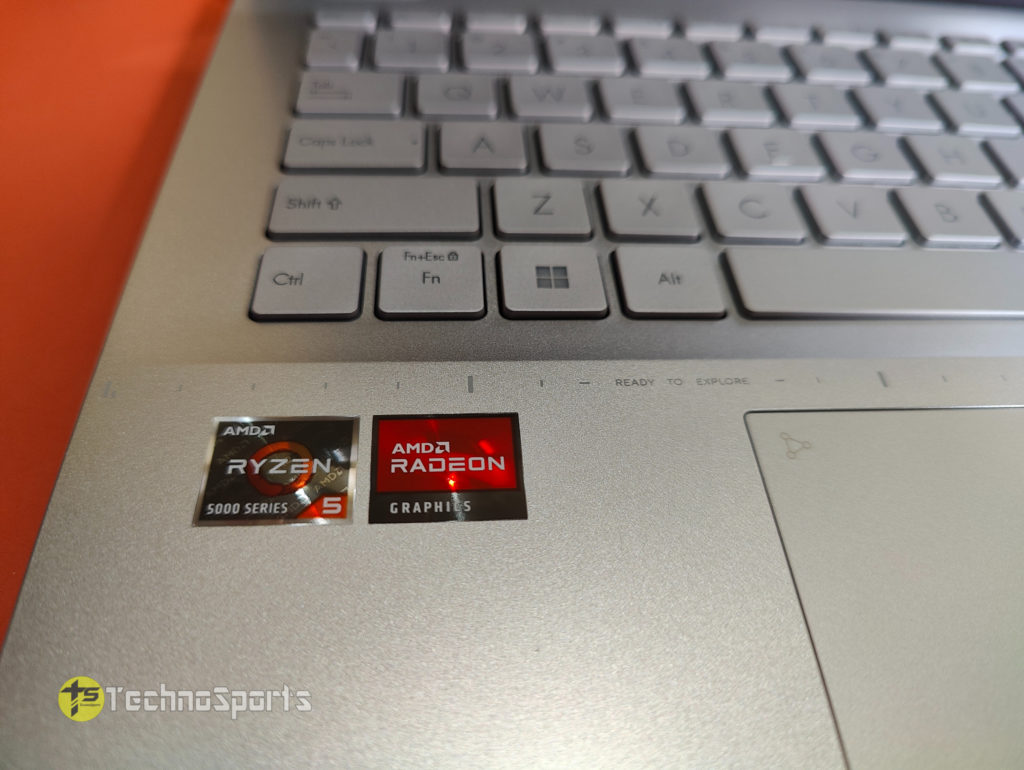 Performance
ASUS seems to be in love with AMD's Ryzen 5 5600H processor because even though the Ryzen 6000 series APUs are already launched for months now but the company has opted for the last-gen 6-core chip. Maybe this is because this has helped to keep the prices of this ASUS Vivobook S14 Flip down as the AMD-powered variants while still being efficient enough.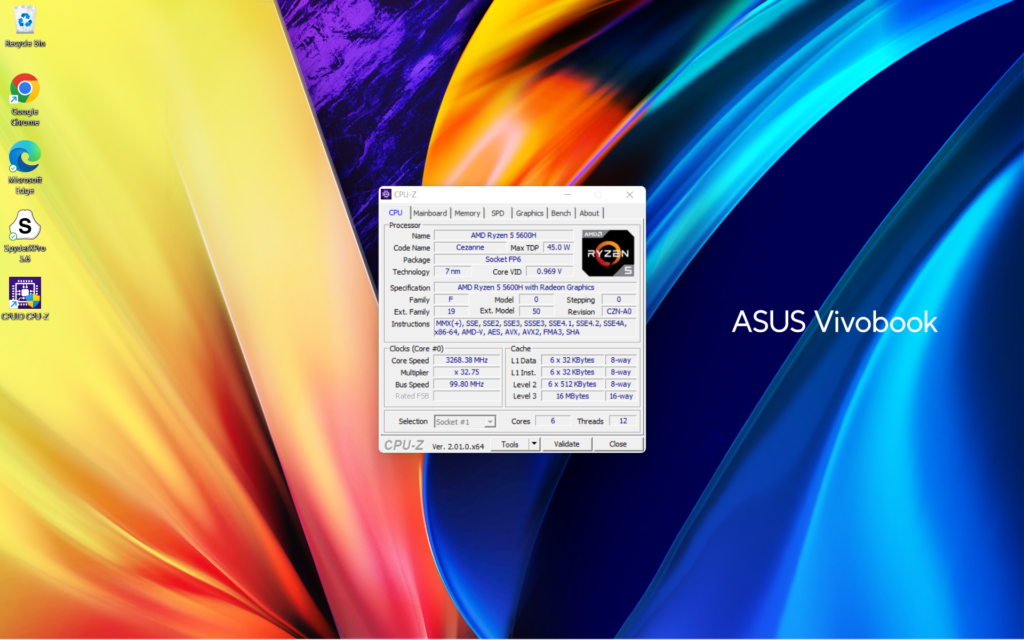 With up to 6 cores and 12 threads, the Ryzen 5 5600H isn't far away to excel in your daily work as it consumes up to 45W TDP, a healthy increase from the U-series APUs we generally spot on these thin & light laptops. When it needs to perform, keep it in performance mode, the Vivobook S14 Flip performs effortlessly and gives good performance regardless of what application you are running.
Here are some of the benchmarks of this Vivobook S14 Flip laptop in various synthetic applications:
As you see, in the benchmarks, the ASUS Vivobook S14 Flip performs as you expect from a Ryzen 5 5600H powered laptop to perform even in a 2-in-1 form factor. With 16GB RAM and AMD's integrated graphics, the laptop is enough to handle even low to medium-end gaming, Photoshop and video editing as well.
The flexibility of these AMD APUs even after a year of launch performs great even on a 2-in-1 laptop. Now, this Vivobook S14 Flip with great thermals and optimizations doesn't fail to impress you as you see in the charts, gaining some respectable numbers and showing its worth even though coming in as a mid-range laptop.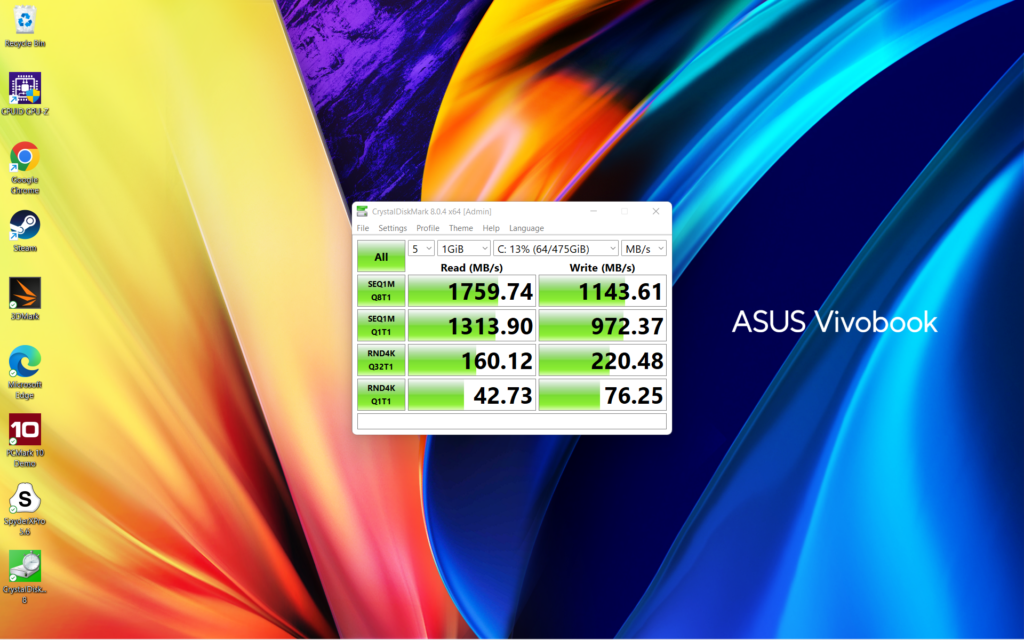 Coming to the Vivobook S14 Flip laptop's storage speeds, here is the 512GB NVMe SSD which is a Gen 3 SSD and sports up to 1759Mb/s read and up to 1143Mb/s write speeds. Certainly, these are not the best SSD speeds on a laptop but are still decent to get the job done.
Overall in terms of performance, this ASUS Vivobook S14 Flip is a good contender and for its form factor, this delivers the kind of performance a daily user will demand out of it.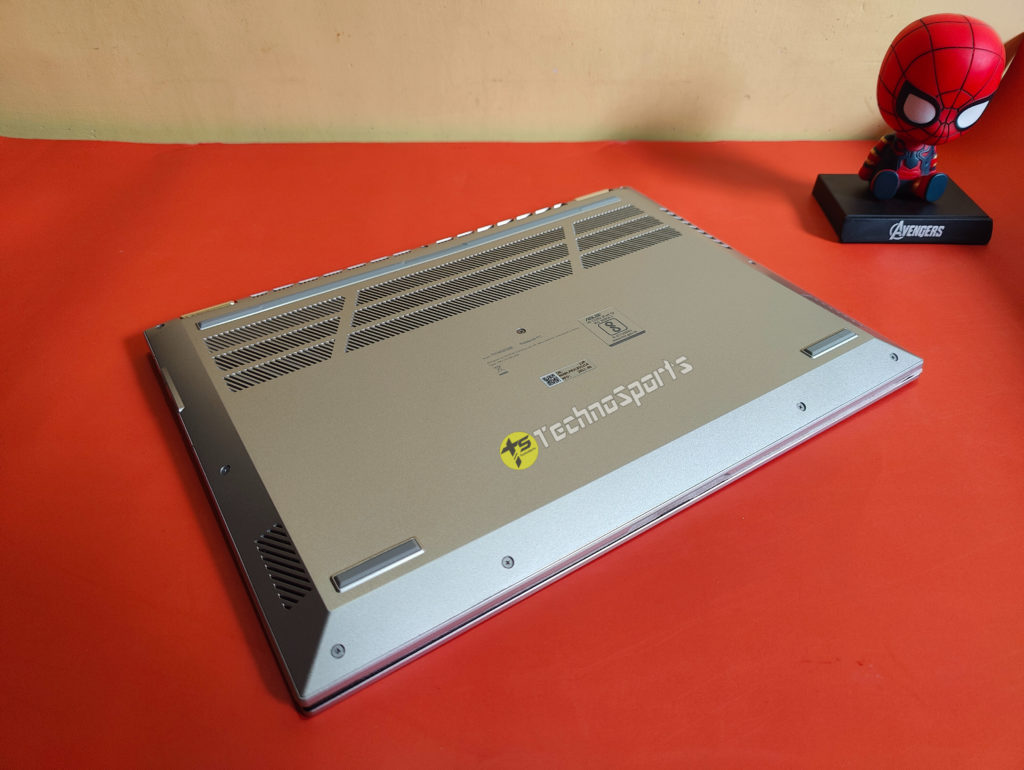 Thermals & Upgradability
Though the laptop is a bit heavier than its predecessors, ASUS has used better cooling this time because you do get the fans spinning in Performance mode but I am surprised to see even after hours of rigorous benchmarking, the laptop doesn't heat up at all. Now, when in Silent mode, the laptop uses less power and you won't hear fans spinning even if you are bombarding the Vivobook S14 Flip with multiple Chrome tabs.
The thermals are well-balanced on this laptop, thanks to the 12V 79-blade cooling fan, as the keyboard doesn't heat up at all and you won't see hot air gushing out of the laptop frequently until you do really push the laptop to its limit. Talking about the upgradability, which is a significant factor in this price range, on the S14 Flip you can upgrade both the RAM and storage to use it for years down the line.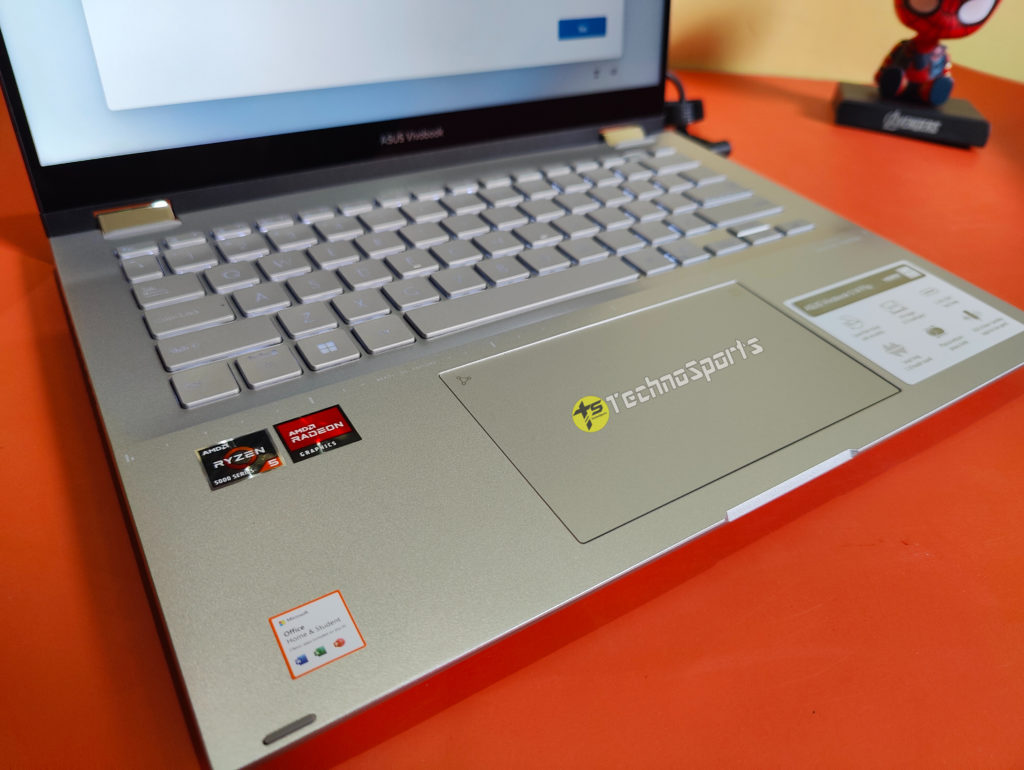 Keyboard & Trackpad
The keyboard area is almost the same as you see in its predecessors but now comes with a twill-pattern Enter key for added flair. However, the immediate change you will notice in this segment has to be the large trackpad (ZenBook style) introduced on this ASUS Vivobook S14 Flip, which was a huge complaint of mine on the predecessor.
The keyboard is again comfortable to type on and is not the most clicky but does the job as I am typing this review on the keyboard, it doesn't feel bad even if you type for long hours. The backlighting is good enough for typing at night, the small change though is that the power button is on the keyboard now and the fingerprint sensor is baked into that button for convenience.
This means there's room to make the trackpad bigger and yes it supports the NumberPad 2.0 which you generally see on the ZenBook series laptops. Also, the trackpad is much more usable now with enough room for your fingers to play on the sensor and overall it's good to use but not comparable to using a dedicated mouse.
I/O & Connectivity
The new ASUS Vivobook S14 Flip is just 18.9mm thin but doesn't lack in terms of ports because you have a USB Type-A port on the left. While on the right-hand side you get an HDMI port, another USB Type-A and Type-C port (which is Thunderbolt 4 compatible on the Intel variant) along with a 3.5 mm headphone jack.
In terms of connectivity, you have the latest Wi-Fi 6 and Bluetooth 5.0, which to be fair worked pretty well in my brief usage. I do use a lot of Bluetooth gadgets and pairing them with this Vivobook S14 Flip was not a problem at all and the Wi-Fi speeds are as good as expected with no drops in signal.
Audio & Webcam
ASUS claims the Vivobook S14 Flip 2-in-1 laptop sports stereo speakers with Harmon-Kardon tuned with Dolby Atmos support, however, it didn't sound too loud but more of solving the purpose. It is more of Vivobook quality speakers and not the ZenBook quality, decent, but nothing to brag about.
One key area that ASUS has rightfully worked on improving as to be the webcam, it has been upgraded to a Full HD webcam with a physical camera shutter. It works really well and produces better quality images for quick snaps and improved quality during video calls, well, at this range this is a real plus point of this Vivobook S14 Flip.
Battery Life
Last but not the least, talking about the battery life of this 14-inch 2-in-1 laptop, you can expect good battery life because of AMD's efficiency and a 50Whr battery. As you see, you do get an average of 6 hours of battery life and can be extended to even 7 hours if used in Silent mode with light to moderate workloads.
This kind of battery life on a touch display laptop at this price range is quite good and the best part is that ASUS has upgraded the charger to a 90W fast charger so that the laptop can be charged fast. It takes around half an hour to charge the laptop to 60% and can be charged fully while using within an hour.
Verdict
Now, should you buy this new ASUS Vivobook S14 Flip 2-in-1 laptop for your daily usage? As you saw in our tests, the laptop focuses on the basics of an everyday PC and with AMD Ryzen 5 5600H, it performs quite well while still being affordable and usable for the long run.
Yes, the color accuracy of the display is a fact which will depend on your use case if you need a better display or not but for an average user, a 14-inch 16:10 FHD display with 300 nits of peak brightness will suffice for daily work routine. With decent battery life and a touch stylus in the box, people who have been dreaming of a 2-in-1 laptop in the price segment have a new laptop to cheer about.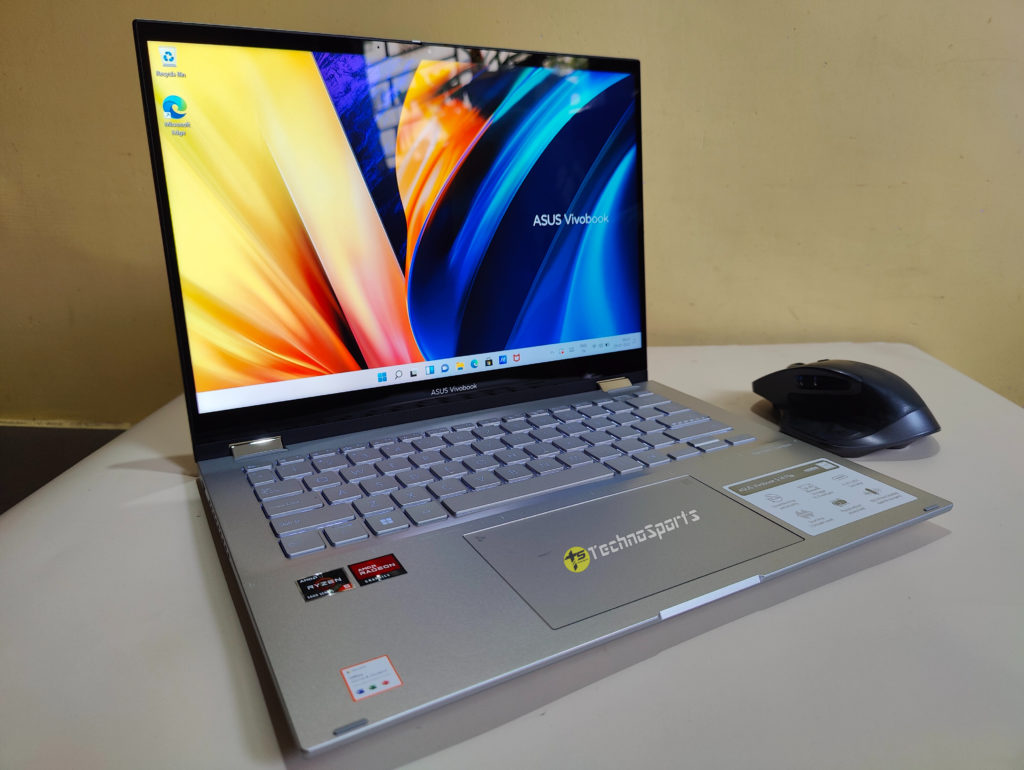 I like the fact ASUS has upgraded the webcam on this Vivobook S14 Flip, improved the charging speeds, trackpad, overall design & aesthetics and much more. In 2022, this is an ideal mid-range work system with all the benefits of a 2-in-1 laptop, viable to a mass market like India.