Manoj Bajpayee soon will feature in the new docuseries, ' India's Untold Story: Secrets of the Kohinoor', already spoken about some issues that he already faced when doing the documentary show. The new trailer of the series dropped on Thursday. A minute-long trailer reveals Manoj about how the Kohinoor had taken due to the arrogance of the British, and the injustice done by India.
We will see many pillar personalities like Irfan Habib, Adrienne Munich who is a senior Congress leader Shashi Tharoor, Farhat Nasreen the others talking about the diamond. The new trailer exposes how the diamond getting changed by handspike many rulers In India battled over it. At last, it was taken to Britain by the British.
During the shooting, while asked about his greatest challenge on this docuseries, Manoj told, "The balance has to be right. In the process that one goes through while making it, it's always not possible to balance academics and drama. But our aim was that." The two episodes docuseries are 45-minutes long each. The new show mainly highlights how over the years the weight of the diamond has been reduced to less than six times its main weight. The trailer also has been spoken about how the Kohinoor might not become the exact diamond as Mughal Emperor Babur mentioned in the memoir.
In a statement, Manoj says, " The opportunity of presenting this particular series in the franchise has been a uniquely satisfying and a learning experience for me, and for that, I'm truly grateful to Discovery+ and Neeraj Pandey. This project marks my second collaboration with them. Despite being talked about for years, there are many facts about the Kohinoor that were unknown to me, and I am certain, they would be unknown to a majority of the world as well."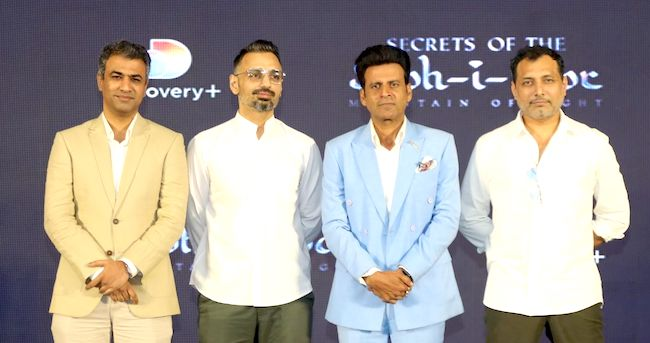 Secrets of the Kohinoor: Cast
The docuseries was just directed by Neeraj Pandey and hosted by Manoj. Apart from Manoj Bajpayee, the docuseries also feature Shashi Tharoor, Irfan Habib, Adrienne Munich, Farhat Nasreen, K.K. Muhammed, Manvendra Kumar Pundhir, Navtej Sarna, J. Sai Deepak, Danielle Kinsei, Miles Tayloe, and Ms. Pauline Willemse.
Secrets of the Kohinoor: Release Date
The docuseries has set to launch on 4th August 2022.
Here is the trailer:
Read More: All the Upcoming Fantastic Films set to hit this August 2022