India shipped an estimated 37 million smartphones in the second quarter of 2022, this is an increase of 9% year-over-year as per the most recent analysis courtesy of Counterpoint Research. The second wave of the pandemic was the primary factor in the year-over-year growth of the market and in addition to this, the economic scenario domestically and internationally has also had their part to play in the market's overall decline this quarter.
Consumers would rather repair their device or buy a refurbished one than shell out money on a new smartphone: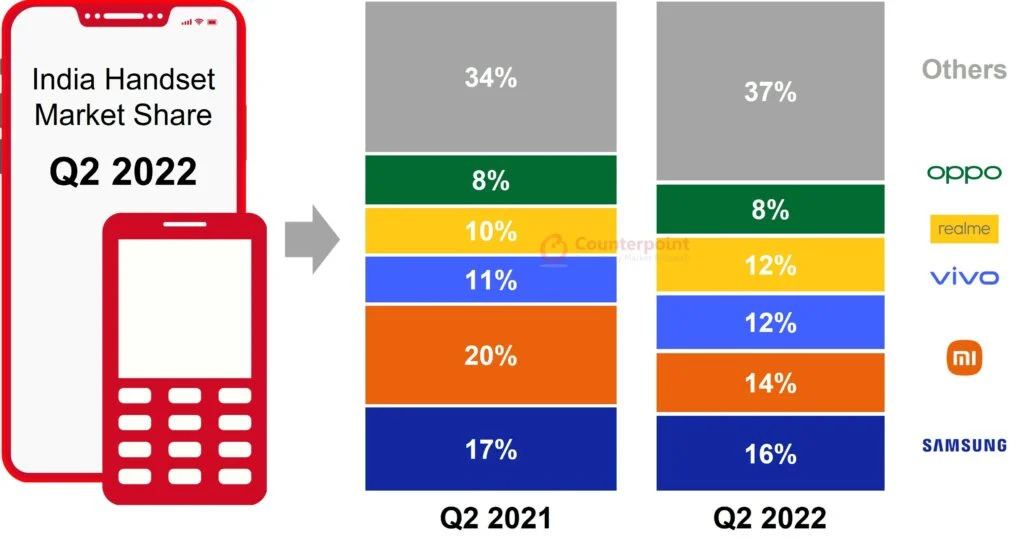 As per Counterpoint Research's Senior Research Analyst, Prachir Singh spoke on the position of the market and justified the reason for the decline. "We saw the consumer demand declining QoQ during the quarter, especially in May and June. Consumers are preferring to repair their device or buy a refurbished one than make a new purchase. This trend is more visible in the entry and budget segments. Due to this decline in demand, almost all the brands are facing inventory issues. At the end of June, India's smartphone market was sitting on more than 10 weeks of inventory, more than double the normal inventory size. Brands were seen aggressively promoting offers to clear this inventory and prepare for the festive season."
The market for smartphones in India fell by 6% year over year and it decreased by 9% quarter-over-quarter in the second quarter of 2022. The reason for the fall is due to a reduction in consumer demand in the feature phone segment which witnessed the most decline of 17%.
Itel in Q2 of 2022 has a 25% market share in the country's feature phone market and for 10 straight quarters, the brand has been the leading manufacturer of feature devices. Xiaomi has continued to dominate the smartphone market despite facing a 26% year-over-year decline.
Samsung comes in at the second position with a 14% year-on-year growth and it has retained its position as the most popular 5G smartphone brand in India. Vivo, Realme, and Oppo ranked in the third, fourth, and fifth positions respectively.
Also read: