This weekend's main topic in the rumour mill was Intel's Arc graphics cards, and today we're getting additional information from Igor's Labs. Igor Wallossek, who was able to receive a revised Inte Arc timetable, claimed that the lineup would be introduced gradually starting on August 5 and continuing until September 29.
This would be the third launch date for Intel's Arc line of desktop graphics cards that we have learned this weekend. The first was a claim made by Moore's Law is Dead, which was refuted by Intel's CEO Pat Gelsinger and VP of Graphics Raja Koduri. Both confirmed that Arc is still on pace to ship in Q3 2022, and now Igor's Labs has added its support.
If they're going to stick to the current timeframe, the range that's being colocated to me now is between Aug. 05, 2022, and Sept. 29, 2022. This means that there is enough time to launch the three announced larger models one slice at a time. It is interesting that the internal documents no longer report about a large-scale, joint launch event, but it could rather be a kind of "silent" launch, which could be carried out gradually in the retail sector and via only a few media. via Igor's Labs.
According to reports, the launch will occur gradually, and rather than all the cards being released at once, we might even see each one become retail-ready one at a time. You can see that Intel is already implementing this in their marketing plan. After the launch of the Intel Arc A380, Intel began to promote their high-end Arc A750 Limited Edition graphics card, which was followed by the Arc A770 Limited Edition.
The company reportedly offers a limited number of media outlets the chance to assess these cards before launch, though it is unclear if this group just consists of tech YouTubers or also includes traditional media. The exclusive reviews will only be based on Intel's own Arc reference designs, whereas AIB models will not be subject to such limitations. However, the rest of the market will have to wait longer, as we have already seen one AIB, exclusive to China, release its cards for DIY testing weeks after launch, requiring all testers to buy the product rather than having Intel send them one on their own for reviews.
We are very much committed to our roadmap. We are ramping Alchemist and will continue to improve the experience. You will see more updates from us this quarter. AXG is also on track to ramp up 4 new product lines by the end of the year.
Intel Vice President of Accelerated Computing Systems & Graphics (AXG), Raja Koduri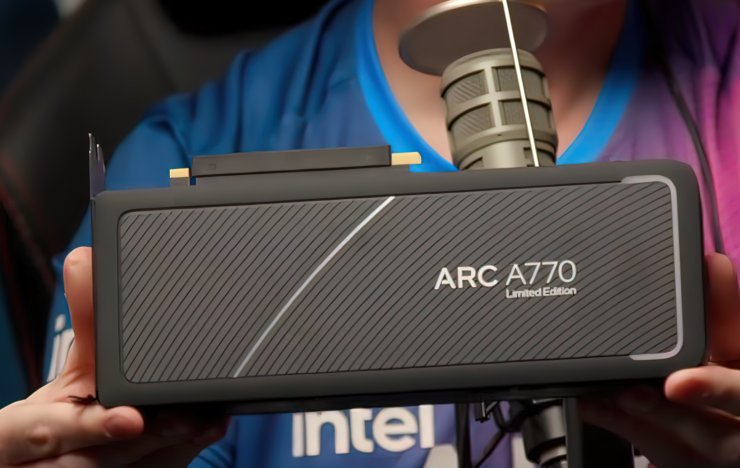 Our software release on our discrete graphics was clearly underperforming," said Gelsinger. "We thought that we would be able to leverage the integrated graphics software stack, and it was wholly inadequate for the performance levels, gaming compatibility, etc. that we needed. So we are not hitting our four million unit goal in the discrete graphics space, even as we are now catching up and getting better software releases.
While we will not hit our GPU unit target, we remain on track to deliver over $1 billion in revenue this year.
In Q2, we started to ramp Intel Arc graphics for laptops with OEMs, including Samsung, Lenovo, Acer, HP, and Asus. COVID-related supply chain issues and our own software-readiness challenges caused availability delays that we continue to work to overcome. Intel Arc A5 and A7 desktop cards will start to ship in Q3. Intel CEO, Pat Gelsinger
Furthermore, the blue team's readiness in terms of drivers and support remains the main factor in why Intel is opting for a gradual rollout between August and September rather than a major global launch. Chipzilla will only ship the products internationally once it is certain that Arc is user-ready.
Also Read:
BMW i3 EV Catches fire in China during a test drive