For the 14th generation Meteor Lake CPUs, Intel has officially announced the Redwood Cove P-Core and Crestmont E-Core designs. The architectures were verified using the Intel Open Source web repository, which @InstLatX64 had uncovered. In 2020, Moore's Law are Dead published the initial reports on the Redwood Cove P-Core and Crestmont E-Core architectures. Since then, we have seen numerous reports on the hybrid architecture. Redwood Cove and Crestmont cores are in fact real and will be used in 14th Gen Meteor Lake CPUs, Intel has now confirmed via its own Open-Source listing. The "Atom" cores will be powered by Crestmont, with Redwood Cove serving as the main "Core" CPU.
The 14th Gen Meteor Lake CPUs will revolutionise gaming since they will use a whole new tiled architecture design. The new CPUs, which are based on the "Intel 4" process node, are expected to tape out by the second half of 2022 and will deliver a 20 percent increase in performance per watt thanks to EUV technology (manufacturing-ready). By 1H 2023, the first Meteor Lake CPUs are slated to ship, and availability is anticipated for later that year. The desktop components are expected to compete with AMD's Zen 5 CPUs when they are released in the second half of 2023.
The 14th Gen Meteor Lake CPUs, according to Intel, will have a brand-new tiled architecture, which essentially means that the company has chosen to go chiplet all the way.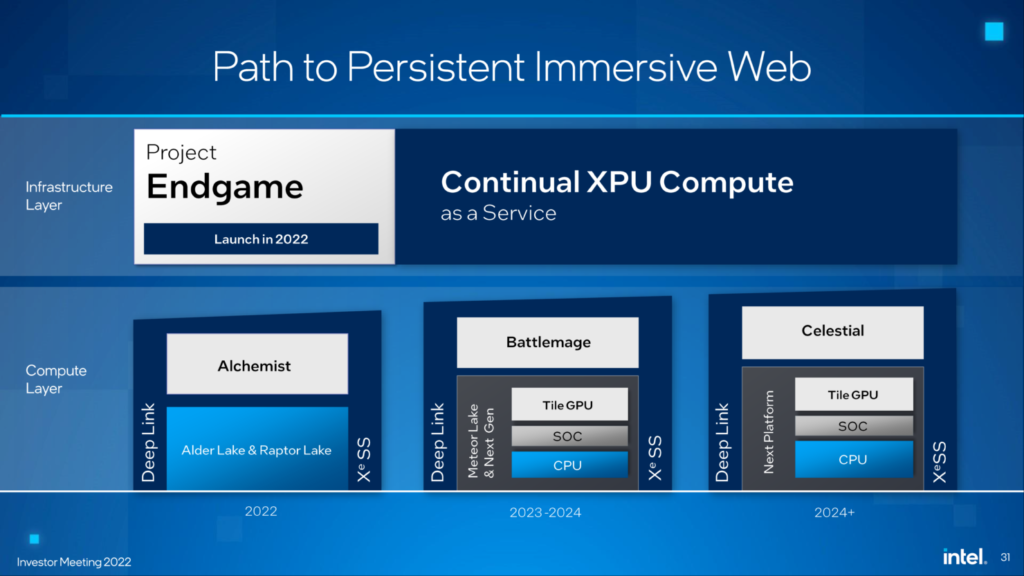 The Meteor Lake CPUs have 4 primary tiles. The IO Tile, SOC Tile, GFX Tile, and Compute Tile are all available. The CPU Tile and GFX Tile are parts of the compute tile. While the graphics tile will be unlike anything we've seen before, the CPU Tile will feature a novel hybrid core architecture made up of Redwood Cove P-Cores and Crestmont E-Cores to give higher performance throughput at lower power. The range of CPUs will go from ultra-low TDP mobile devices to high-end desktop PCs, or 5 to 125W.
The Meteor Lake CPUs will use a tiled Arc graphics-powered GPU, as Raja Koduri mentions, making them a completely new kind of graphics on a chip. It is now referred to as tGPU (Tiled GPU / Next-Gen Graphics Engine) and is neither an iGPU nor a dGPU. The brand-new Xe-HPG graphics architecture, which will be used by the Meteor Lake CPUs, will provide higher performance at the same degree of power efficiency as current integrated GPUs. Additionally, this will enable improved support for XeSS and DirectX 12 Ultimate, capabilities that are now only supported by the Alchemist lineup.
Also Read:
NASA enters in Supercomputer Array with its Brand-new Aitken Supercomputer