Baidu may be familiar to many as a giant tech search engine company. However, the company has also ventured into releasing autonomous driving cars. Baidu unveils to the public their newest AI and autonomous driving robotaxi, the Apollo RT6 EV.
"This massive cost reduction will enable us to deploy tens of thousands of autonomous vehicles across China," Robin Li, co-founder and CEO of Baidu, said at the firm's Baidu World conference Thursday. It has launched Apollo Go in big cities like Beijing, Shanghai, Shenzhen and Guangzhou, although the service is limited to specific areas.
Baidu Apollo RT6 EV
The Apollo RT6 will be soon be part of Baidu's robotaxi fleet, as China pushes forward with its autonomous driving ambitions. It is a fully electric vehicle with a steering wheel that can be removed or installed when required, and will cost 250,000 yuan ($37,000) per unit.
However, Baidu has not disclosed the number of kilometers that it is capable of traveling on a battery that has been fully charged. A spokesperson for company stated that the Apollo RT6 is expected to have an operational cycle that is greater than five years.
With its growing focus on AI technology and autonomous driving, the Chinese tech company is expanding beyond its core business of advertising on the internet. As a result, the company is becoming less of a target in China's ongoing crackdown on technology companies such as Alibaba Group Holding Ltd. and Tencent Holdings Ltd.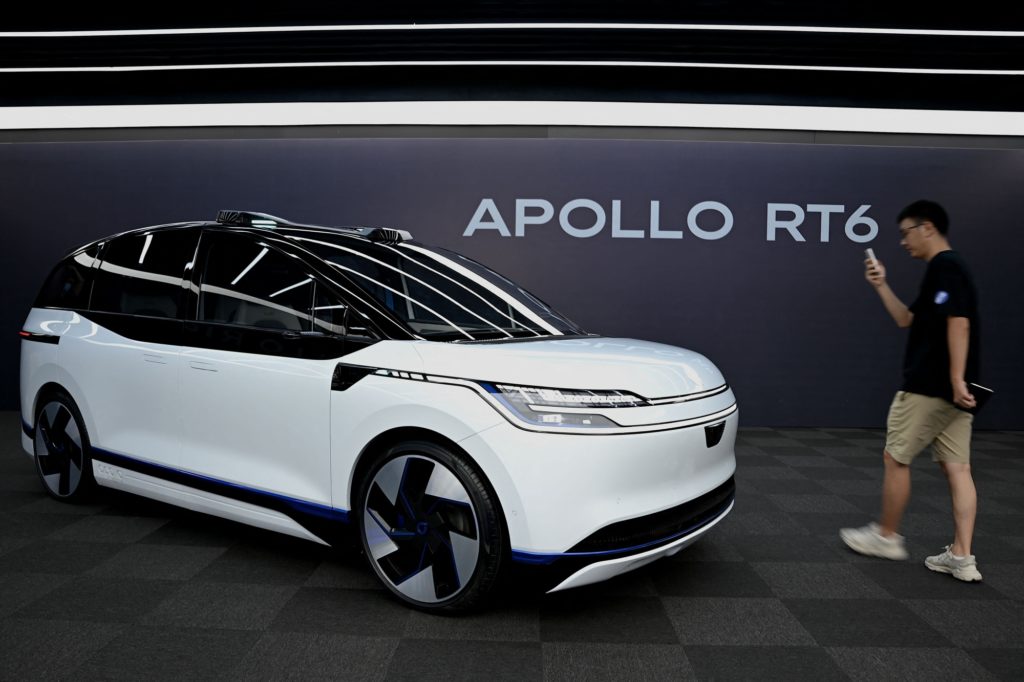 Lower levels of technology range from cruise control, a feature that has been available for decades, up to Level 3, which allows hands-free highway driving. Self-driving robot carts already are widely used in factories, warehouses and other tightly controlled settings. The Apollo RT6 was designed specifically with autonomous driving in mind, compared to previous generations where the technology was retrofitted on conventional vehicles, the company said.
The steering wheel-free design allows more space for the installation of extra seating or other additions, even a gaming console or vending machine. According to Baidu, it aims to deploy a large fleet of RT6 EVs into trial operation on the Apollo Go robotaxi network in the second half of 2023. From there, the size of the RT6 fleet is expected to consistently grow from 10,000 units to 100,000 units.
Apollo Go, Baidu's robotaxi service, has operated over 1 million across 10 Chinese cities since its launch in 2020 and Baidu said in April that it received permits to deploy robotaxis without humans in the driving seat on open roads in Beijing.