Thinking to a buy an everyday laptop with both beauty and brain? ASUS is trying to make things simple for you with its Vivobook S series of laptops, now, equipped with the latest 12th Gen Intel Core processors these Vivobook laptops are powerful as well as efficient.
As we test out a lot of ASUS laptops, this Vivobook S15 OLED also came our way and we had a great time reviewing it as well. I had a Vivobook Flip 14 from two years ago, and comparing this one over the predecessors you will certainly notice there's a huge difference in terms of specs, design, and build quality.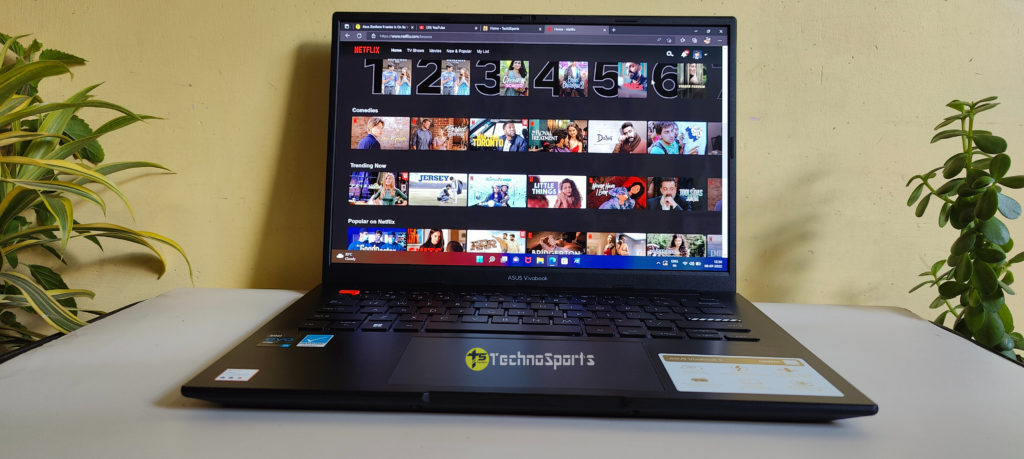 This new ASUS Vivobook S15 OLED has a more premium design to it and a powerful Core i7-12700H processor with up to 14 cores along with a great OLED display to enjoy. However, though the laptop looks good on paper let's see how it performs in real-world and whether you should buy it or not:
Specifications of Vivobook S15 OLED (2022)
Processor: 12th Gen Intel EVO Core i7-12700H, 2.3 GHz Base Speed, 24MB Cache, Up to 4.7 GHz Max Turbo Speed, 14 Cores (6P+8E), 20 Threads
Memory: 16GB (8GB onboard + 8GB SO-DIMM) DDR4 3200MHz with | Storage: 512GB M.2 NVMe PCIe 4.0 SSD
Display: 15.6-inch (39.62 cms), FHD (1920 x 1080) OLED 16:9 aspect ratio, 0.2ms response time, 600nits peak brightness, Anti-glare display, 100% DCI-P3 color gamut, Screen-to-body ratio: 84%, VESA CERTIFIED Display HDR True Black 600, PANTONE Validated.
Graphics: Integrated Intel Iris Xe Graphics
Operating System: Pre-loaded Windows 11 Home with lifetime validity | Software Included: Pre-Installed Office Home and Student 2021 | 1-Year McAfee Anti-Virus
Design & Battery: 1.89 cm Thin | Metallic Lid | Thin and Light Laptop | Laptop weight: 1.8 kg | 70WHrs, 3-cell Li-ion battery | Up to 10 hours battery life
Keyboard: Backlit Chiclet Keyboard | 1.4mm Key Travel
I/O Port: 1x USB 2.0 Type-A, 1x USB 3.2 Gen 1 Type-A, 2x Thunderbolt 4 supports display / power delivery, 1x HDMI 2.0b, 1x 3.5mm Combo Audio Jack
Other: Fingerprint sensor integrated with Power Key | 720p HD camera with privacy shutter| Built-in speaker | Built-in array microphone | Wi-Fi 6E(802.11ax) 2*2 + Bluetooth 5.2 | MIL-STD 810H Military-Grade Durability
Design & Build
This new ASUS Vivobook S15 OLED has a unibody plastic design with slight touches of metal but mostly it has a premium plastic body that could blind your eyes as a metal build. However, I would say, the build quality is good but not as a ZenBook quality, so for ₹94,990 this Core i7 variant is a bit expensive.
You can still open the lid with one hand which is a good thing honestly and the new design elements borrowed from the Vivbook Pro laptops look great on this Vivobook S15 OLED. It has a modern aesthetic to it and the new enter key design along with minor changes makes it look far more premium than its predecessors.
Despite packing such horsepower, this laptop has a bit of weight – 1.8 kg, which is not the lightest but bearable. Also, you will find the 180° hinge on this Vivobook S15 OLED quite useful and handy especially while travelling or even cleaning your laptop.
Overall, in terms of design, the ASUS Vivobook S15 OLED could be your next everyday laptop easily but yes improvements in the future are always welcome.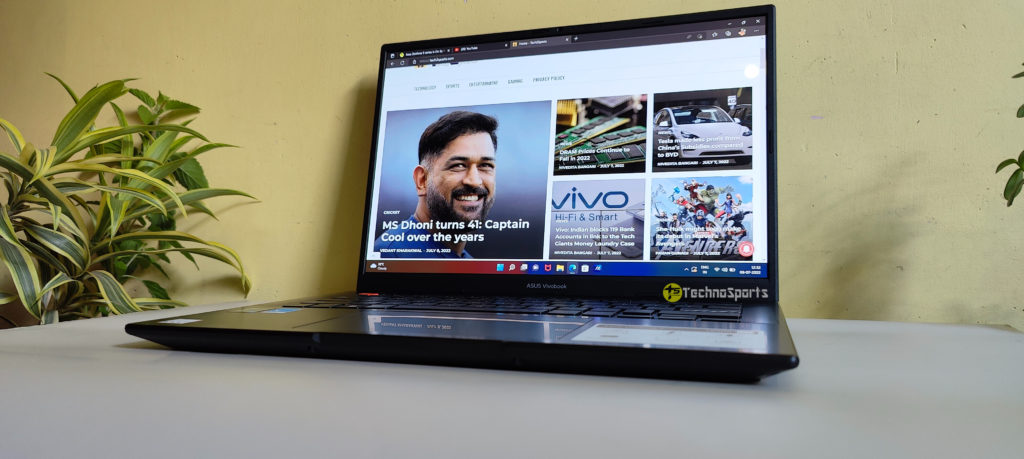 Display
Now, telling more about the USP of these OLED laptops by ASUS is about the display, here they have used a big 15.6-inch display, and those who love bigger displays which definitely love this ASUS Vivobook S15 OLED. However, it comes with an older 16:9 aspect ratio which you could definitely expect to have a modern 16:10 one.
ASUS has made claims of the phenomenal color accuracy of the display stating up to 600 nits of brightness which again is too good to be true. So, we did test this ourselves using your SpyderX Pro, and here are the results we got: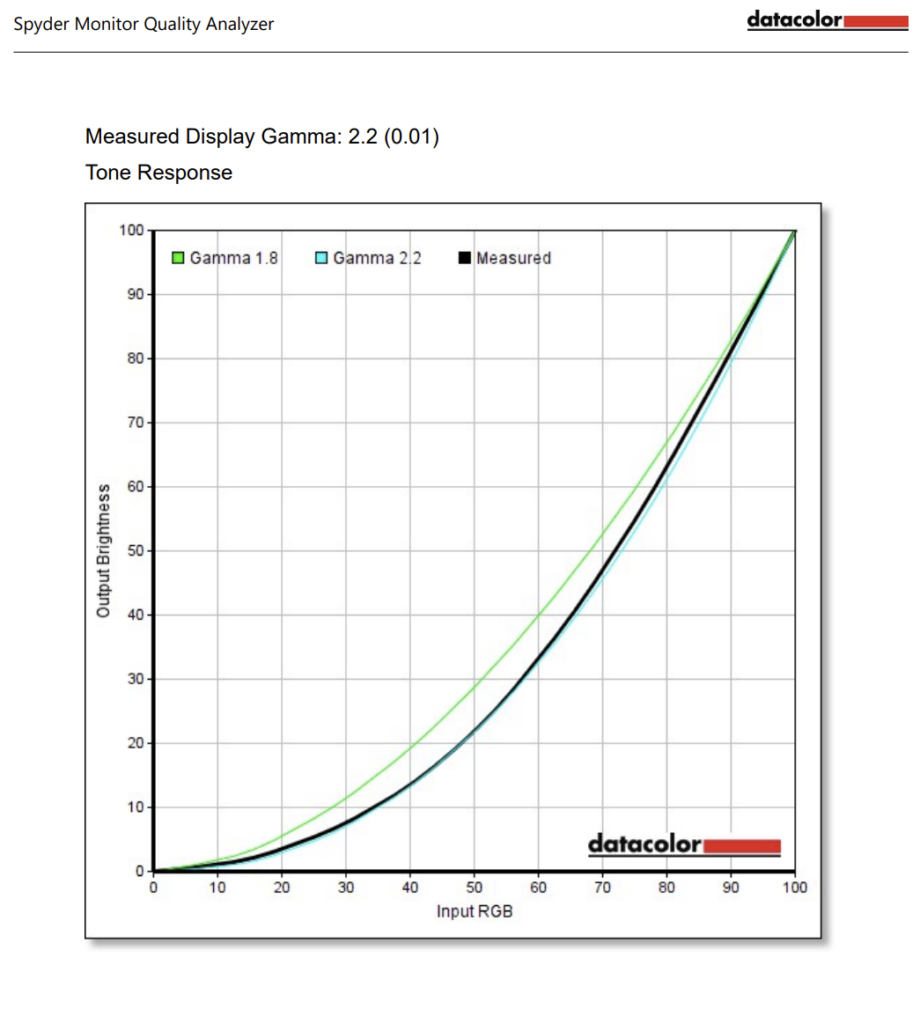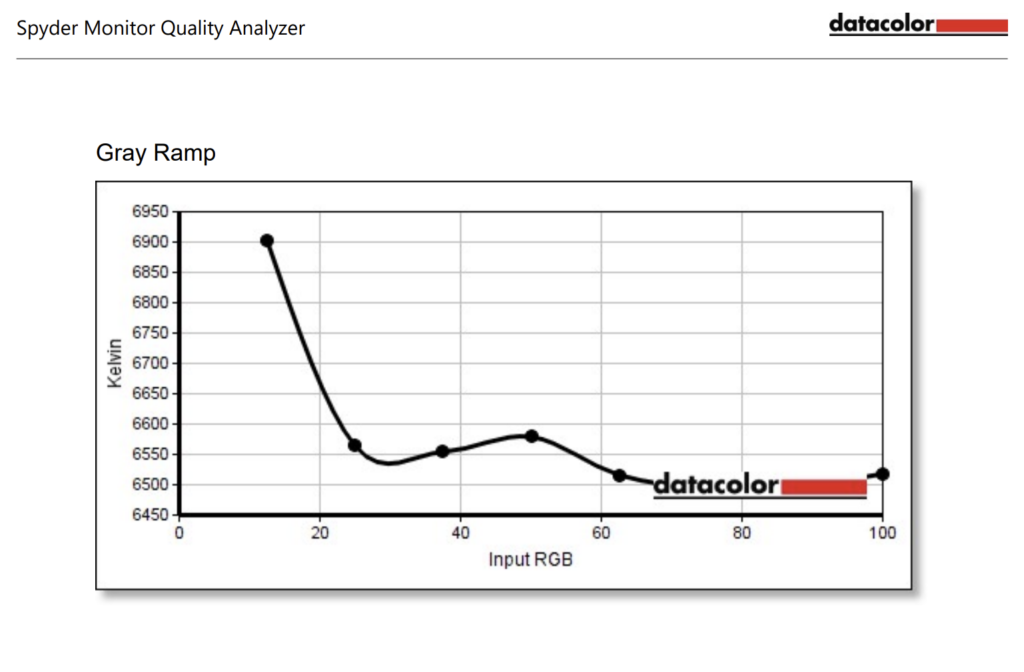 As you see in our tests, the display here is no doubt a good one but not as great as ASUS claims it to be, with up to 96% sRGB color gamut along with 71% DCI-P3 color coverage this is far less than ASUS's original claim of 100% DCI-P3 color accuracy mostly seen on their high-end ZenBook OLEDs.
However, that doesn't mean the panel is bad, it's really good for the price range because that OLED display always enhances the colors of the content whether you are watching movies or doing some serious work. Obviously watching YouTube or doing Photoshop work is a primary advantage you get by buying this laptop but also it emits less blue light as well.
Talking about brightness, as you see the Vivobook S15 OLED provides up to 388 nits of peak brightness, which is in the territory of 400 nits which should have been the original claim rather than 600 nits. We saw the same case with the ASUS ZenBook 14 OLED, however, the brightness, high contrast, and color accuracy make this a great choice for everyday usage.
Performance
In terms of performance, the Vivobook S15 OLED with new 12th Gen Intel processors is great for everyday use, also being coupled with 16GB RAM and PCIe Gen 4 SSD, you get a very smooth experience. The laptop is also Intel EVO certified, so the key functionalities like instant wakeup or long battery life or Thunderbolt port, and other key parameters are assumed to be present on this laptop.
Someone who requires good horsepower on daily basis should actually go for this laptop as even multiple benchmarks show how powerful it is. As a hardcore user, using the ASUS Vivobook S15 OLED for around 2 weeks never did I face any lag or stutter as such, and can handle my multiple Chrome tabs fluently.
During Performance mode, sometimes the fans spin quite loud but if kept in Silent mode, you have the freedom of doing daily work without much fan noise or heat. Regardless of Intel/AMD debate if you want more performance the laptop will heat up anyways but this time with Intel and Windows 11, when you are not doing significant workloads, the efficiency cores are enough to handle all your day-to-day basis work.
If you talk about generational performance uplift, we will say with 12th Gen Intel Core processors have really stepped up the game and practically 11th Gen EVO laptops were very low on performance against the likes of AMD. However, things have taken a 360-degree turn this time as Intel has significantly worked to make the 12th Gen even better.
Here are some of the benchmarks for your reference:
As you see in the benchmarks, the 14-core Intel Core i7-12700H posts good scores over the competition but due to thermal constraints cannot perform as well as it performed in the TUF Gaming F15. As a thin & light laptop, the performance that you get is pretty good and enough to get your work sorted while still getting the laptop under Rs.1 lakh is a good price point in India.
The Core i5-powered Vivobook S15 OLED could be a more affordable option for you that could provide you with better value and should be enough for light to moderate users. This Core i7 variant is clearly for enthusiasts and people who need that extra horsepower to do things that benefit from having more cores.
Coming to the SSD speeds, the 512GB NVMe SSD is said to be PCI Gen 4 but seeing the speeds it looks to be a cheaper Gen 4 SSD, still better than a budget Vivobook laptop. Overall, the performance is very good for daily usage and even for professional workloads, it's both reliable, efficient (sometimes gets hot), and powerful.
Thermals & Upgradability
ASUS had to really work to make the thermals of this Vivobook S15 OLED enough to cool the powerful processor inside while still efficient for casual usage. So, ASUS's pre-installed MyASUS app lets you customize the way you want your laptop to perform, there's the Silent mode, Performance mode, and Balanced to help as per your usage.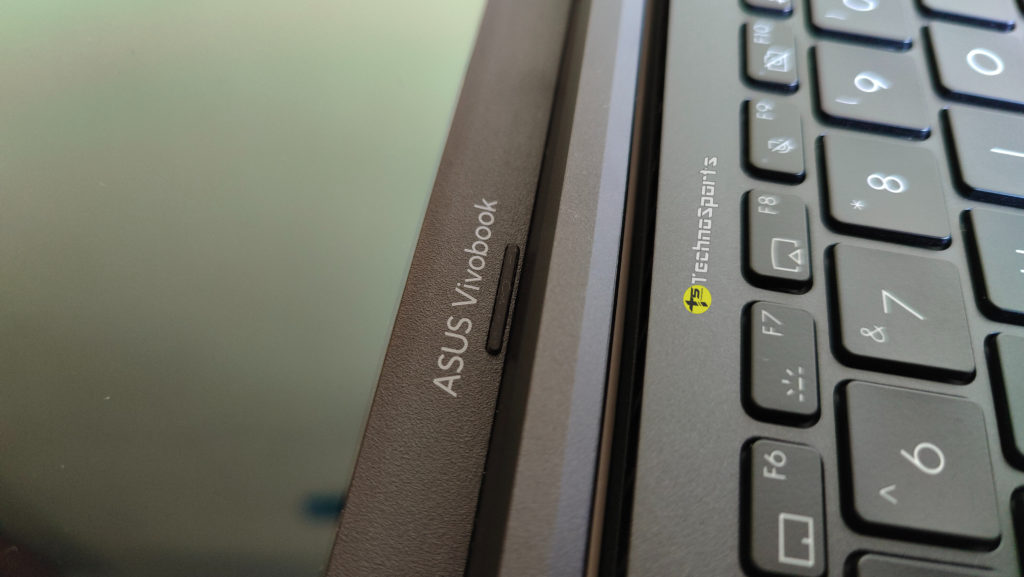 Sometimes, the laptop used to get loud during fan noise and heat up during benchmarks or running heavy apps naturally but for most normal workloads, it does a good job. While in terms of upgradability, the RAM is further upgradable using the second slot while the storage is also upgradable. So, someone who wants to use the laptop for the long term can do so easily.
I/O & Connectivity
Talking about ports, this ASUS Vivobook S15 OLED features 1 USB 2.0 Type-A port on the left-hand side while two Thunderbolt 4 ports on the right-hand side, can be used for charging purposes as well. Then you have one HDMI 2.0b port and a 3.5mm Combo Audio Jack as well, overall, you are covered with all the necessary ports you can ask for.
Finally, talking about connectivity, ASUS has used the latest Wi-Fi 6E and Bluetooth 5.2 options that get you covered for your daily life. I had no issues connecting multiple Bluetooth devices or with WiFi speeds at all.
Keyboard & Trackpad
The backlit chiclet keyboard on this Vivobook S15 OLED is great for everyday typing as it's clicky and comfortable to type on, so as a blogger I really enjoyed typing on this laptop for my daily usage. During the night too, the keyboard was enough to suffice for me and my endless browsing and typing sessions easily.
The trackpad is way larger than previous Vivobooks which means it's usable even if you forget to carry your physical mouse. For quick browsing, and scrolling down pages, the trackpad is smooth and accurate, being a dedicated physical mouse user all the time, this time I enjoyed using the laptop's own trackpad.
Audio & Webcam
Coming to the audio of this ASUS Vivobook S15 OLED, the dual speakers are decent but not as loud as you see on the ZenBooks, it's just usable and nothing too extraordinary I would say. The webcam is again a 720p one which I feel is okay-ish but the inclusion of a physical privacy shutter is a much-appreciated move.
Battery Life
As you see the battery life estimates of this ASUS Vivobook S15 OLED are not the best in terms of providing good battery backup. Here you see you get an average of 4-5 hours of actual battery life during everyday use, this is a key area we feel Intel needs to work on because AMD-powered laptops are providing far better battery backups.
Verdict
Now comes the most important question who and why should buy this Vivobook S15 OLED laptop? This mostly depends on your use case and the kind of performance/battery life/display you would love to have on the laptop. However, this ASUS laptop is a well-balanced laptop that also has a good price range targeting the upper mid-range segment.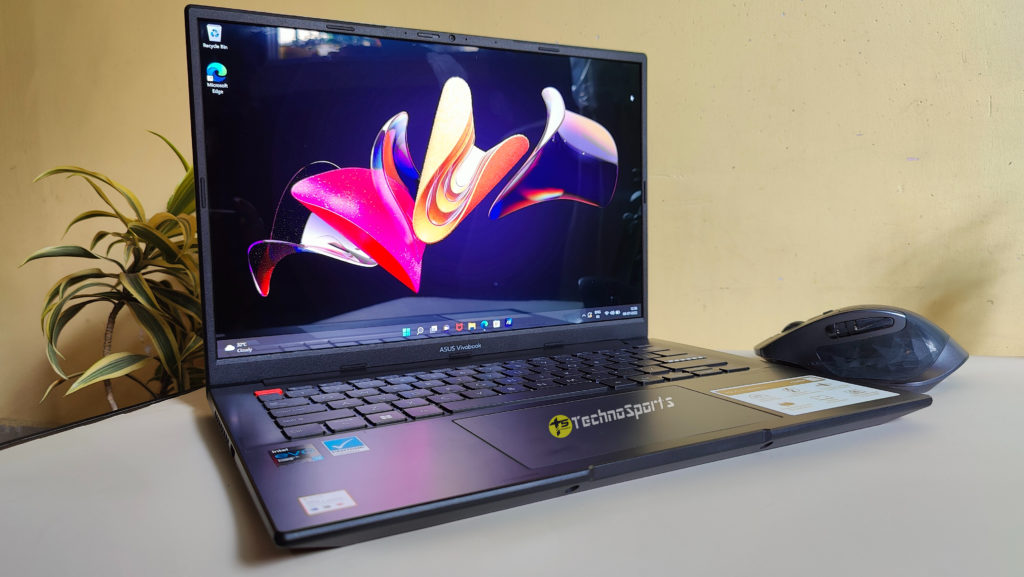 There will be cut-downs made to again make this device affordable like poor speakers or no metal unibody design but the key highlight of this Vivobook S15 OLED is its display and tremendous performance. Also, it's an Intel EVO laptop that houses all Intel benefits that until now were missing on a mid-range notebook.
As we said earlier, the Core i5 variant at the Rs.74k price range makes more sense than this higher-priced Core i7 variant as then you enter the ZenBook or MacBook range. With a huge performance bump and all the features you can ask for, this laptop is an obvious choice for many Intel lovers and enthusiasts as well.
Buy the ASUS Vivobook S15 OLED from Amazon India: https://amzn.to/3B6IX8v