In addition to a dedicated tab for sports on the home page for live and previously-recorded content in the category, Amazon is launching a new Prime Video interface for streaming devices, smart TVs, and Android devices that does away with text-based tabs on top in favour of icon-based navigation on the side.
A larger carousel for Amazon Originals with maturity ratings and top 10 lists for regional titles are also part of the new style.
About the Updates
A new navigation menu with the icons for Find, Home, Store for purchasing or renting media or channel subscriptions, Live TV for viewing material from your subscribed channels, Free with Ads for Amazon's FreeVee service, and My Stuff for watchlists and purchases has been added to the home screen.
The changes to the Prime Video navigation menu are identical to those made to the Fire TV interface by Amazon last month, which replaced the tabs' text with icons. Customers worldwide will begin to notice the revamp of Amazon Prime Video this week while using the app on TV streaming devices like Fire TV and its Android app; upgrades to the iOS and Web interface will follow.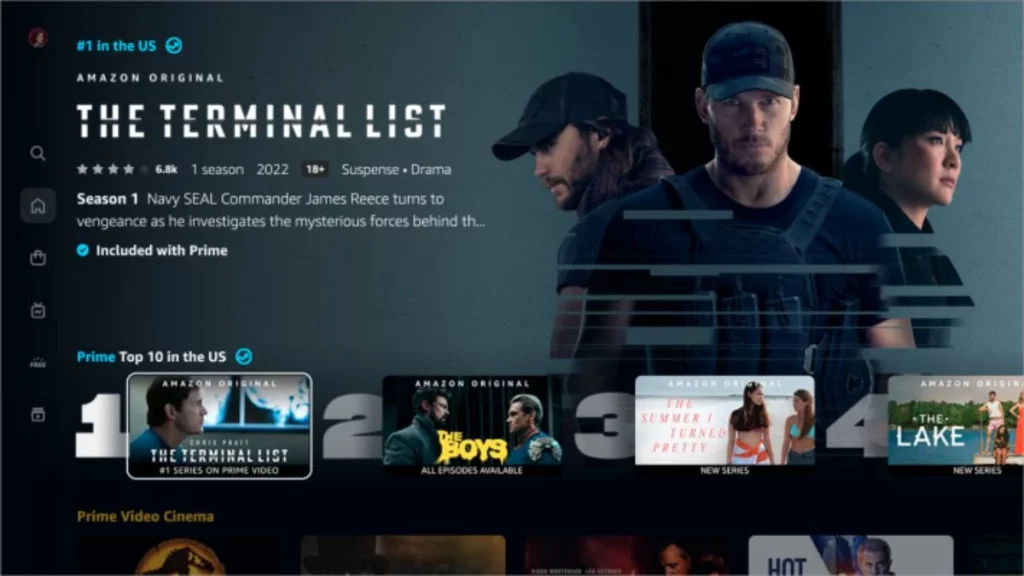 In a prepared statement, the business claimed that it is overhauling the Prime Video experience to highlight its wide range of content and make it simpler for users to locate their favourite shows and movies.
Amazon and Prime Video
To make it simpler to access content in those categories, Amazon has added four new sub-navigation options labelled All, Movies, TV Shows, and Sports under a wider banner carousel on the main screen of the Prime Video. Oddly, Amazon delayed so long to add those simple navigation tabs on the large display.
It was quite difficult to just navigate through movies or TV shows before this upgrade. Larger carousels with Prime Originals trailers, a regional top 10 chart, and a carousel to identify your current subscriptions are also displayed on the home page.
With the new discover menu, you may filter out choices by categories, genres, or movies that are available in 4K in addition to seeing title suggestions as you enter in Prime Video. These search filters are now being made available on the big screen in addition to the online and mobile apps.
Users can now access live sports, replays, and highlights of recently finished games and documentaries on Prime Video thanks to the new Sports tab. There is a carousel to help you find the many leagues in your area.
There was no simple filter or button to search the associated content, even though Amazon has a substantial selection of sports documentaries, including its own All or Nothing series. These books had to be manually searched for, or you had to hope that one of the suggestions included them.
The Live TV tab design of Prime Video has also been updated by Amazon, and you can now move to the material that your subscription channels are now presenting by using the channel guide interface that is offered by default.
However, finding the program you want to watch requires a few steps because the live TV interface is not universal across platforms. The Live TV screen now displays future live sports from your Amazon Prime and channel subscription.
The Firm and The Update
The company noted that it is now clearly separating premium and free titles with this upgrade. It indicates titles with a blue check mark that are part of Prime Membership and titles that require payment with a golden shopping bag.
Although the majority of the new Amazon Prime design change is cosmetic, a separate page for sports indicates the firm is taking this category more seriously. Last year, the company secured the sole streaming rights to "NFL Thursday Night Football" games, and this year, it will start airing those games.
The global leader in e-commerce is vying for the right to broadcast UEFA Champions League soccer in the U.S. and the U.K. Last month, it attempted to secure five-year streaming rights for the Indian Premier League cricket competition, but it withdrew a few days before the auction started.
About the Interface
Given that the bulk of its viewers uses larger screens for streaming, Amazon stated that the updated user interface is designed with them in mind. It didn't provide any information, though, on the proportions of people worldwide who consume content on large screens as opposed to smaller ones.
The company's strategy is understandable given that more consumers are watching material on a huge screen, such as a connected TV, a smart TV, or a gaming console. Big screens were believed to account for 77% of all streaming minutes globally for the first quarter of 2022, according to a forecast released in May by streaming data analytics company Conviva.
According to Keith Zubchevich, president and CEO of Conviva, users are up screening from mobile devices to Smart TVs in developed countries like the U.S. and Europe, laying the groundwork for streaming to replace linear TV on the big screen.
Read More: Intel Core i9-13900K Raptor Lake Benchmarks show the CPU is 5% faster than its Alder Lake Counterpart