Zebronics is a well-known IT and accessories brand in India which has been consistent enough to always launch new products in the country. From making IT parts and components the brand has become the pioneer in the tech industry by launching smartwatches, wireless mice/keyboards and a lot more.
The brand has a good relationship with Amazon India and to commemorate its annual Prime Day sale, there is a lot of new Zebronics product launches taking place exclusively for Prime members. All of these launches can be purchased now if needed or on Prime Day itself, starting on 23rd July.
Here are all these Zebronics products launching on Prime Day:
Zebronics Zeb-Storm Wired Headphone
Price: ₹399
Wired headphones with a 3.5mm jack (single connector), best suitable for online classes, video calls etc., on your smartphones, tablets and Laptops.
With the 40mm drivers, enjoy music with punchy bass, sharp trebles and smooth vocal tones like never before.
In-line (built-in) microphone, enabling you to take calls and attend online classes with ease.
Simple plug-and-play usage with your mobile devices.
Lightweight design for comfortable usage.
Soft ear cushions, an adjustable headband and a foldable ear cup design will help you for long hours of movie watching, music and online classes without fatigue.
1.5 meter durable & long cable allows you to plug into your mobile devices, laptops or tablets and sit back comfortably.
Simple button control to receive and hang up on calls.
Buy from here: https://amzn.to/3AKp3Ag
Zebronics DRIP Smartwatch
Price: ₹2,999
Smartwatch with BT calling function, compatible for both iOS and Android smartphones using the ZEB-FIT 20 SERIES application. The watch is built to withstand, as it has a metal body and a lightweight design
Voice assistant support for iOS and Android smartphones to get your job task handsfree
Large 4.29cm (1.7inch) colour display with bright & vibrant colour reproduction. Simply raise your wrist to activate the display and check notifications on the go
100+ sports modes and IP67 waterproof body to unleash the inner fitness freak
Heart rate, SpO2, Blood pressure measurement, and Sleep monitor with graphical data stored in the companion app
The watch packs 10 built-in wallpapers. Get the watch wallpaper customized from your phone's gallery or just browse through the various online / cloud-based wallpapers in the companion app
The watch supports 8 Menu UI styles to access various options, the way you like. Simply swipe right to get the quick access menu filled with features
With the 250mAh built-in rechargeable battery, you get a stable battery life of more than a week! (*the battery life data is subject to vary as power usage conditions)
Get instant updates on the watch display for SMS, Calls, and other apps notifications
Timely weather updates, remote camera & music control options and water reminders, 4 built-in games, are all included in the DRIP ZEB-FIT9220CH smartwatch
Buy from here: https://amzn.to/3z1D8ru
Zebronics Cozy 6 Button Vertical Gaming Mouse
Price: ₹999
Comfort and ergonomics redefined with ZEB-COZY vertical gaming mouse with high precision gaming-grade sensor
With up to 3600 DPI support, you can switch between the four preset DPI levels of 1200 / 1600 / 2400 / 3200 DPI
A total of 6 buttons to handle various functions such as forward, backward, DPI etc., dedicatedly
The mouse supports 5 million click cycle to provide utmost durability while your game hardcore
1.8-meter braided cable with a high quality USB connector, so you can game on without issues
ZEB-COZY has a smooth rubber finish to help you handle the mouse with ease, for long hours of use
Get your gaming station action-packed with the stunning LED lights on the ZEB-COZY mouse
Simply plug and play with the USB connector on your computer / Laptop
Buy from here: https://amzn.to/3ys4V32
Zebronics K24 USB Keyboard
Price: ₹349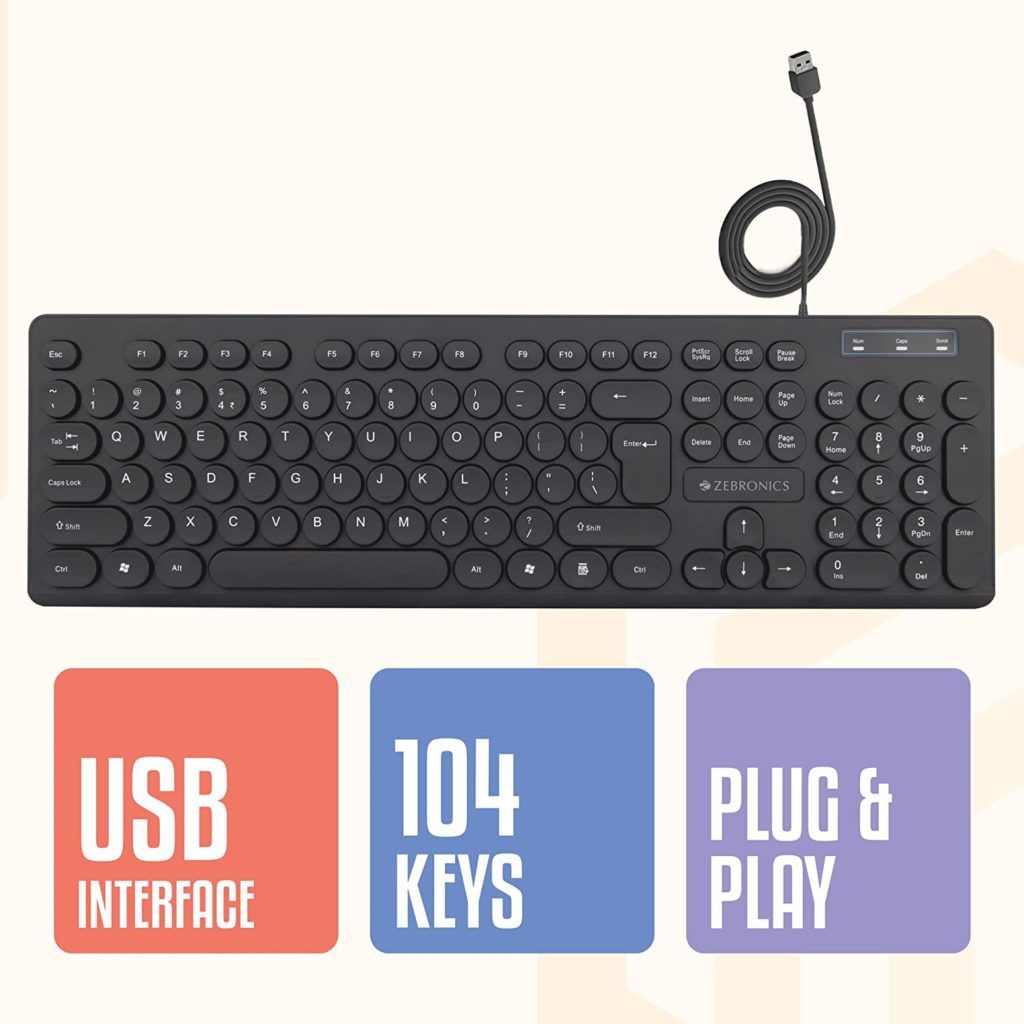 Standard keyboard
Slim design
Retractable stand
Comfortable and silent
₹ with Rupee key
Chiclet Keys and UV Coated keycaps
1.5 Meter Textured Cable
Long Life with up to 8 million keystrokes
Buy from here: https://amzn.to/3yWYu9F
Zebronics Zeb-Sound Bomb 3 TWS Earbuds
Price: ₹999
Bluetooth v5.2 TWS earbuds with stem touch for simple and easy-to-use controls. Let it be binge-watching series or unleashing the inner audiophile, do it with Zeb- Sound Bomb 3.
Consists of 13mm drivers for enjoyable music, punchy bass and crisp Trebles.
Supports call the function with the built-in microphone.
Flash connect, while you can just open the charging case lid, to instantly pair with your smartphone.
Stay protected from accidental spills, and splashes and make it your gym companion, as the earbuds come with a splash-proof design.
With Voice assistant support on Android and IOS devices, get your work done quickly and easily.
Type C port with the portable charging case. Battery backup of up to 12H* approx. with the charging case.
Buy from here: https://amzn.to/3yXUOVc
Zebronics ZEB-LPC12A Printer Cartridge
Price: ₹429
Compatible Printers::H LJ 1010/1012/1015/1018/1020/1022/1022N/1022NW/3015/3020/3030/3050/3052/3055/M1005/M1005 MFP/M1319f MFP C LS LBP2900/2900B/3000 C IC MF4690 C iS MF4140
Operating Temperature Range::15~32℃
Storage Temperature Range -25~40℃
Operating Humidity Range::20~80%
Non-Operating Humidity Range::30~93%
Noise level::≤52dB
Cartridge Color::Black
Upto 2000 page yield / Smudge-free Output
High Quality printing/Eco Friendly
Rich & darker Prints/Ideal for office & home use
Buy from here: https://amzn.to/3aB2svg
Zebronics Companion 110 Wireless Mouse Combo
Price: ₹1,699
Wireless BT & 2.4GHz
Smartphone / Tablet Holder
Integrated Multimedia Keys
Compact Design
UV Printed keycaps
LED Indicators
Built-In Rechargeable Battery
Type C Charging
Wireless BT & 2.4GHz
Compact & Ergonomic Design, Advanced Optical Sensor Technology
Buy from here: https://amzn.to/3uHdk1o