The Chinese smartphone maker is celebrating its eighth anniversary in India. Xiaomi has introduced its brand-new Xiaomi Smart Standing Fan 2 in the nation as part of this celebration. The smart fan features a dual-fan blade, a silent BLDC Copper-Wire motor, voice control capabilities, and more.
The Xiaomi standing fan 2 is available in White colour only. It will be selling here at ₹ 6,999. The company targets a new segment of buyers here with this standing fan that goes by the aesthetics and rather unconventional items for their surroundings. Here's all you need to know about the Xiaomi Smart Standing Fan 2.
Xiaomi Standing Fan 2 Specifications and Availability
Xiaomi Smart Standing Fan 2 comes with a Silent BLDC Copper-Wire Motor and dual fan blades, that have been optimized to provide a gentler natural breeze. The smart fan has an ultra-wide angle, 140 degree horizontal and 39 degree vertical rotation with a maximum range of 14m to cool the room for the whole family.
In order to improve the microclimate of the home, Xiaomi India unveiled a new product. The seven and five wing-shaped blades revolve at the same time, enhancing airflow for more potent cooling. Customers can use the Mi Home App to control the fan speed between 1 and 100 to get the desired airflow.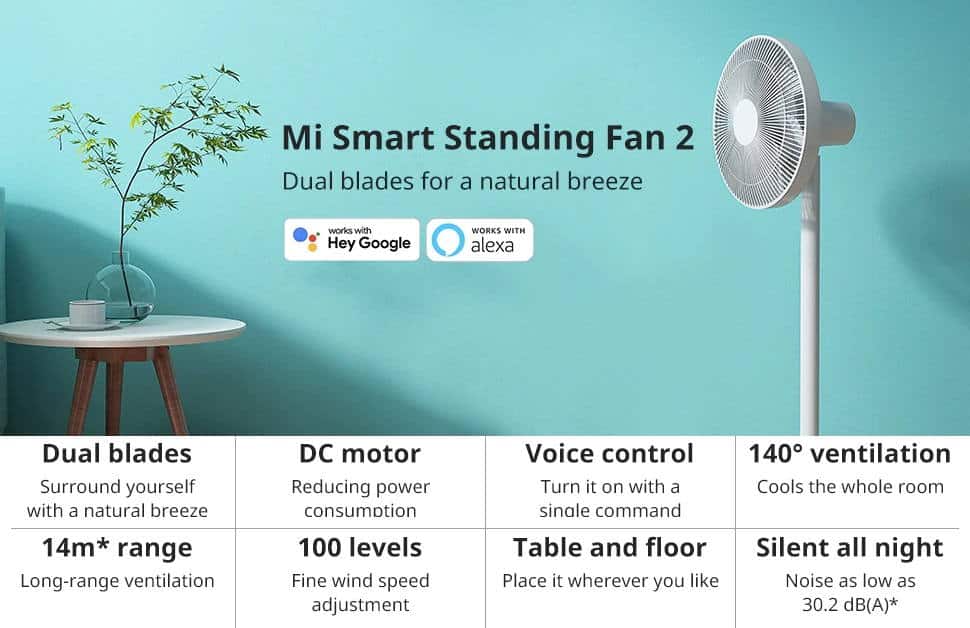 Coming to its smart attribute, the Smart Standing Fan 2 is designed to respond to voice commands. For that, it supports both Alexa and Google Assistant, and users can use either to alter the fan's speed or other aspects of it. The around 100 speed modes can be controlled via the Xiaomi Home App while the fan can also be integrated with the existing smart home hub for remote operations.
It features a lightweight design as well, weighing in at just 3 kilos. The stand too can be contracted and extended as the need might be. Cleaning and regular maintenance is also a breeze as the fan can be easily dismantled which essentially is a six-step process.
Xiaomi Smart Standing Fan 2 price in India is set at Rs. 9,999. It will be sold in a single While colour option and is available for pre-order via the company's website. Xiaomi says it will be sold at a special launch price of Rs. 5,999, and the Smart Standing Fan 2 will begin shipping on July 19.