Netflix's Sweet Magnolias are one of the best web series that has been renewed for the third season. The series is definitely a feel-good show. It has been two months since Netflix dropped season 2. It is still unpredictable whether the show will maintain the flow or not.
The series mainly revolves around the novel series written by Sheryl Woods. Some mismatch is also seen between the story told in the book and what we have watched on screen, it contains a lot of source material to pull the show. We will now dive into the third season of Sweet Magnolias.
At first, the show came in May 2020 and finally reach the second season of the series a few months or two years after it premiered.
Sweet Magnolias (Season 3): Renewal Status
After two months of season 2, we still get a little hope about the future of the show. We are still hoping for any such news either renewal or cancelation in early May, we just give our thumbs up for more b episodes on the way to Season 3 that's once again are expecting 10 episodes long in length.
The confirmation has been followed by that Sweer magnolias Writers Twitter page tweeting:
"We are going back to Serenity, y'all! We are so thrilled to share we have season 3 of Sweet Magnolias. Can't wait to welcome y'all home."
This series has not been renewed ahead of time so it also can come down to the viewership and also have the "stickiness" of the show.
Sweet Magnolias (Season 3): Production Status
The production dates still need to be confirmed, the filming mat starts at any point in Summer 2022. It will once again shoot the film in Covington and Atlanta, Georgia in the US.
At the beginning of June, the entire team of the show just set out for new locations. In the Instagram post, Sheryl Anderson stated:
"Thrilled to be plotting and planning season 3, with friends, old and new!!!"
On 1st July the show star Joanna Garcia Swisher just posted on Instagram exposing that she just had dyed her hair once again to perform her role in the latest third season once again as suggesting that the shooting is imminent.
Swisher said, "Maddie's lob is back could only mean one thing…
#sweetmagnoliasnetflix #seasons 3"
Sweet Magnolias (Season 3): Release Date
We are assuming the series will follow a similar filming pattern to season 2 then it might be wrapped by Fall which means in the middle of 2023 on Netflix that's more realistic.
Sweet Magnolias (Season 2): Netflix Performance
We all know that Sweet Magnolias is one of the biggest hits of 2022 and so far. The entry of Season 2 brings an uptick in viewership for the first season. The first season got 21.64 million hours of viewing from 6th February to 13th February.
The interesting facts are within 30th January and 6th March 2022 this series just clocked up 161, 300.,000 hours of view all over the world.
| | | | |
| --- | --- | --- | --- |
| Week Period | Hours Viewed(M) | Rank | Week in Top 10 |
| January 30th, 2022 to February 6th, 2022 | 43,000,000 | 5 | 1 |
| February 6th, 2022 to February 13th, 2022 | 58,150,000 (+35%) | 2 | 2 |
| February 13th, 2022 to February 20th, 2022 | 29,760,000 (-49%) | 3 | 3 |
| February 20th, 2022 to February 27th, 2022 | 18,610,000 (-37%) | 6 | 4 |
| February 27th, 2022 to March 6th, 2022 | 11,780,000 (-37%) | 9 | 5 |
If we see the view on basis of the first weeks of Virgin River season 3 the number is very similar in the category.
| | |
| --- | --- |
| Week Period | Hours Viewed(M) |
| July 4th, 2021 to July 11th, 2021 | 62,580,000 |
| July 11th, 2021 to July 18th, 2021 | 87,270,000 (+39%) |
| July 18th, 2021 to July 25th, 2021 | 44,890,000 (-49%) |
| July 25th, 2021 to August 1st, 2021 | 28,320,000 (-37%) |
The top data of Nielson also gives us the hint with a look about how well this series is performing in the US. The statistics from 1st January to 6th March reveal 4,629 million minutes of view.
Flix Patrol also represents a heat map from where the show has been performing the best. The regions where the show perfume is outstanding are the United States, Canada, Australia, the United Kingdom, Denmark, Ireland, Sweden, and South Africa.
| | | |
| --- | --- | --- |
| Week Period | Rank That Week | Minutes (Millions) |
| 01/31 – 02/06 | 3 | 1320 |
| 02/07 – 02/13 | 2 | 1556 |
| 02/14 – 02/20 | 5 | 898 |
| 02/21 – 02/27 | 8 | 526 |
| 02/28 – 03/06 | 9 | 329 |
The writer's room of Sweet Magnolias enjoyed their 7th day in the arrow on Netflix Top 10s with the entire cast and crew.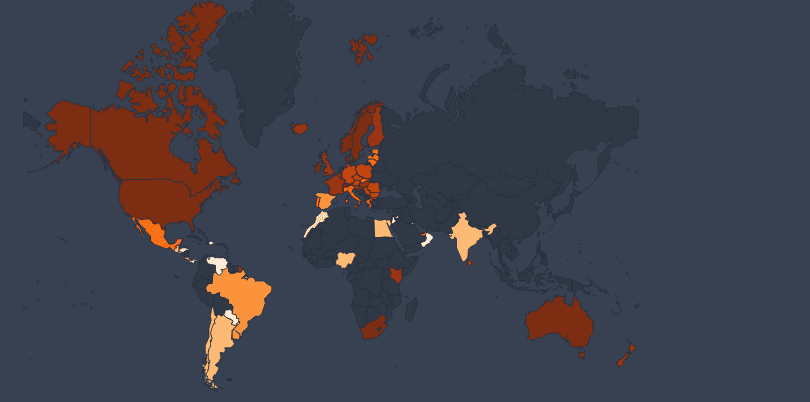 Apart from the viewing statistics we also look at how this show has been performing on Google Trends and also IMDB's Moviemeter.
The Moviemeter of IMDb track down the inbound traffic of the shows and film pages. It permits you for a good idea as to how famous shows are compared with such other networks. The first season of the series just peaked at #4 in the debut week, whereas the second one just managed to reach #15.
Sweet Magnolias (Season 3): Expectations
We have seen that the second season concludes with a lot of unanswered questions that come with the tradition since season 1. The second season ends with a plan and conflict in the restaurant that is led by Cal to escorting away in cuffs. It is also reported that someone has been returned over the main trio as the footage reveals tires have been slashed on the delivery van of Sullivan.
Helen experienced a rough ride in season 2 by facing a number of exhausting events but the season ended with her being proposed to by Ryan. It is assumed that the third season might be fueled by the decision that she makes.
In a TVLine interview, Sheryl J. Anderson gives answers to a number of questions that many have after the ending of season 2. When asked about the slashing of Dana Sue's tires, she replied," I will just say she has a past in common with our ladies and some other folks in town. She has been away for a while, but she has come back with an agenda. She has come home to settle some scores."
On this topic Anderson opens up that they could patiently watch the return of Victoria and also the other troublemakers come in the future, the relationship of Dana Sue definitely addressed on which Anderson said that three-way dance also will like to continue as complicated.
After speaking with Glamor, Anderson told that there is not just one sole question pointing to season 3 in comparison to season 2. However, on the renewal, he told, "I hope the main question that everybody has at the end of season 2 is: Are they going to get a season three?"
While all of us waiting for the season, Netflix is still running its book club hosted by Uzo Aduba.
A big thanks for the source.
Read More: Virgin River (Season 4): The new trailer depicts trouble arising in the relationship between Melinda and Jack