The ZBOX Magnus EN-Series Mini PCs from Zotac were introduced earlier this year, and they use the newest GeForce RTX 30 GPUs from NVIDIA. With a starting price of $1500 US, the business has now formally begun accepting pre-orders for its ZBOX Mini PCs in countries like Japan.
The Zotac ZBOX Magnus EN-Series Mini PCs go on sale on July 12 and include NVIDIA GeForce RTX 30 GPUs and Intel Tiger Lake-H CPUs. The Mini PCs are available in three different models: the top model, the ZBOX E series MAGNUS EN173080C, is powered by an Intel Core i7-11800H processor and an NVIDIA GeForce RTX 3080 Laptop GPU.
This is followed by the 'ZBOX E series MAGNUS EN173070C' which comes equipped with the same CPU but changes the GPU to the GeForce RTX 3070 Mobile & finally, we have the entry-level 'ZBOX E series MAGNUS EN153060C' which comes equipped with an Intel Core i5-11400H CPU and a GeForce RTX 3060 GPU.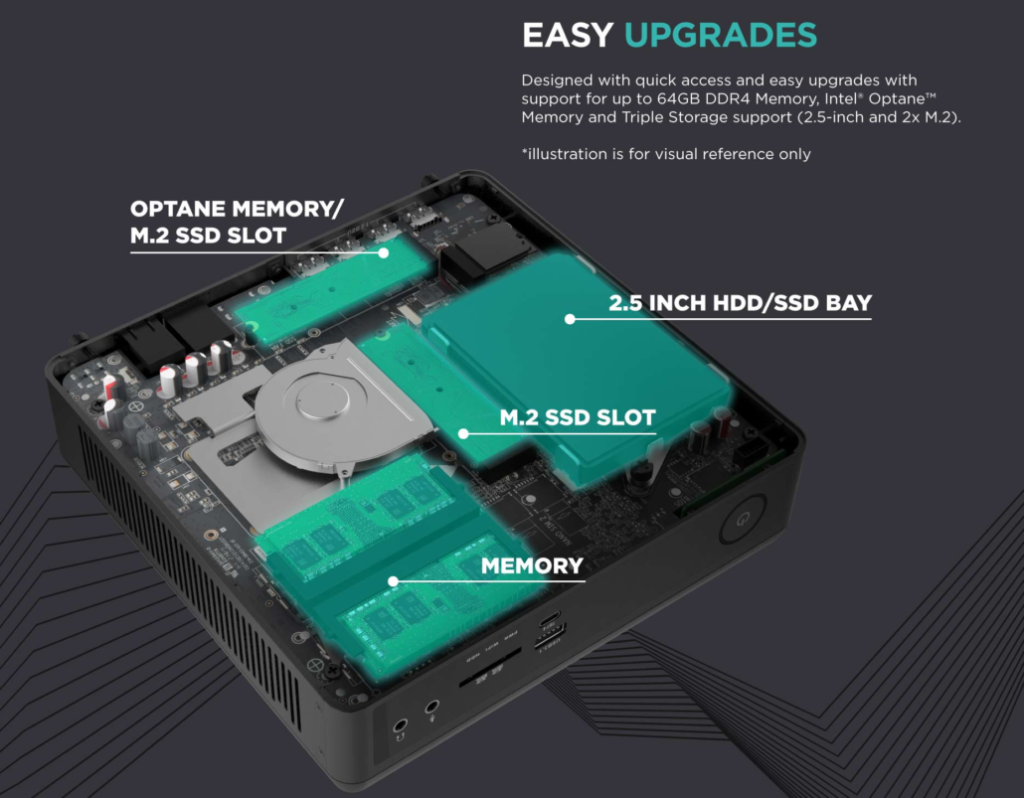 The RTX 3080 has a 150W rating whereas the RTX 3070 has a 125W rating. Regarding the RTX 3060 included in the entry-level system, there are no TGP specifications. However, this kind of performance in a small form factor package, like the Zotac Zbox, is excellent for gaming purposes.
Keep in mind that these are mobile variations, so don't anticipate the same performance as desktop parts since these feature reduced GPUs, lower rates, and conservative clock speeds.
In contrast to the widely accessible and significantly superior performing 12th Gen Alder Lake CPUs, Zotac is still using 11th Gen Tiger Lake CPUs in their ZBOX Mini PC.
These items probably weren't created with Alder Lake in mind, although a later version might incorporate the new chips.
Having said that, all three variations come with a 512 GB NVMe SSD and 16 GB of DDR4 SODIMM RAM that can be upgraded to 64 GB (Gen 3.0 M.2). I/O options for this device include two LAN ports (2.5G + 1G), WiFi 6 AX1650, Bluetooth 5.0, five USB 3.1 Type-A ports, one Thunderbolt 4 port, a microphone jack, an SD card reader, two DP 1.4 and two HDMI 2.1 display outputs, and five USB 3.1 Type-A ports.
The price of the RTX 3080 variant is 322,300 yen ($2,380 US) (including tax), the price of the RTX 3070 variant is 246,400 yen ($1819 US) (including tax), and the price of the RTX 3060 variant is 222,200 yen ($1640 US) (Including Tax).
Given that there is no tax in the US, the starting price for the RTX 3060 model is anticipated to be $1500 US.
Also Read:
Nvidia GeForce RTX 4090 Rumored to boost Higher Boost Clock than anticipated
Source