The next-generation flagship for the red team will be the AMD Radeon RX 7900 XT graphics card, which is built on the RDNA 3 "Navi 31" GPU and will deliver performance levels never before seen in the PC gaming industry.
The AMD Radeon RX 6000 RDNA 2 graphics cards demonstrated AMD's ability to provide performance that is on par with or even better than that of the rival GeForce RTX range. Performance in every class increased significantly, but the Navi 21 series led the pack with performance that was consistently better than the RTX 3090 Ti graphics card.
AMD not only gave its gaming audience a brand-new GPU package, but also a package that was enhanced by a wide range of architectural and software breakthroughs like Infinity Cache technology, FSR, and Smart Access Memory. Ray Tracing, DirectX 12 Ultimate, and visual upscalers technologies are just a few of the capabilities that work together to give Radeon gamers a fluid and smooth gaming experience.
The Navi 31 GPU is the top-tier RDNA 3 SKU in the series. The 2022 flagship is rumored to be built on the Navi 31 GPU, despite the fact that an even faster processor is in the works and is anticipated to launch next year. The flagship Navi 31 GPU of the AMD RDNA 3 GPUs, which will be a member of the 'GFX11' family, is internally known as 'Plum Bonito,' as opposed to the Navi 21 GPU of the RDNA 2 flagship, which was internally known as 'Sienna Cichlid. The RDNA 3 range is anticipated to follow AMD's practice of giving its internal codenames for the gaming GPU portfolio fishy names.
AMD revealed that their RDNA 3 GPUs, which feature a significant performance boost, will be released later this year. According to David Wang, Senior Vice President of Engineering for Radeon Technologies Group, the next-generation GPUs for the Radeon RX 7000 series will provide over a 50% increase in performance per watt over the RDNA 2 GPUs now in use.
5nm Process Node
Advanced Chiplet Packaging
Rearchitected Compute Unit
Optimized Graphics Pipeline
Next-Gen AMD Infinity Cache
>50% Perf/Watt vs RDNA 2
The Radeon RX 7900 XT graphics card and other next-generation enthusiast cards would be powered by the AMD Navi 31 GPU, the top-tier RDNA 3 processor.
We've heard that AMD would replace its next-generation RDNA 3 GPUs' compute units with work group processors. Dual CU (Compute Units) will be housed in each WGP, but there will be four SIMD32 clusters per CU, as opposed to two on each CU in RDNA 2. According to rumors, AMD has the choice of the 6nm die from TSMC or Samsung.
The AMD Navi 31 GPU with RDNA 3 architecture is anticipated to feature a single GCD with 48 WGPs, 12 SAs, and 6 SEs, according to the most recent information. This will distribute 12,288 stream processors in total, which is fewer than the prior tally. This will reduce total computing performance as well until AMD overclocks its flagship part to over 3.0 GHz. The Navi 31 GPU will also include 6 MCDs, each of which will have a 64 MB Infinity Cache and maybe also the 64-bit (32-bit x 2) memory controllers, giving the device a 384-bit bus interface.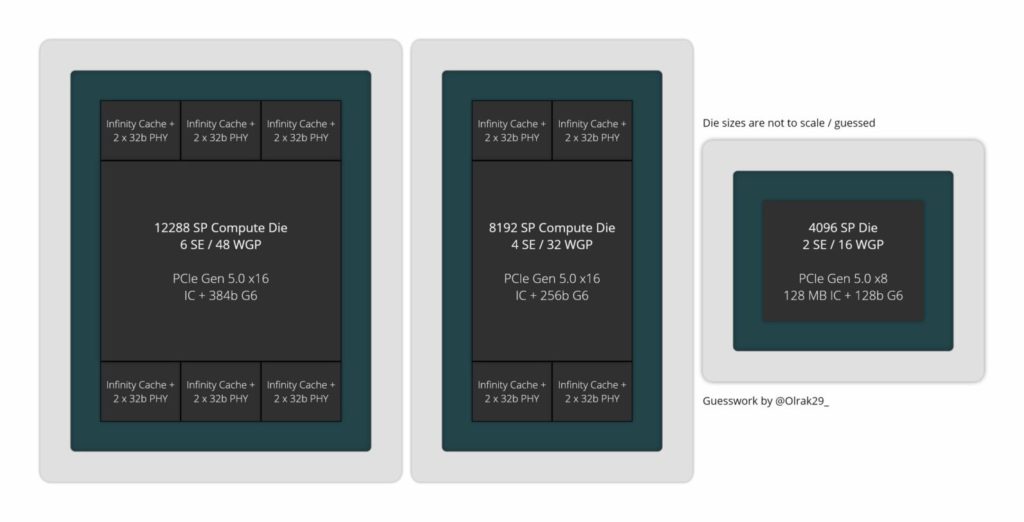 The high-end models of the AMD Radeon RX 7000 series graphics cards, such as the Navi 31, Navi 32, and Navi 33 GPUs, will be the emphasis first. The Navi 33 GPU-based graphics card was rumored to be the first, with Navi 31 and Navi 32 following. However, the leaker had before noted that those plans were no longer relevant.
Although we don't yet know which GPUs will be available first, AMD is probably going to introduce its Navi 33 and Navi 31 models first. The launch of the cards is anticipated for either late October or mid-November, which corresponds to a Q4 2022 debut.
Also Read:
AMD Reportedly planning to expand on its AM4 Ryzen CPU lineup with New 3D V-cache Chips