Intel Arc Pro A40 and Pro A50, the upcoming workstation-class Arc Pro graphics cards, have been found by Momomo US in the SiSoftware database. The Intel Arc Pro A40 desktop graphics card was recently uncovered by the RAA (South Korean National Radio Research Agency), and we have found a few mobile variants.
The line is referred to as "Pro" since it is designed for workstation platforms including desktops and laptops.
Intel Arc Pro A50 and Arc Pro A40 are effectively built on the same processor because they have comparable specs
The parameters cover the complete Arc ACM-G11 GPU, which is based on the Alchemist Xe-HPG architecture and has 128 Execution Units or 1024 total cores. The GPU's core clock is 2.45 GHz, and it has 1 MB of l2 cache. The VRAM configuration of 6 GB of GDDR6 is connected with a 96-bit bus interface. These features are the same as the most recent Intel Arc A380 graphics card.
Although it has a higher TBP of 92W and can boost up to 2450 MHz, the Intel Arc A380 graphics card's official clock speed is 2000 MHz. The Pro versions seem to make use of the complete TBP figure. In terms of GP (GPU) processing, the graphics cards' performance is comparable to that of an NVIDIA GeForce GTX 1060 6 GB.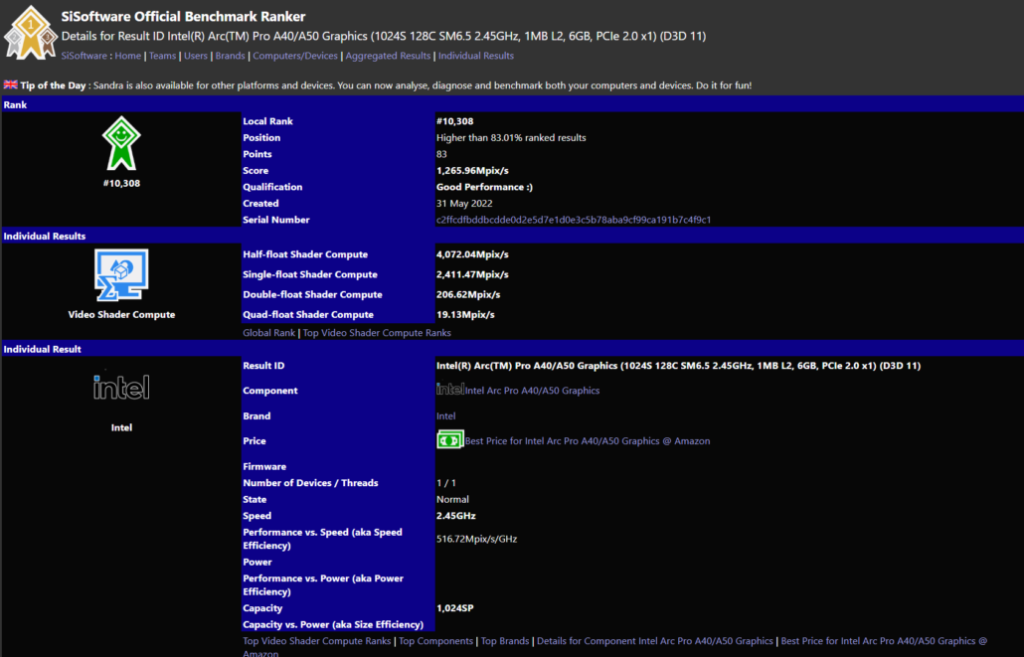 Since the workstation variants were expected to debut in Q3, the Arc Pro A50 and Pro A40 graphics cards may be introduced in the coming months. Given that the A380 has already been made available in Chinese markets, there is no information on the market availability of these graphics cards.
also read:
Cyberpunk 2077: AMD FSR 2.0 coming to the Game with New Mod