AMD is developing two lines of mobile CPUs under its Ryzen 7000 CPU family: the Dragon Range for high-end laptops and the Phoenix Point for budget laptops. Both should be constructed with Zen 4 cores to compete with Intel's Meteor Lake CPUs. RedGamingTech has recently made the first information about the upcoming Ryzen 7000 series available.
AMD's strategy with its Ryzen 7000 mobility family this time around is intriguing, albeit not entirely surprising. Intel's high-end line includes two variations: Alder Lake-HX and Alder Lake-H SKUs.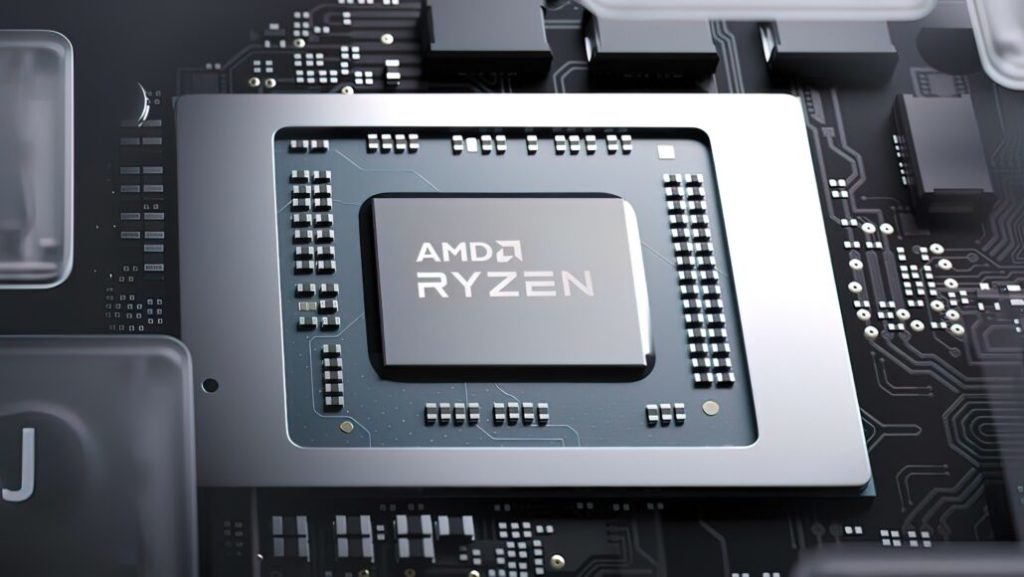 The HX versions are designed to give the best CPU performance with many cores and plenty of core clocks, while the standard lineup maintains its high-performance status with a variety of fantastic integrated graphics. That is what the "Ryzen 7000" CPU series from AMD's Dragon Range and Phoenix Point is.
The AMD Ryzen 7000 Dragon Range CPUs will employ the brand-new Zen 4 core architecture
The new Dragon Range APU series, which AMD claims will have the most cores, threads, and cache ever for a mobile gaming CPU, looks to be aimed at Extreme Gaming laptops with diameters greater than 20mm. These mobile PCs will also offer the fastest productivity and production rates yet. The new Dragon Range collection will include SKUs above the 55W threshold in addition to being DDR5 and PCIe 5 compliant.
These processors are expected to have clock rates that range from 3.6-4 GHz+ base and 4.8-5.0 GHz+ boosts, depending on the TDP. According to the designs of laptops created by various manufacturers, the TDP appears to be a variable. A further indication that AMD would be highly competing with Intel's HX components is the fact that they are releasing devices with the same amount of cores as their desktop-based counterparts. The RDNA 2 iGPU that comes with the Dragon Range chips will also have 2 CUs. The CPUs' main focus will be discrete graphics, not integrated solutions.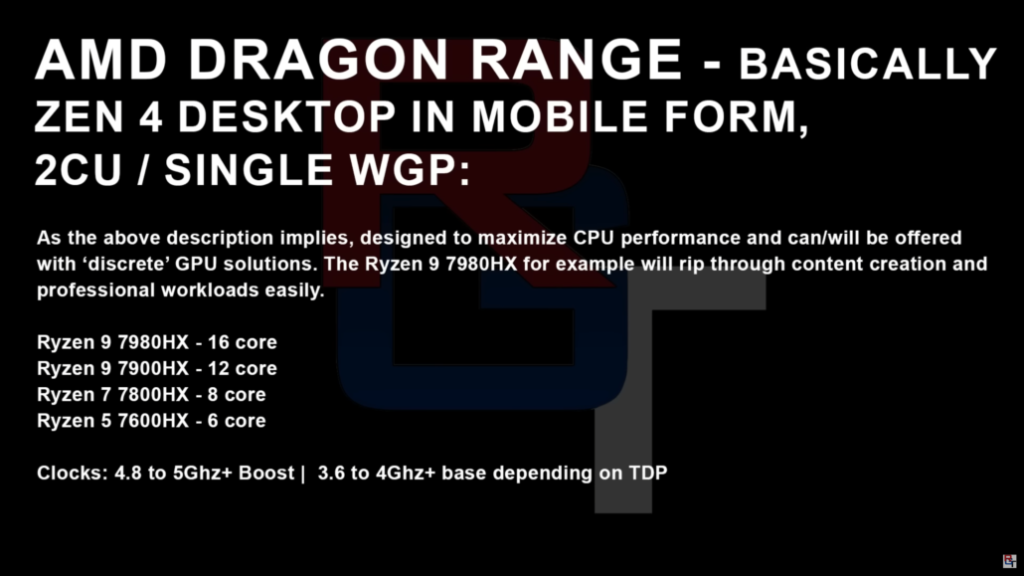 AMD has also recently confirmed that Phoenix Point CPUs use both Zen 4 and RDNA 3 cores. The new Phoenix Point CPUs will support LPDDR5, and 35W to 45W SKUs of PCIe 5 will be offered. The range is also slated to make its debut in 2023, maybe during CES 2023. Additionally, AMD has said that memory types other than LPDDR5 and DDR5 may be used in the laptop components.
AMD will offer a handful of 8-core SKUs in its Ryzen 9 and Ryzen 7 lines, with only the Ryzen 5 having a lower core count of 6 cores and 12 threads. With a total clock speed of 2.6-3.0 GHz and computational power of 9.2 TFLOPs, the lineup will contain up to 12 RDNA 3 compute units or 1536 stream processors.
Phoenix Point dies with three chiplets, Zen 4 and IOD complex, GCD with RDNA 3, and MCD with 32 MB of SLC cache are all depicted in an image RedGamingTech also posted. The cache die is reportedly based on a 6nm process node, the Zen 4 and IOD chiplet is reportedly based on a 4nm process node, and the RDNA 3 die is reportedly based on a 5nm process node. It will therefore have a multi-chiplet design, similar to Intel's array of Meteor Lake CPUs, which makes use of many-core IPs on various nodes.
AMD is seeking to equal the performance of the NVIDIA GeForce RTX 3060 Max-Q with its fastest RDNA 3 integrated processor. One of the most popular alternatives for notebook GPUs is the 3060, so if AMD can achieve performance that is close to that, that would be a significant triumph for team red since you would be getting some great performance from a chip with a TDP of 60–70W.
also read:
Zomato gets ready to acquire Blinkit for INR 4447 Crore