The PCI-SIG committee has unveiled the most recent PCI Express 7.0 standard with blazing-fast speeds, despite the fact that we are still waiting for PCIe 5 cards, which are two generations older, to become commercially accessible. Up to 512 GB/s of throughput will be provided by PCIe 7, which is eight times faster than the most recent PCI Express 5.0 rates. It is anticipated to make its debut in 2025 and hit stores in 2027.
On x16 connections, the 512GB/s bi-directional rates will be supported, but in reality, encoding overhead and header efficiency will make for far slower speeds. The PCI 6.0 standard, which is expected to be issued by the end of the year, is still exceeded by this one. It was revealed at the PCI-annual SIG's developers conference that the organization has already surpassed its goal of tripling PCI Express speeds every three years.
But ultimately, this speed is the fault of the semiconductor and gadget vendors. While Intel's 12th-gen Alder Lake CPUs, which were announced in January 2022, are currently on the market, AMD's Ryzen 7000 Zen 4 desktop chips with PCIe 5.0 capability won't be until this fall.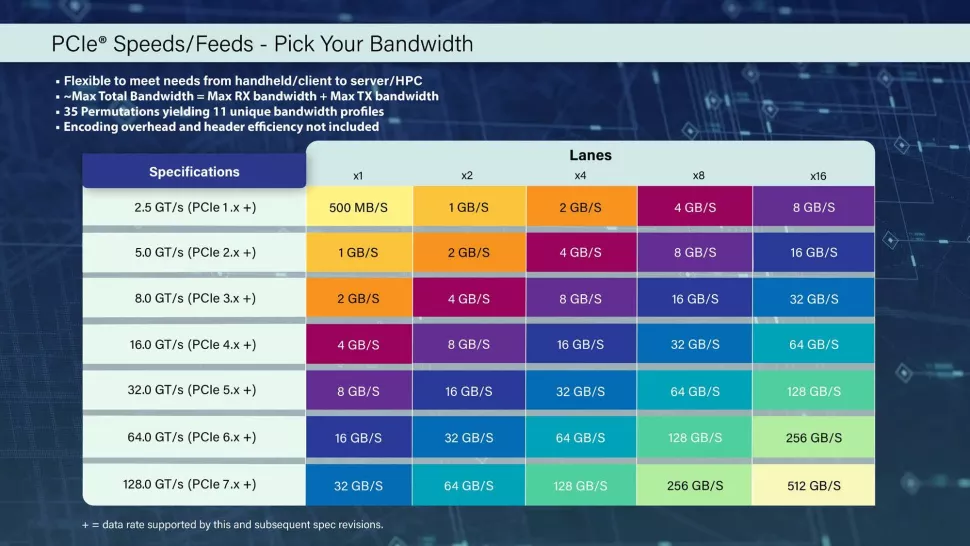 The first PCIe 5.0 SSDs for consumers have just lately become accessible, with reading speeds of up to 13GB/s.

Additional significant benefits include increased power effectiveness, low latency, and backward compatibility with prior versions. However, PCIe 7.0 will require shorter traces in order to achieve these speeds, which will increase the cost of motherboards because they would likely require more components and thicker PCBs.
It is certain that even x1 PCIe 7.0 lanes will be as fast as PCIe 4.0 x16 speeds (32 GB/s), enabling the use of smaller and less resource-demanding storage and other devices. In other words, a single PCIe5 x4 NVMe slot would be twice as fast as four NVME SSD drive slots using just one PCIe lane each.
Also Read:
Volkswagen might grab the World's Top Electric Vehicle Seller position from Tesla in the Coming Years